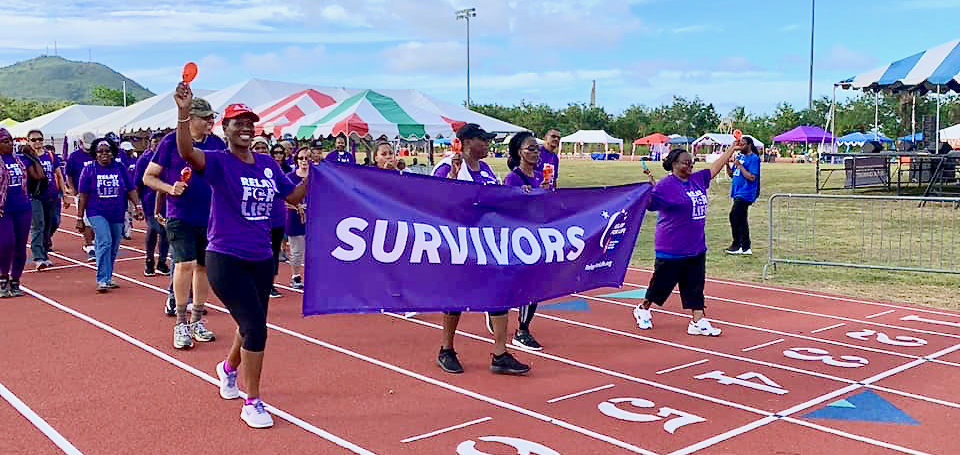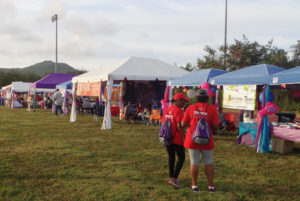 The lightest sprinkle of rain started off the 18th annual Relay for Life, sponsored by the American Cancer Society Saturday afternoon at the St. Croix Educational Complex track.
The kick off march included hundreds of supporters – victims living with cancer, survivors, family, friends and community leaders. There were families walking together, senators, church members and Gov. Albert Bryan, his wife Yolanda and daughter, Sumaya. It was a solemn march.
After everyone took the first lap around the track, the survivors circled the track to the applause of the crowd. Later, they enjoyed a sit-down dinner.
And from then until mid-day Sunday, someone from each of 27 teams ran or walked, some singing along with the DJ, whatever number of laps needed to keep going through the night.
During the night, participants enjoyed homemade and catered snacks and dinners. Then some slept, wrapped in a blanket sitting in a chair when it wasn't their turn to walk and others played games or visited with neighbors.
There were many, many reasons Crucians participated in the relay – some have experienced cancer, are undergoing treatment currently or lost a family member to the disease. Others came out to support their community.
The Rev. Jermaine Mulley and 15 of his church members participated in the march to celebrate 99 years for the St. Luke African Methodist Episcopal Church. Born on St. Croix, the pastor has been away for several years and just returned last year.
"Before I left, I always participated in the event to support something that affects people's lives and the community," Mulley said.