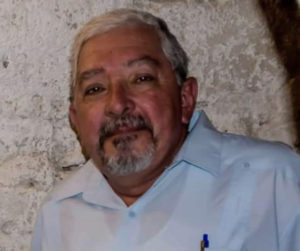 St. Croix lost one of its most knowledgeable historians when William Fleming Cissel (Bill) passed away May 1 in Ohio.
For years anyone who had a question about St. Croix's history knew Bill was the go-to guy to get answers.
Even his home was touched and filled with island history. The Great House of Estate La Reine, built around 1750, has been in his family's hands since the early 1840s and still is. First it was a sugar plantation, then a cattle farm. In recent years many of the 225 original acres have been sold off and housing developments have been built, but his family still owns the house and 40 acres. The house is furnished with antiques. In the 1990s he spent 19 months restoring the house to the way it looked in its early years. He told the Source in a 2005 interview that being in the great house as a child and hearing the stories of old days is what fed his interest in being a historian.
He was born in Christiansted in the old hospital at Peter's Farm, a 10th-generation Crucian, the first son of Norman Ralph and Dorothy Elizabeth Adelaide Fleming Cissel.
He attended St. Mary's Catholic School in Christiansted and graduated from St. Joseph's Catholic High School, Frederiksted, in 1969. He received his associate's degree at the then College of the Virgin Islands St. Croix campus before transferring to Brigham Young University in Provo, Utah, where he earned his bachelor's degree in modern European history with a minor in curatorial and museum management.
When he was not giving historical information out to visitors and locals on the streets he was often called to give talks at historical conferences.
When the Department of Planning and Natural Resources Division of Libraries brought the traveling exhibit, "Alexander Hamilton: The Man Who Made Modern America," to the island it was Bill who was called upon to talk in 2007.
When Heritage Magazine came to the islands in 1987 and wanted to learn about Fort Christiansvaern, they talked to Bill.
According to Sheila Ross, former chief of staff for V.I. Delegate Ron de Lugo, Cissel was key in getting the U.S. Congress to authorize the Salt River Bay National Historic Park and Ecological Preserve in 1992, in time for the worldwide Quincentennial Celebration of the Voyages of Discovery. It contains the Columbus Landing Site, the only known U.S. site where a Columbus expedition set foot. Ross told the Source Cissel "bought great honor to the islands and taught generations of islanders and visitors alike of the history and significant role of the Virgin Islands since pre-history."
He began his professional career as assistant curator (1980-1983) at the Fort Frederik museum in Frederiksted. He served as curator from 1983-1984. It was during this time that Bill was introduced to, began dating, and soon married his wife Susan.
After Fort Frederik, Bill accepted a position with the National Park Service in Christiansted, where he served for 22 years. He held the positions of museum technician, historian, chief of culture resource management, and chief of interpretation. He was forced to retire on disability due to complications from a severe form of scoliosis.
The Christian faith played a big part in his life. After retirement he threw his energies into preservation efforts and leadership at St. John's Episcopal (Anglican) Church in Christiansted. His love of the church was poured into researching and writing a comprehensive history of it. He had worshiped at St. John's for most of his life. He has served in the highest position a layman can – a senior warden. He told the Source in 2005, "My great-grandfather was the senior warden there from 1885 to 1915. I could point to you the pew he sat in."
His wife said, "Bill may not have realized it, but the greatest role he played was loving son, husband, and father. His sons could not have wanted for a better role model."
He was born into history. He was born on Transfer Day in 1950. And he had a historian's sense of humor. He laughingly told the Source, "The only thing good about the good old days was that you don't have to live them anymore."
He leaves behind his wife of 37 years, Susan Virginia Hulme Cissel, and sons William Thomas and Alexander Frederick Cissel; daughters-in-law Kathleen Noelle Shugart Cissel and Irene Veranis Rodriguez; and grandchildren, Xavier Alexander, Josiah Eusebio and Gabrielle Rowan Cissel.
A memorial service will be held at 11 a.m. May 25 at St. George's Episcopal Church 5520 Far Hills Ave., Kettering, Ohio, 45429.