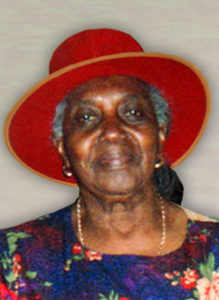 Florris Luella Jackson Williams passed away peacefully on April 8 at Aloha Independent Living under Hospice Care in San Diego, Calif.
She is survived by her sons: Byron Williams, Alexander (Alex) Williams, Angelo Williams and Lawrence (Larry) Williams; daughter, Vernice Harrell; daughters-in-law: Tammy Williams and Kathy Williams; grandsons: Jaron Williams, Elan Harrell, Michael Williams and Anthony Williams; granddaughters: Jayda Williams, Anika Harrell and Fallan Williams; great-grandson, Ezra Lesly; great-granddaughter, Zaliah Lesly; and numerous great nieces, great nephews and cousins.
She is also survived by nephews: Ari Arrie, Floyd Jackson, Myron Jackson, Raymond Petersen, Albert Jengens, Hugo George and William Archie Peets; nieces: Erna Williams, Sharon Jackson-McDonald, Judy Peets, Dalia Quinones, Michelle Jackson and Starlette Jackson Hobdy; sisters-in-law: Bernice Jackson and Mary Whitman Jackson; special cousins: Evelyn Christopher and Mercedes (Sadie) Trotman Hodge; and special friends: Mavis Robles, Una Anderson and Olive Lewis.
She was a wonderful great-grandmother, grandmother, mother, aunt, sister, godmother and friend.
The Celebration of Life and Funeral Service of Florris Luella Jackson Williams will take place on Monday, May 6, at Memorial Moravian Church. The viewing will take place at 9 a.m. with services to follow immediately afterwards. Burial will be in Western Cemetery No. 1.