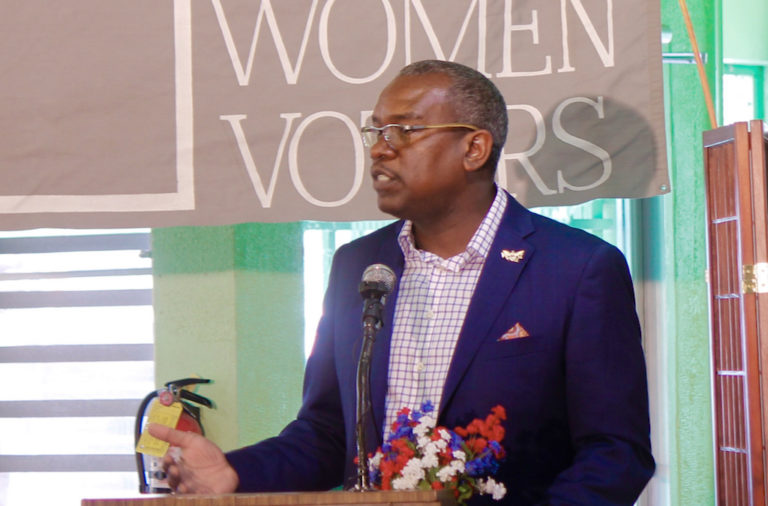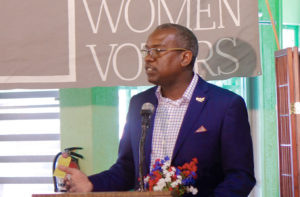 Gov. Albert Bryan told members of the League of Women Voters of the Virgin Islands Saturday that he wants the public to trust his administration, touting the V.I. government's newly launched transparency website and other efforts to make government information public.
Bryan was guest speaker at the League's 50th Annual Meeting, which gathered roughly 40 members from across the territory to E's Garden Teahouse and Things on St. Thomas.
"I want you to be able to trust me," Bryan said about the new website. "It's an effort to make sure you know what we're doing."
Government House announced the website's launch April 11. It contains a comprehensive database of the territory's revenues and expenditures and will retain information for each fiscal year, according to Government House. The website also tracks vendor payments, something that many executive branch agencies have fallen behind on, and gives the public the ability to select a specific business or company and track how much money they received from various agencies.
Bryan also pointed to his government's effort to keep discussions of his official St. Thomas residence open to the public, a jab at former Gov. Kenneth Mapp's controversial villa rental on St. Thomas that cost taxpayers roughly $14,000 a month. Bryan, who has taken up residence at Government House on St. Croix, said his administration will also take useable furniture from Estate Catherineberg to his family's St. Thomas apartments.
"I'm careful with my dollars and I'm even more careful with your dollars," Bryan said.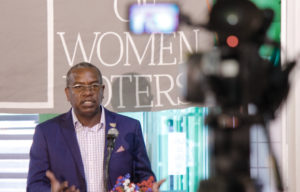 When asked about the West Indian Company's history of holding closed-door meetings or refusal to reveal certain information to members of the press, Bryan said, "When I appointed the new board, I made sure that they understood that all meetings are open to the public. Certainly we had some pushback … It's important that the public knows what's going on with their money because it's their money. Those meetings will remain open."
Bryan did say some information – ongoing criminal investigations, personnel matters and data relating to children – must be kept from public view. He also acknowledge that there needs to be a uniformity across agencies when it comes to information that can be withheld or must be disclosed.
"What we're looking at now is a transparency policy, because there's a law but there's no real document that guides what can be exposed or shared, and how," he said.
Hurricane Recovery
Bryan also reported that his administration's pursuit of $300 million through a pilot program to do permanent home construction has been denied. In February testimony to the U.S. Senate Committee on Energy and Natural Resources, Bryan told senators that the territory has applied with FEMA to participate in a pilot version of Section 1211, a disaster recovery reform provision of the Disaster Recovery Reform Act. The provision, pursuant to Section 408 of the Stafford Act, allows states or territories to administer their own permanent housing construction program for owner-occupied residences.
"We are not giving up," Bryan said on Saturday. "We'll continue to pursue this pile of money because some people don't have the insurance, and the cost of construction has gone through the roof and they still cannot rebuild their homes."
Bryan stressed that the territory has a small window to make sure federal recovery dollars benefit the territory long after the money has dried up.
"This is a once-in-a-centennial opportunity for the Virgin Islands to rebuild, and rebuild in a way that will not only make our children want to stay here but will want to make other people and other communities comes here to start their lives," he said.
Bryan also shared that his administration is appealing to Housing and Urban Development and other agencies for a more uniform process when it comes to the availability and accessibility of federal recovery money.
"We asked them to reevaluate their process and to speak to other departments because the Virgin Islands borrowed $200 million in community disaster loans that the Federal Emergency Management Agency made us tie every penny we were going to make now and in the future to, and yet HUD gave us $1.8 billion dollars and didn't ask for anything in return," he said.
"The government's policy on recovery has to be uniform," Bryan added.
As for spurring the economy, Bryan said his administration engaged developers at last week's SeaTrade Conference about building new hotels in the territory. He also repeated one of his campaign proposals: building a national registry for cannabis and cannabis products in the Virgin Islands, housed in the Research and Technology Park on St. Croix.
Bryan also briefly spoke about the "dramatic increase" of domestic violence in the territory, saying his administration will work on meaningful conversations to address the issue, as well as the need to empower young Virgin Islands women.
"While the workplace rules have been definitive," Bryan said, referring to the movement toward equal pay, "the social mores and the rules around male and female relationships have not been addressed."
According to Bryan, the territory must give young women, especially young mothers, the resources to be successful, saying, "Matriarchs run this society." He also stressed the need to promote family planning and giving women choices, saying that women raising children on their own "is a road paved to poverty."
"Children are expensive," Bryan said. "We have to make sure when women take on these responsibilities, it's a decision for them, not a decision for gentleman or whoever comes along the way."