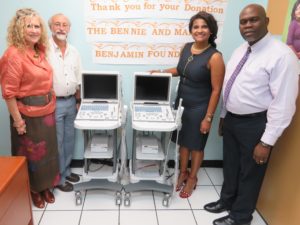 The St. Thomas East End Medical Center Corporation (STEEMCC) commemorated the receipt of two laptop ultrasound machines donated by the Bennie and Martha Benjamin Foundation at an official dedication today at the medical center.
This donation is the second contribution from the Foundation to the health center.
"We [Bennie and Martha Benjamin Foundation] are pleased to be able to donate two ultrasound machines to STEEMCC so it can continue to do great work to serve the St. Thomas community. We've watched STEEMCC grow for the past 15 years, and we appreciate the leadership team in their endeavors," Executive Director David A. Beale said.
The health center has been using one ultrasound machine to serve Obstetrics and Gynecology patients. Dr. Debra Wright-Francis, East End Medical Center medical director, explained the impact of two new machines on services.
"An additional two machines will enable us to increase patient care. The ultrasound machines allow us [physicians] to see the baby's position, heartbeat, and helps us to date the pregnancy, so this donation is certainly an improvement to our limited capacity," she said.
St. Thomas East End Medical Center (STEEMC) was awarded a $60,000 grant from the Foundation in 2018 enabling the health center to purchase technological equipment ranging from ambulatory blood pressure monitors and vital signs recorders, to portable nebulizers and an advanced laboratory microscope in addition to the laptop ultrasound machines. In 2016 the health center received a Complete Blood Count (CBC) machine to provide testing in-house and avoid sending blood samples off-island which takes at least 48 hours to receive results.
The Bennie and Martha Benjamin Foundation was formed in 1991 pursuant to the instructions Bennie Benjamin set forth in his will. He envisioned a Virgin Islands with the best facilities, the latest technology and equipment, and the best trained health care professionals. The Foundation has awarded over $2,500,000 in scholarships and grants for medical and health equipment, educational materials, programs and facility improvements since 1992.
For more information, visit http://benniebenjaminfoundation.org/