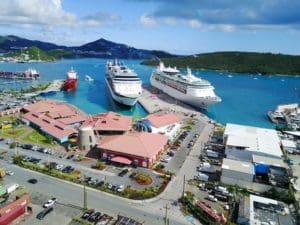 The Virgin Islands Port Authority (VIPA) invites the community to a charrette to discuss the future transformation of the Crown Bay and Sub Base areas, St. Thomas, U.S. Virgin Islands. It will take place from 5:30-8 p.m., Thursday, Nov. 15. in the Crown Bay Center Cruise Lounge, Crown Bay Center, 161-A Sub Base, St. Thomas.
The dialog will focus on post-hurricanes Irma and Maria reconstruction plans. VIPA will also present proposed developments best suited for the area that will complement the adjacent cruise ship facility and attract residents. This discussion will help its consultant, Moffatt & Nichol, to prepare an area-wide, 20-year vision plan for the Crown Bay District.
This area on St. Thomas has been the focus of significant economic investment over the last several decades. Today, the area supports one of the island's two cruise ports, a yachting center, commercial and light-industrial uses, government offices and recreational facilities.
Visit www.renewcb.com for more information or to complete a short community survey.