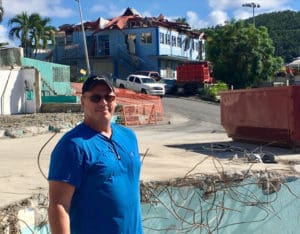 The demolition of the Lumberyard Complex in Cruz Bay is almost complete, and a representative from the property owners said he's doing everything he can to make sure St. John Ice has a place to do business.
St. John Ice, which had been in the location since 1993, was forced to shut down operations at the site in August when demolition began. The 31,000 square-foot commercial complex had been leasing space to more than 30 small businesses when it was destroyed by Hurricane Irma.
The Lumberyard owners made special provisions to allow St. John Ice to remain in operation in spite of the surrounding wreckage because of its importance to the community. The company provided drinking water and ice to residents, construction crews, and retailers following the storm when no other source was available.
Since August, Alan Johnson, owner of St. John Ice, has been bringing supplies of ice and water daily by truck from St. Thomas and selling to construction crews in the early morning hours at temporary locations. He has also made ice and water deliveries to Coral Bay. That business model is not sustainable, Johnson said. While St. John Ice has been out of production, the island's grocery stores have brought in containers of ice to supply their customers.
Since a demotion crew from ICSVI brought in a big machine on Oct. 8, the remains of the major buildings in the Lumberyard Complex have been reduced to rubble. Now that two barges are operating regularly, the rubble has been carted off island at an astonishing rate.
Legacy VI bought the Lumberyard Complex only four months before it was devastated by Hurricane Irma. David Olson, vice president of development, said he has tentatively identified a location for St. John Ice.
"My intention from the start is to get Alan back in there," he said.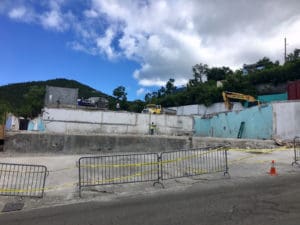 While the owners consider long-range plans for the .79 acre-property, the space will be used for much needed parking in Cruz Bay.
"We don't have plans or permits for re-doing the buildings," Olson said.
In the near future, the owners will install fencing around the property and then will map out the plan for parking.
Meanwhile, Johnson is awaiting the arrival of containers from the mainland, which will be moved to the Lumberyard and converted into a production facility.
"I'm trying to keep my guys busy," he said, referring to his six employees. "Nobody's getting 40 hours a week."
"When I get my trailers, I can start setting up. If it wasn't for David [Olson], I would have to close up shop,"Johnson said.
Almost three weeks ago, community members started a Go Fund Me account to help Johnson get his business back in operation. So far, 91 contributors have raised $8,255 towards a goal of $25,000.
The long-term future of St. John Ice is looking good. Much of Johnson's equipment is being stored at the Pond Bay Club, a partially built resort in Chocolate Hole which is also owned by Legacy VI. Olson said that property contains a 1.7 million-gallon cistern which has been untouched since it was built by previous developers in 1998. Olson estimates that one million gallons of water is already stored there.
If pumps, filtration and purification systems were installed, the cistern could supply the island with water in the event of another hurricane or major catastrophe, Olson said. WAPA must install 220-volt power at the location to make this possible.
The Pond Bay Club has had several owners since it was sold for development of a high-end resort in 1986. Olsen said the property now has five "basically done" villas which have their own cisterns and don't depend on water stored in the 1.7-million gallon cistern. The units have been leased to recovery workers and residents through a FEMA program since the storm.
The Pond Bay Club has allowed WAPA to store composite poles on undeveloped portions of the property. Olson said BBC, the contractor that has assisted WAPA with restoration of the island's power grid, may also move their equipment to that location. Their agreement to use the ball field near the National Park Visitors Center expires at the end of December.
Community members are eager to see the National Park ball field restored for recreation, especially since the Winston Wells Ball Field near the Julius E. Sprauve School has become crowded with temporary classrooms.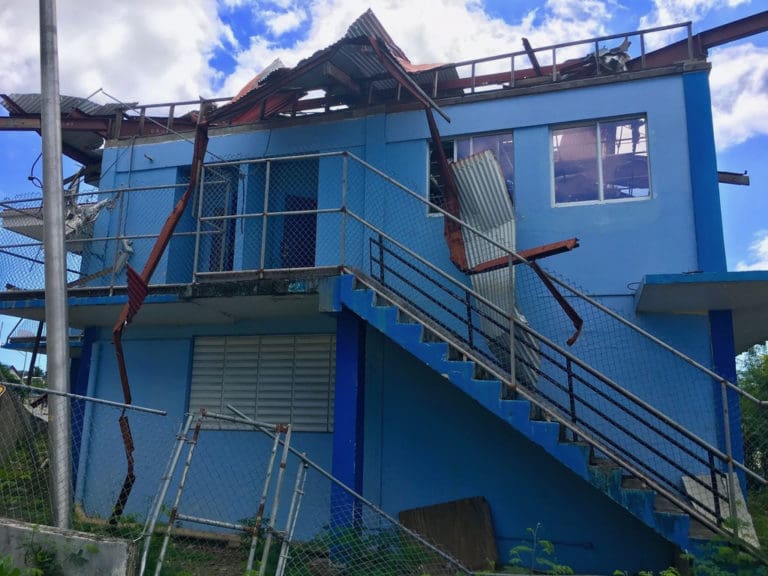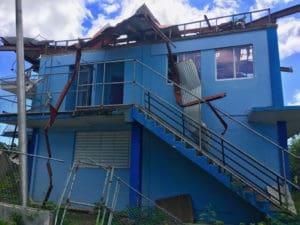 All that remains now at the Lumberyard are two paved areas and retaining walls. Olson said he is looking to partner with schools and community arts groups to paint murals on the walls, particularly those that are visible to passers-by.
Olson said he offered to donate the equipment and the crew from his demolition team to remove the galvanized roofing and dangling I-beams from the destroyed public school building across the street from the Lumberyard.
"If the wind gets going, [that metal] is a flying guillotine," he said.
Officials from the Department of Education announced at a town hall meeting last week that a contractor for that job had already been identified.
Olson said his crew could remove the dangerous metal using their equipment that is already on site over a weekend.