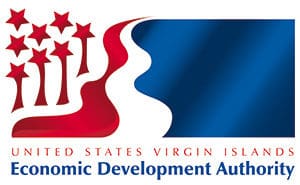 Kamal I. Latham, chief executive officer of the U.S. Virgin Islands Economic Development Authority (USVIEDA), has announced that the USVIEDA will be awarded the 2018 Disaster Recovery Advocate of the Year Award this week by Florida's Minority Business Development Agency (MBDA) Export Center.
The award will be presented to the USVIEDA on Friday, Oct. 19, during the 36th Annual Minority Enterprise Development (MED) Week Business Matchmaker Conference & Awards Power Lunch in Miami, Fla., for its performance in providing economic services and resources to small and minority businesses in the USVI.
The USVIEDA will also be recognized for its engagement and support of the MBDA during the post-hurricane recovery process throughout the U.S. Virgin Islands. Kamal I. Latham and Cusa Holloway, USVIEDA incubator program manager, will attend the event to accept the award.
In 2018, representatives from the MBDA Export Center & Disaster Assistance Programs for South Florida, Puerto Rico and the U.S. Virgin Islands provided technical assistance to the small and minority business community in the USVI following the destruction caused by hurricanes Irma and Maria in September 2017.
As an honoree at the MEDWeek Awards Business Matchmaker Conference & Awards Power Lunch, the USVIEDA will be among several outstanding minority entrepreneurs and advocates to be presented with the prestigious MEDWeek 2018 Awards of Excellence.
For more information on the MEDWeek Business Matchmaker Conference & Awards Power Lunch, visit https://medweekflorida.org/