The price of some U.S. Virgin Islands bonds have rebounded sharply, nearly returning to their face value, after a sharp fall in 2017 and early 2018, Bond Buyer magazine reported this week.
Author Robert Slavin points to a purchase on the Electronic Municipal Marketplace Access logged for Dec. 28 2017, where some V.I. gross receipts tax bonds resold at 44 cents on the dollar and the same bonds sold this month at 95 cents on the dollar.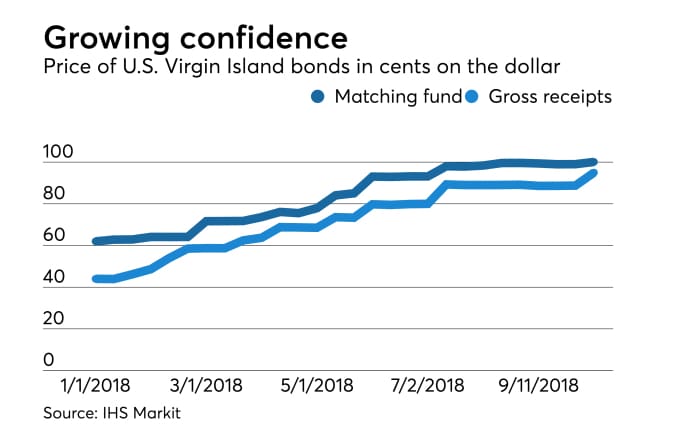 Government House issued a statement Monday trumpeting the good news and the Bond Buyer article, praising Gov. Kenneth Mapp in glowing terms akin to a political campaign brochure. And later in the day, the Mapp campaign issued the same statement.
"Contributing to investors renewed confidence is the Mapp-Potter Administration's skillful management of a complex recovery effort and the $1.4 billion deal to restart refinery operations at the Limetree Bay/Arclight facility on St. Croix, which has already resulted in $38 million in increased revenues to the USVI budget," the official V.I. government statement enthused about the candidates.
Slavin's Bond Buyer article cites a basket of factors that may play a role in the market forces driving first the drop in bond prices and more recently their return to normal. Speaking with V.I. officials and consultants and industry experts, Slavin lists the territory's relatively quick recovery of power and water from last year's storms; an influx of federal grants and loans for recovery; recovery-related increases in tax collections, good levels of rum production and a perception that the U.S. Virgin Islands may be more creditor-friendly than Puerto Rico.
Finance Commissioner Valdamier Collens said the territory was hurt by being lumped together with Puerto Rico.
"In the midst of refining our five-year plan, the rating agencies as well as some investors had unfairly compared Virgin Islands' finances to that of neighboring Puerto Rico," Collins said. "These same bondholders are now witness to a USVI recovery that has been well-managed, with increased economic activity and revenue generating projects. Tourism is steadily increasing, with more cruise ship arrivals, hotel reconstruction and a recent announcement that DiamondRock will rebuild and upgrade over 400 of its hotel rooms. Last week, Airbnb named St. Thomas its top destination in the Caribbean – the result of a successful agreement made in 2017 between the Virgin Islands government and the travel company," Collens said.
Yet Slavin cites some industry officials who suggest the USVI bond prices benefitted from a similar rebound in neighboring Puerto Rico's bond prices. If both are accurate, USVI bond prices may be influenced by Puerto Rico prices whichever direction Puerto Rico goes.
Slavin also points to the recent refinery agreement as one factor, but as a note of caution says Moody's Investor's Service, the only ratings agency still rating V.I. government bonds, is "skeptical" and a Moody's analyst believes opening the refinery will not have much impact on the government's fiscal condition.
There has been a great deal of activity around the old refinery and the companies have said they hope to have a partial restart. At the same time, the terms of the deal signed by the government actually extend the time frame for the owners to decide whether to reopen and no final agreement or contract to run the new refinery has been executed yet. Under the original agreement from 2015, the owners had until early 2019 to decide. Now they have at least five more years to decide. There is not yet a formal agreement in place to operate the new refinery and $70 million in loans and payments to the government, promised on closing that deal, have not yet materialized. Administration officials recently projected that should occur by the end of October.
Precise causes for the price changes and their long-term meaning, if any, are subject to debate. What is certain is some markets showed a sharp drop in V.I. bond prices on the secondary market last year and that drop has rebounded, demonstrating that some who buy those bonds are more confident in the USVI's medium and long-term financial outlook and ability to pay than purchasers were a year ago.