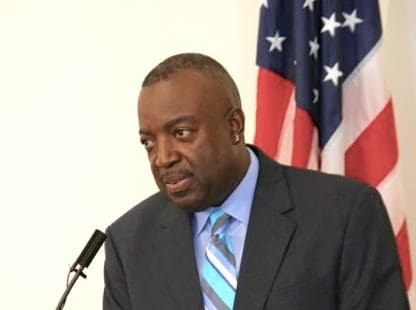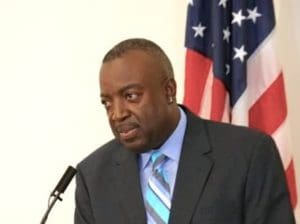 Criticism of government sponsored accommodations for top officials in the executive branch has heated up recently, with a month to go before the November general election.
Lt. Gov. Osbert Potter this week defended a two-year-old executive order that provides him a housing subsidy. Potter said the arrangement affords him a benefit other elected officials also have been afforded.
And, he added, lawmakers have the power to change the deal, if they decide to do so.
At the same time, critics weighing in on radio talk shows this week lambasted Gov. Kenneth Mapp's appointment of a special advisor, paid by the government, to care for his mother.
The Virgin Islands Daily News broke the story and reported the appointment of Human Services nurse Sylvia Archibald to provide home care for his parent.
The governor has lots of company among public officials caring for elderly relatives. A number of lawmakers, including Senate President Myron Jackson and Sen. Janette Millin-Young care for parents who are now in their 80s.
St. Croix Senator Samuel Sanes said he was the primary caregiver for his ailing father, also while holding an elected office. Sen. Tregenza Roach, now a candidate for lieutenant governor, also has an elderly mother.
Federal employees and members of the military have family care – specifically child care – subsidies available to them through the Office of Personnel Management. Mapp declined comment Wednesday when asked if he would like to see a home care/day care benefit extended to other V.I. government employees.
Towards the start of his administration the governor was also criticized for St. Thomas housing accommodations provided with help from a supporter. Criticism about Potter's living arrangements stretch back almost as far.
One of the sharpest questions pointed to the fact that Potter had a home of his own on St. Thomas.
When public disapproval began to rise over the rental of a two bedroom condo at $2,800 by Potter in 2015, Mapp took action. In 2016 the governor signed an executive order providing a $2,500-a- month housing allowance.
In a phone interview given Wednesday, Potter called the action justified. He said part of the problem was a lack of suitable St. Thomas housing.
Up to now lieutenant governors have taken up lodging in Sion Farm, St. Croix, in government quarters.
"There is a residence for the lieutenant governor on St. Croix that has been there for so many years," he said. Former Lt. Govs. Gregory Francis and Vargrave Richards lived there, among others, while having homes of their own on St. Croix.
The current accommodation gives Potter the same accommodation on his home island. But he said the current real estate market provides few prospects for a more permanent solution.
"A moderately priced residence on St. Thomas is cheaper than having the lieutenant governor stay at a hotel," Potter said.
He added that, like many Virgin Islanders after Hurricanes Irma and Maria, his subsidized dwelling sustained storm damage.
"It had some damage, it didn't have a major issue. I don't say much about it. Part of it is still boarded up," he said.