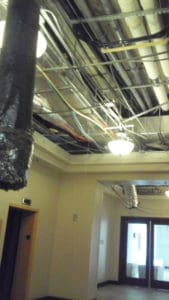 Marriott Frenchmen's Reef Resort plans to reopen in early 2020, hotel officials said Wednesday during a news conference to announce a goverment-sponsored initiative to restore V.I. hotel capacity.
The plan also would include seeking funds to make part of the property a hardened emergency shelter.
"Our goal is to re-open Frenchman's Reef in the first quarter of 2020," said Bill Tennis, vice president and legal counsel DiamondRock Hospitality, owners of the Reef.
At the St. Thomas news conference, Gov. Kenneth Mapp and executives representing the Marriott Frenchman's Reef Resort signed an agreement on the initiative, which Mapp called a two-part effort promoting economic recovery after the passage of Hurricanes Irma and Maria.
The first step is a public-private partnership with DiamondRock. The governor also introduced a measure to the Legislature that, if passed, would allow imposition of a hotel-room surcharge. Subsequent revenues would then be used for recovery and mitigation projects.
The Reef represents 25 percent of the accomodations in the St. Thomas-St. John district, said Tourism Commissioner Beverly Nicholson-Doty. The hotel sustained structural damage and extensive water damage from Hurricanes Irma and Maria in 2017.
A tour of the resort revealed a space empty of ceiling tiles, ventillation ducts dangling. Roofs over top floor hotel suites curled away from the building and in some places, exterior walls were torn away.
Repairs and an upgrade to meet new building code standards are expected to cost between $200 to $300 million, according to Finance Commissioner Valdamier Collens. For its part, Mapp said the V.I. government will pursue federal funding for a portion of the property to be converted into a hardened emergency shelter, accommodating as many as 800 people.
"Large hotels like Frenchman's Reef are excellent candidates for emergency shelters because they have a robust back-up power generator supply, wastewater treatment system and other services that are critical in protecting people during storms," Mapp said. "My administration has agreed to work withour federal partners to seek federal funding for creating an emergency shelter here at Frenchman's Reef."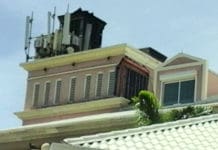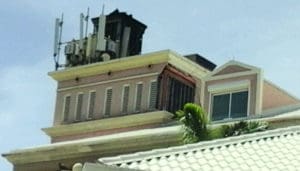 Wednesday's news conference began with the signing of a memorandum of understanding spelling out the goals of the partnership. Mapp, representing the V.I. and DiamondRock Vice President and Chief Financial Officer Jay Johnson attached their signatures.
A successful pursuit of funding is expected to yield "tens of millions" of dollars which the goverrnment would provide as part of its partnership, Collens said in remarks made after Wednesday's press conference.
DiamondRock's Tennis said repairs made in the 1990s performed according to standards set by the Miami Dade Building Code. At that time structures were built to withstand winds up to 145 mph, he said.
This time, reconstructed buildings will be built to withstand winds up to 165 mph. Winds of 185 mph would be the goal for the hardened emergency shelter, Tennis said.
To encourage other properties to make similar improvements, Mapp said an Economic Recovery Fee would generate mitigation funds and reduce the need of hoteliers to seek government assistance.
In a transmittal letter written to Senate President Myron Jackson, the governor laid out the strategy.
"The fee will be assessed and collected like the hotel occupancy tax. An approved hotel can independently increased its hotel occupancy tax from its statutory level up to a maximum of .5 percent above that level, with the difference between the existing tax and the modified tax being returned to the hotel for use in approved renovation and expansion projects," Map said.
Hotels are not required to adopt the recovery fee plan, but can opt in if they choose to.
Fees would be collected from hotel guests as a surcharge.
In the weeks after the twin disasters struck in 2017, most hotels promised to make comebacks by 2019. At the press conference Doty said St. Thomas- Ritz-Carlton was ready to reopen within a few days.
Mid-sized hotels such as Best Western Emerald Beach Resort were up and running, along with smaller hotels like the Mafolie Hotel and Bolongo Bay Beach Resort, the commissioner said.
In downtown Charlotte Amalie the Windward Passage, Holiday Inn Hotel was working its way through restoration, Doty said.
On the east end of the island, Point Pleasant and Margaritaville are doing business. There was no word on restoration efforts at Sugar Bar Resort.
On St. John, Gallows Point Hotel recovered quickly from the 2017 storms and is welcoming guests. Grande Bay Condominium Resort is open and the St. John Westin is preparing to reopen in 2019.