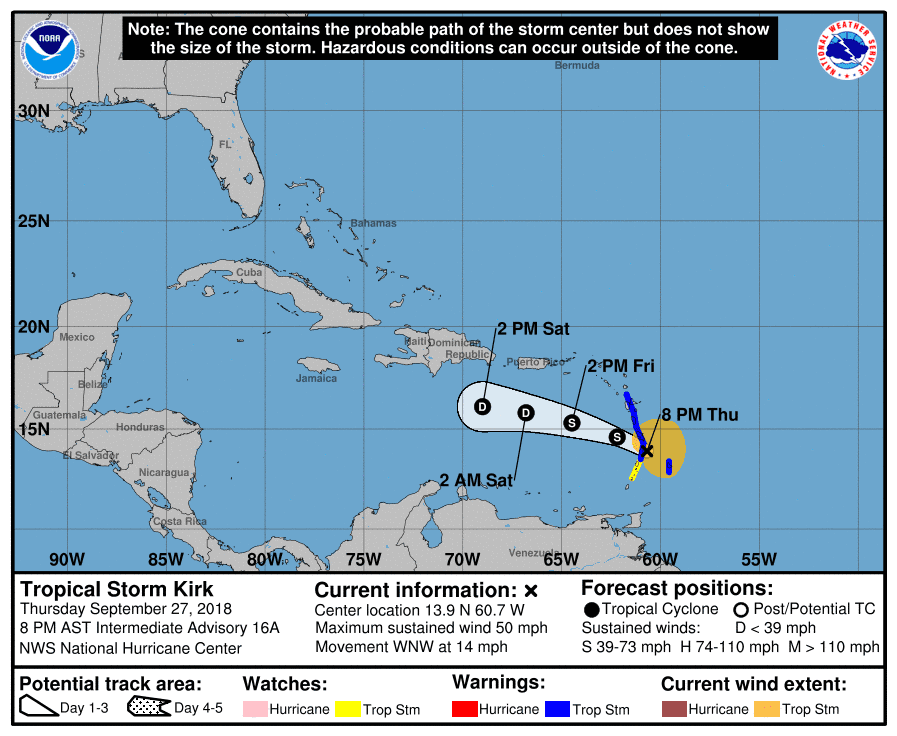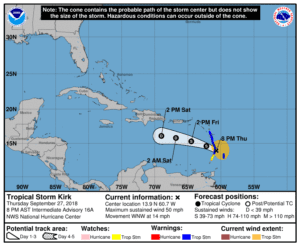 Coastal flooding and flash flood watches have been issued for the U.S. Virgin Islands and Puerto Rico as Tropical Storm Kirk makes its closest approach to the territories Friday.
There are no storm watches or warnings issued for the territory as Tropical Storm Kirk is expected to remain south of the Virgin Islands Friday, but the storm is expected to bring two to four inches of rain to St. Croix and eastern Puerto Rico through Saturday.
The National Hurricane Center's 5 p.m. update put Kirk about 386 miles southeast of St. Croix, with top winds of 50 miles per hour. The storm is tracking to the west northwest at 14 miles per hour with tropical storm force winds extending outward up to 140 miles primarily to the east of the center.
Little change in strength is expected, as the storm has been hampered by high-level wind shear for days, the NHC said. Gradual weakening is anticipated during the next 36 hours, while the system moves over the eastern Caribbean Sea.
Kirk is forecast to become a tropical depression Friday night, and degenerate into a trough of low pressure by Sunday.
If it sticks to the forecast track, the center of Kirk will make its closest point of approach to the territory at 6 p.m. Friday, when the storm center is 147 miles south-southwest of St. Croix. At that time Kirk will be a tropical depression with winds between 35-40 miles per hour. Those winds are not expected to affect the Virgin Islands.
The National Weather Service issued flash flood watches for Anna's Retreat, Charlotte Amalie, Charlotte Amalie East, Charlotte Amalie West, Cruz Bay, Christiansted, Frederiksted, Frederiksted Southeast, and Grove Place. The watch remains in effect from Friday evening through Saturday evening
A high risk of rip currents is in effect through late Sunday night. A high surf advisory also has been issued, with a coastal flood watch through Sunday afternoon, the National Weather Service said.
Large breaking waves as tall as 16 feet may cause coastal flooding along the north coast of St. Croix, Puerto Rico and Culebra. Beach erosion is possible.