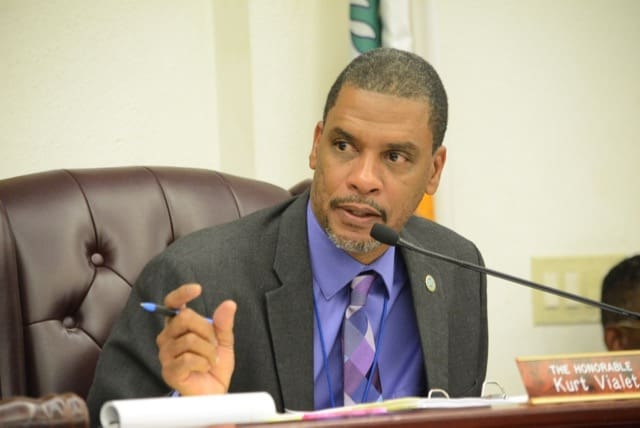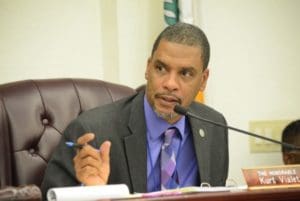 A week after passing legislation reducing the cap on the Insurance Guaranty Fund to $10 million and putting the excess money into the government's budget, the Legislature has partially reversed course, making the cap $50 million again — but by September of next year.
A week ago, when the Legislature approved numerous budget bills for the upcoming year, it also cut the cap on this fund and appropriated money from it to shore up the budget.
The Insurance Guaranty Fund is a sort of re-insurance for insurance companies. The money is to compensate policy holders if their property insurance carrier goes belly-up and cannot pay. It was created in 1984 after the Dome Insurance Company went under, leaving V.I. policy holders on the hook for $48 million in unpaid settlements. It is fed by most of the five percent gross premium taxes that insurance companies pay to the V.I. government and usually receives around $16 million per year.
All 50 states, the District of Columbia, and Puerto Rico have similar funds.
It was set at $50 million in 1990, the year after Hurricane Hugo devastated St. Croix.
The territory has cut the fund to less than that amount every year since 2008, when it borrowed $40 million from the fund to partially pay retroactive pay raises for government employees. That year, the government replaced the money with a letter of credit, in effect borrowing it. In the years since then it has routinely cut the cap to $10 million. In February 2012, while the territory was struggling financially from the aftermath of the worldwide financial collapse, the Legislature passed a law reducing the cap until 2015. In 2015, it amended that act, extending it until 2017. A week ago, the Legislature amended it again, extending it to 2019.
This annual ritual has concerned financial institutions and generated critical reports in the international media. (See: Reuters – U.S. Virgin Islands spent money intended to help after hurricanes)
Thursday's bill also sunsets the reduced cap in 2019. And it changes the expiration date of an expired law authorizing the government to borrow money to make up any shortage in the fund.
Sen. Kurt Vialet, the measure's sponsor said the bill "meets the concerns of the insurance market."
Voting in favor were: Vialet, Sens. Myron Jackson (D-STT), Tregenza Roach (D-STT), Marvin Blyden (D-STT), Dwayne DeGraff (I-STT), Jean Forde (D-STT), Novelle Francis (D-STX), Janette Millin Young (D-STT), Sammuel Sanes (D-STX), Brian Smith (D-At Large) and Kurt Vialet (D-STX). Sen. Alicia "Chucky" Hansen voted no. Sens. Positive Nelson (ICM-STX), Nereida Rivera O'Reilly (D-STX) and Janelle Sarauw (I-STT) were absent.