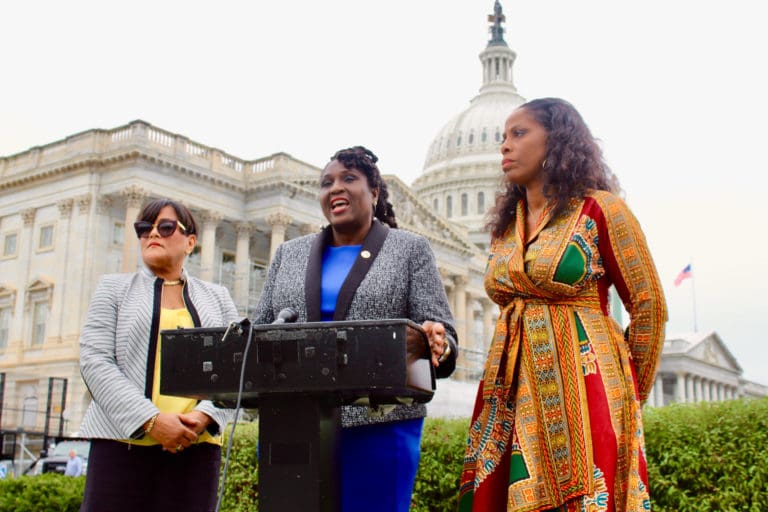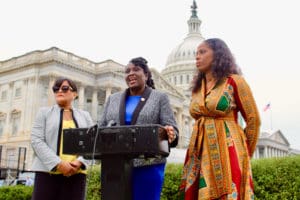 Congresswoman Stacey Plaskett painted a grim picture for Congress Thursday of the conditions of V.I. schools that opened in September, citing students "standing or sitting on crates" due to insufficient chairs, libraries with few or no books, and deskless teachers bringing in folding chairs and tables.
"This is the reality that Congress should be aware of," said Plaskett about the manifold issues that confronted students and teachers who reentered what classrooms were available this month. "We are Americans, and this should never occur on American soil."
Plaskett, flanked by presidents of the two local chapters of the American Federation of Teachers, made the remarks in a press conference at the House Triangle in Washington D.C. on the day that the two high schools on St. Thomas — Charlotte Amalie High School and Ivanna Eudora Kean High School — reopened. Out of the territory's 33 public schools, only 19 reopened on time this academic year, said Plaskett, and those that did were in no shape for learning.
"I had young people coming up to me over the weekend, saying they desperately wanted to go back to school, that they wanted to be in school but there was no school open for them," said Plaskett.
Carol Callwood, president of the AFT's St. Thomas chapter, echoed Plaskett's concerns. Only five St. Thomas schools opened on Sept. 4, she said, with the remaining schools scheduled for a Sept. 17 opening, which also got pushed back. Addelita Cancryn Junior High School, the modular classrooms for which are being constructed on the grounds of CAHS, still has no definite reopening date.
Of the six schools that were supposed to hold classes in modular classrooms, only one of those schools — Julius Sprauve Elementary School on St. John — opened on time.
"To open schools just to say that they are open makes no sense if the environment is not conducive to learning," said Callwood.
Rosa Soto-Thomas, Callwood's St. Croix counterpart, shared that in her 5000-student district, faulty cafeterias are placing the school lunch program in jeopardy, with non-operational freezers forcing schools to transport uncooked food to kitchens in the mornings. Shuttered schools were not properly cleaned before they reopened, she said, causing teachers and students to step in to help. This claim appears to be corroborated by a video posted by Melina Figueroa on Sept. 24 showing students at Woodson Junior High School walking around with paper towels "to wipe down the children them school desk and chairs."
Soto-Thomas added that some schools are operating with water leakage: "water running into electrical outlets" and "pretty much raining in some classrooms." Mold-infestation in the school buildings is also a problem, said Soto-Thomas, and some AFT members are filing injury reports with the Occupational Safety and Health Administration to ensure that they are covered by workman's compensation.
"We thought this thing would be better, but apparently, we walked into the same situation," said Soto-Thomas.
Democratic Committee on Education and Workforce Forum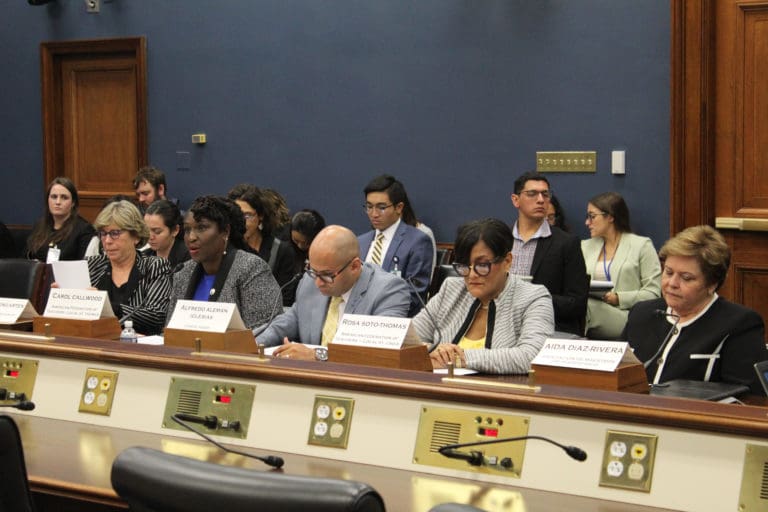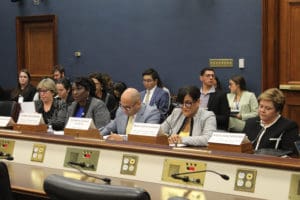 Thursday's press conference served as precursor to a forum later that day hosted by Congressional Democrats. The Democratic Committee on Education and Workforce, led by Congressman Bobby Scott (D-VA) aimed to examine whether recovery efforts in the V.I. and Puerto Rico are meeting the needs of local students, parents, and educators. Nearly 4,000 students — roughly 39 percent of total enrollment — left V.I. schools in the aftermath of Hurricane Maria, while Puerto Rico's Department of Education reported closing 265 schools last summer.
Forum panelists presented a recurring theme: the federal response to the 2017 disaster in the two American territories in the Caribbean was slower and weaker than the response to similar disasters in mainland states.
"People on these islands feel like second-class citizens, and there's is no way to convince them otherwise because of the repeated indignities," said national AFT President Randi Weingarten.
"We understand this is a herculean task," Callwood told the committee about the challenges in rebuilding after the 2017 hurricanes, but many questions remained unanswered, she said, including how the V.I. education system will compensate for missed school days for schools that fell short of the Sept. 4 opening.
Soto-Thomas shared the "disgusting" four-hour school days that double-sessions precipitated in the storms' aftermath, the repeatedly delayed openings of certain schools in her district, and the persistent state of disrepair of school buildings one year after the storms.
"As I give this testimony, changes are still happening, delays are still taking place," Soto-Thomas told the committee. "I don't understand why a full year after the hurricanes, we don't have buildings that are cleared and clean or modular units that are up for our children."
Aida Diaz-Rivera, president of the Asociacion de Maestros de Puerto Rico, shared an alarming trend that Plaskett also pointed out: survivors are struggling with post-traumatic stress disorder.
"Our suicide rates are so high and everyone needs help in dealing with the trauma of the hurricanes," said Diaz-Rivera. "We need mental health professionals to work with the schools and the kids."
Congresswoman Nydia Velasquez (D-NY) said that while no formal vote has been taken, she is working with her colleagues in the appropriate committees to secure funding for mental health needs in the territories.
Call to Congress
Both Callwood and Soto-Thomas are pleading Congress to revisit the bureaucratic hurdles slowing down the release of funding needed to expedite the rebuilding of the V.I. public education system's infrastructure.
"We need a disaster relief system that has less red tape, that prioritizes recovery efforts, that can bring communities a sense of normalcy," said Soto-Thomas.
Plaskett cast blame for the rocky federal response on the Trump Administration. While Congress set aside funding for the Virgin Islands and Puerto Rico, she said, the release of the funds through the Treasury Department and Housing and Urban Development was not executed according to "the intent of Congress," according to Plaskett.
Plaskett said she would get in touch with her colleagues to make the critical phone calls needed to make the process faster. After Thursday's forum, Plaskett expects that members of Congress have heard the issues that Virgin Islanders are facing, and the "dire need for more resources" to help V.I. students and teachers in this and upcoming school years.
"They will now pay close attention to our needs and now support my efforts to make sure the Virgin Islands is built better and stronger," said Plaskett. "And that our students will from here on out be granted the best education that we as Virgin Islanders can provide."
According to teachers' union representatives, however, time of is of the essence, and scant attention risks Washington forgetting that the Virgin Islands, like Puerto Rico, was also battered by the 2017 hurricanes.
"Failure to acknowledge us helps them to forget that we had damage," warned Callwood. "Failure to acknowledge us helps the world to forget us."