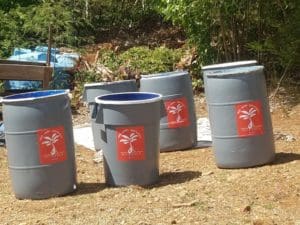 Red Hook Community Alliance (RHCA) and the VI Waste Management Authority (VIWMA) are partnering to keep Red Hook Village clean. The RHCA has provided trash barrels and volunteer trash removal in the Red Hook area since 1999. Andrea King, RHCA president and founder, recently announced a cooperative effort between RHCA and VIWMA. The 501-C3 community group and the government agency will work closely together to keep the village of Red Hook free of trash.
The RHCA has recently rejuvenated their trash barrels that were on the Red Hook roadway prior to Irmaria. RHCA will provide the barrels as they have for the past 19 years; however, the VIWMA has agreed to provide a sanitation truck twice per week to empty the barrels along the Red Hook Roadway.
"This is a very necessary and wonderful partnership between a long-time community organization and the USVI government," said King.
"After the storms, RHCA reached out to VIWMA in an effort to join forces to keep the very busy Red Hook thoroughfare trash free. After working closely with Olivia Robles, I am extremely grateful that VIWMA is now on board to assist the community in this way. I want to thank Olivia Robles, Merrill Baker, Nadine Noorhasan and Charmin Springer of VIWMA and Sean Brown of the V.I. Department of Public Works for their support and assistance. A special thank you to Peter Ryner, a VIWMA sanitation supervisor, for your oversight and direction of this project," she said.
The RHCA has placed six painted grey barrels on the roadway with their logo on each barrel. It thanks Cool Signs owner Jill Farley for donating the RHCA logos for the barrels and a very special thank you to St. Thomas resident Steve Marsh for his outstanding community service as the volunteer who has emptied the Red Hook barrels for the past 10 years.
RHCA requests that the community please be respectful of the barrels, which are there to be used by pedestrians, those residents and visitors who traverse the Red Hook roadway on foot.
"We ask that the public please use designated bin sites for the disposal of household garbage. The Red Hook barrels are for the disposal of small trash items such as bottles and cans, wrappers and the like. Community cooperation is essential to the success of this initiative," King said.
Contact Andrea King, RHCA president, at 344-2143 or email: [email protected]