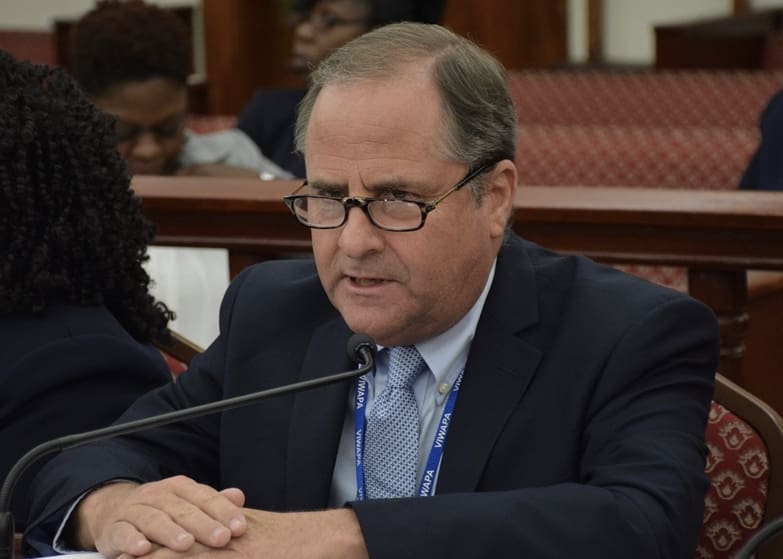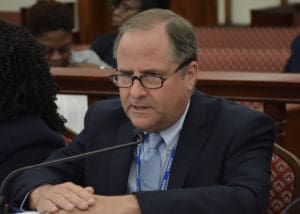 At a meeting on St. Croix Wednesday, the Governing Board of the Virgin Islands Water and Power Authority (WAPA) approved matters relating to the operations of the power plants, the electrical transmission and distribution systems, and the potable water system. All votes were unanimous.
The approvals included:
· Contracts with Fabien's Trucking on St. Thomas as well as Tang How Brothers on St. Croix to provide emergency and supplemental maintenance, labor and equipment when there are shortfalls at the power plants. The two, one-year contracts total $725,000.
· A contract with Fortress Electrical Contracting for the replacement of a damaged, low voltage switchgear at the Richmond Power Plant on St. Croix, at a cost of $400,720. A 15 percent contingency was also approved to cover the cost of any unexpected expenses that may occur as the project progresses.
· Extension of an existing lease with APR Energy for Unit 25 at the Randolph Harley Power Plant. A two-month extension is required until Unit 23 has been returned to service following a maintenance overhaul. The lease of Unit 25 is extended to Nov. 1, 2018, at a cost of $340,000 per month, with an option to terminate after 30 days.
· Time extension on an existing contract with Sulzer Turbo Services for the completion of an ongoing maintenance overhaul on Unit 23. The no-cost time extension is needed to complete commissioning and performance testing of the generating unit. The new contract end date is Nov. 1, 2018.
· Extension of a contract with Tri-Island Energy to provide payment for services rendered in the form of on-site fueling of emergency restoration vehicles for off island crews. The contract extension total is $187,316.75.
· Correction of a technicality on an existing fuel services contract with Chitolie Trucking as regards on-site fueling of emergency restoration vehicles.
Approvals for the water system included:
· Purchase of a six-ton capacity crane to facilitate the transport of pipes and other equipment to various job sites. The water division usually hires an outside contractor to assist with the mobilization of heavy equipment. A WAPA-owned crane avoids heavy equipment rental costs. The purchase total is approximately $230,000 and is funded primarily through a federal grant.
· The addition of omitted information in a previously approved contract with Leumas Engineering for the Christiansted Rehabilitation Phase II project. The updated contract total is $2.4 million.
· An extension of an existing contract with V.I. Paving to make up days incurred in the delivery of flow meters by another vendor. The approval extends the contract for the installation of five booster stations by 30 days and increases the overall cost of the contract by $10,430, for an overall contract total of $369,690.
· A change order on an existing contract for the installation of both the Orange Grove 24-inch water line and four pressure relief valve stations. The contract extension is for 79 days. The overall contract total is $3.4 million.
· Additional funding for the implementation of advanced metering infrastructure in the water division. The water division received additional grant funding totaling $746,042.46, to purchase meters and other equipment to implement automated metering on the potable water system. Once installed, the automated metering system will eliminate full time, manual meter reading and improve water consumption accountability. The funding covers equipment purchases for both districts.
The board also approved a retainer agreement with Risked Revenue Energy Associates, for an 18-month period, in the amount of $270,000. The company develops, implements and advices on WAPA's fuel hedge program.
Executive Director Lawrence Kupfer was authorized to consent to the assignment to BMR USVI Renewables LLC, all interests of Western Solar Power LLC in the hurricane damaged solar facility at Estate Donoe on St. Thomas. BMR's intent is to rebuild the facility. The board's approval is contingent on renegotiating the terms of an amended power purchase agreement that are beneficial to WAPA and its customers.
In his executive director's report, Kupfer advised the board that in July WAPA continued to increase the volume of lower cost propane it is using to generate electricity. WAPA is currently utilizing more LPG than Number 2 oil for electrical generation. He also reported on a meeting of the Public Services Commission on Wednesday, in which he noted that sales in the second quarter of 2018 were 18 percent lower than the second quarter of 2017 and this was resulting in the under-recovery of base rate revenues.
He told the commission that WAPA would be filing a petition to address this matter. He also presented information on WAPA's deferred fuel balance.
"This is something that has been ongoing for a couple of years, and it must be addressed," Kupfer said. The Authority has seen an increase in its deferred fuel balance of $36 million and owes its current fuel suppliers approximately $40 million. "We are reviewing options of securing a short-term loan to pay off this fuel debt by the end of the year."
Board members present included: Chairwoman Elizabeth Armstrong, Vice Chairman Hubert Turnbull, Secretary Juanita Young, Commissioner Devin Carrington, Cheryl Boynes-Jackson and Gerald T. Groner Esq., Commissioner Nelson Petty Jr. Director Marvin Pickering and Noel Loftus were excused.