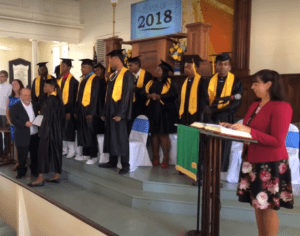 My Brother's Workshop Career and Technical School granted 18 young men and women with an accredited high school diploma on Aug. 19 at the historical St. Thomas Reformed Church.
Founded by Scott Bradley in 2007, My Brother's Workshop's (MBW) mission is to end youth crime and violence in the territory through mentoring, counseling, education, on-the-job training and job placement.
The church's Pastor Jeff Neevel, who is an MBW board member, conducted the service with MBW graduate liturgists Jashawn Bailey and Tumari Williams; the Rising Stars Youth Steel Orchestra, directed by Eltino S. Pickering; and soloist and church member Penny Woods.
As "Pomp and Circumstance" echoed through the sanctuary on the steel pans, the graduates took their seats. Scott Bradley, program director and founder of MBW; Jenny Hawkes, executive director of MBW; Dr. Suzanne Magras, MBW educational manger; Nakeba Stewart, MBW assistant program director; and Pastor Neevel addressed the graduates and a crowd of over 200 family, friends, supporters, MBW staff and trainees, the board of directors and committee members, who were there to celebrate the joyous occasion.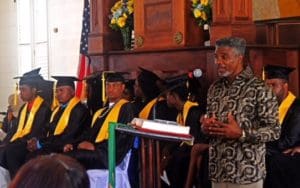 The guest speaker, Julian "The Hawk" Jackson, former professional boxer and three-time world champion, reminded graduates to put God first, to not fear failure and to take risks. Jackson shared his experiences of growing up in the Virgin Islands and being told that he would never make it, given the perceived lack of resources and opportunities in the territory. He encouraged graduates to believe in their dreams, despite others' limiting beliefs.
Remarks were offered by graduates Tumari Williams and Ki-Janna Parker, who thanked everyone who has supported the graduates during the journey. They also screened a video produced by MBW showing how far each student has come.
Graduates who received a GPA of 3.4 were honored during the ceremony and received their honor cords. St. Thomas Reformed Church also honored one particular graduate who showed outstanding character and exemplary community service with a "Love Your Neighbor Award," going to Jamoi Mulraine.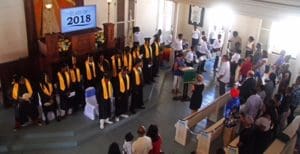 Huge smiles and a continuous roar of applause, along with a recessional by Rising Stars, ended the ceremony, which was followed by a reception, hosted by the MBW Café and Bakery.
Congratulations to the 2018 MBW Graduating Class:
Jashawn Bailey, Penn Foster High School, Honors
Bert Donadelle, Penn Foster High School, Honors
Niko Espirit, Smart Horizons Career Online High School and a Career Certificate in Office Management, Honors
Katina Evans, Penn Foster High School
Keia Henry, Penn Foster High School, Honors
Selassie Henry, Penn Foster High School, Honors
Albernique Hodge, Penn Foster High School
DaNeil Joseph, Penn Foster High School and a Career Certificate in
Homeland Security from Smart Horizons Career Online High School
Jamari Lucien, Penn Foster High School
Jamoi Mulraine, Penn Foster High School and a Career Certificate in Professional Skills Development from Smart Horizons Career Online High School
Ki-Janna Parker, Penn Foster High School, Honors
Reneecia Simon, Smart Horizons Career Online High School and a Child Care Development Associate Certificate, Honors
Jovon Smith, Penn Foster High School
Krishna Sooknanan, Penn Foster High School
Sergio Soto, Smart Horizons Career Online High School, Career Certificate in Professional Skills Development
Sergue Soto, Smart Horizons Career Online High School, Career Certificate in Food and Hospitality Service Skills, Honors
Tyreke Turnbull, Penn Foster High School and a Career Certificate in Retail and Customer Service Skills from Smart Horizons Career Online High School
Tumari Williams, Penn Foster High School