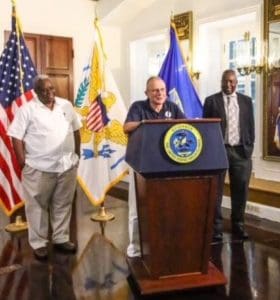 The general public, cabinet members, Gov. Kenneth E. Mapp and Lt. Gov. Osbert Potter were present at an informal gathering to bid farewell to William "Bill" Vogel, the federal coordinating officer of FEMA Region II. As Vogel reached his 50-week limit, as he rotates to a new assignment. The governor thanked Vogel profusely for all that he'd done for the territory in the aftermath of hurricanes Irma and Maria.
Accolades were heaped upon the departing Vogel. Overcome with emotion, he praised the people of the territory and the Mapp/Potter Administration for opening their hearts and homes to him and his team.
Knowing that those present couldn't give Vogel a gift of monetary value, he was presented with a cake adorned with his name and the Federal Emergency Management Agency (FEMA) logo, in addition to a handmade shirt made of Madras, in remembrance of his time spent in the territory.