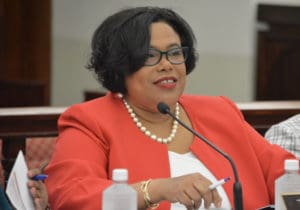 While St. Thomas still gets the lion's share of visitors in a post-hurricane tourism landscape, on Monday Department of Tourism officials quantified what can be considered a reversal of fortunes in airlift and cruise visitors between St. Thomas and St. Croix when viewed in percentages.
According to Tourism Commissioner Beverly Nicholson-Doty, who was presenting her agency's fiscal year 2019 budget to the Senate Finance Committee, St. Croix saw some 48,836 passengers from January through May, roughly double its entire 2017 cruise ship visitor count of 24,742. In contrast, St. Thomas saw a total of 718,275 passengers from January through July, reflecting a decline of more than 200,000 visitors during the same period in 2017. There are two scheduled calls remaining for St. Croix in September.
Current air capacity numbers present a similar trend, with St, Croix gaining slightly and St. Thomas losing half of its weekly inventory. According to Doty, St. Thomas air capacity sits at 10,000 per week, about 50 percent compared with the same period in 2017, while St. Croix has 5,000 weekly seats, which is slightly higher than last year's numbers. In May, Spirit airlines inaugurated a direct flight between St. Croix and Fort Lauderdale.
The trend could quickly change. This winter, air capacity projections for St. Thomas stand at 15,000, while St. Croix projections – around 6,000 – could see a smaller bump compared with currently weekly numbers.
The accommodations industry continues to look bleak, with only half of the territory's inventory of traditional overnight accommodations – hotel rooms, timeshares, bed and breakfasts – currently open to vacationers. Before the storm, some 4,500 of these accommodations were available; currently, only 1,800 remain online. Some 1,050 of these rooms are in St. Thomas, nearly 150 rooms in St. John, and around 600 rooms in St. Croix.
In addition, there are more than 600 villas and 200 charter yachts available in St Thomas/St. John. In St. Croix, there are about 300 villa units.
With the decline of traditional hotel accommodations, sharing-economy website Airbnb has flourished, with the number of active listings in the territory: 830 listings in St. Thomas, 250 in St. John, and 350 in St. Croix.
"The availability of accommodations in the sharing economy has made it possible for many people to travel to the territory, especially during our recovery period," said Doty.
Since January, St. Thomas has received 10,200 visitors staying in Airbnb properties, according to Doty, while St. John and St. Croix received 2,200 and 4,800 respectively. Per its agreement with the V.I. government, AirBnB collects 12.5 percent hotel room taxes on behalf of its hosts and remits these taxes to the V.I. Bureau of Internal Revenue. The AirBnB occupancy figures do not include guest bookings through other sharing accommodations.
Even though the Tourism Department's budget is $20 million for fiscal year 2019, more than $18 million comes from the Tourism Revolving Fund derived from hotel room occupancy taxes. These taxes have dropped by about 55 percent after the storms, mainly due to reduced hotel rooms as well as the waiver of hotel room taxes for federal relief workers.
Only about $2.28 million of the total budget, a 12.5 percent decline from last year's appropriation, comes from the general fund. Of that amount, some $1.44 million and $585,000 will fund personnel and fringe benefits respectively for 24 full-time employees and one vacancy.
The majority of tourism's overall budget – some $18,385,000 – will be used mainly for marketing, including some $1.39 million to market and promote the territory's three major festival and carnival celebrations. Some $1 million will be used to develop and promote the local sports tourism product, and the rest – $16 million – is slated for the marketing and promoting of the territory as a tourist destination.
VI Housing Authority
The Virgin Islands Housing Authority, the agency tasked with managing public housing developments in the territory, also presented its budget at Monday's hearing, amounting to some $9.55 million from the general fund.
According to VIHA Executive Director Robert Graham, the agency's revenues have been volatile due to a decline in rental income, which has gone down by $500,000 per year in the last five years, as well as the levels of federal housing subsidy the agency receives from Housing and Urban Development. This year, that subsidy amounts to some $46.5 million.
Graham said VIHA administers two programs: the Public Housing Program and the Housing Choice Voucher programs, funded this year by some $46.5 million in HUD funds to serve some 4,000 households. According to Graham, while VIHA already receives less than one-tenth of 1 percent of HUD's total annual funding, this amount was temporarily endangered by the Trump administration's attempt to slash HUD's budget by 15 percent.
"The Trump administration's attempts to drastically cut funding for housing programs was soundly rejected by both houses of Congress," said Graham. "We are cautiously optimistic that funding will continue to be stable."