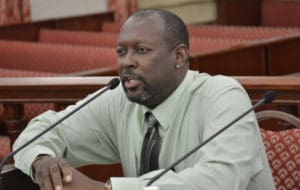 Lawmakers on Monday excoriated the Virgin Islands Carnival Committee for resisting having to reveal a detailed accounting of $292,000 in non-appropriated funding spent in the last fiscal year, money the committee raised from private sponsors and activities in addition to $545,000 it is already receiving in government-allocated funds.
"If you have nothing to hide, why do you refuse to provide the detailed information to this body?" asked Sen. Nereida Rivera-O'Reilly (D-STX).
The VICC was defending its fiscal year 2019 budget, amounting to $545,000 channeled through the Department of Tourism. In contrast, the St. John Festival and Cultural Organization and the St. Croix Crucian Carnival Organization both indicated their willingness to provide any information the senators required.
"Whatever you want we can show you," said Davidson Charlemagne, president of the Crucian Christmas Festival Organization. "If you want receipts, open books, it doesn't make a difference to us. We don't have sponsors other than the VI government."
Leona Smith, president of the Festival and Cultural Organization of St. John, said giving financial information to lawmakers would not be a problem, saying, "We account for all our subsidies and all donations given to the St. John Festival."
VICC Executive Director Halvor Hart III, speaking on behalf of VICC Chairman Kenneth Blake, who is currently off-island, said the committee has provided that information in summary, but unsatisfied lawmakers pressed him for a check-by-check accounting, which the committee performed for the $545,000 government funding but not for $292,000 in VICC-generated monies.
"Sponsor information is confidential, so I cannot provide that information to you," Hart said initially, addressing O'Reilly.
Sen. Kurt Vialet (D-STX), chairman of the Senate Finance Committee stepped in, essentially telling Hart he was excused from the hearing so he could go back to the VICC office and retrieve the financial documentation.
"If you're not going to detail all the monies you're getting, then we're fools, literally," said Vialet. "We can't continue to play games."
The Senate recessed for several minutes, came back on the record with only the St. John and St. Croix carnival representatives in the well until Hart returned, supposedly with the financial documents that senators required.
Monday's hearing seemed to be the first break – albeit a small one – senators made in their attempts to gain more insight into the the VICC's spending of generated income and privately donated funds. As far back as 2006, then-Sen. Adlah "Foncie" Donastorg, who chaired the Senate Finance Committee, got into a standoff with Blake and Caswil Callender, then VICC executive director, over the issue of whether their committee is subject to the fiscal oversight of the Senate committee.
In May 2006, Blake and Callender failed to appear at a Finance Committee hearing into VICC finances, resulting in the committee voting to subpoena them both, along with the Carnival treasurer and certain financial documents. At the next Finance meeting, on June 4, all three officials showed up, but refused to supply the documents, contending that doing so would reveal trade secrets and privileged transactions. They also claimed that as a not-for-profit corporation the V.I. Carnival Committee is not subject to Senate audit.
The VICC has since maintained a reputation for stonewalling efforts by the Legislature to hold it financially accountable and, during the 2019 budget process, seems to be repeating history with the same cast of characters, with the exception of Blake, who still serves as VICC chairman.
On July 31, after VICC officials failed to appear at senate hearings rescheduled repeatedly at their request, Sen. Janelle Sarauw (IND-STT) announced that she was working on legislation to completely defund the VICC and transfer its responsibilities to a Division of Festivals to be created under the Department of Tourism. This move would affect the St. John Festival and St. Croix Christmas Carnival as well, centralizing the management of the three cultural traditions under one division with a designated festival director for each island.
"Every committee should be on notice that the time of accountability is here and it has been here and the level of disrespect for the first branch of government can no longer persist," said Sarauw at Monday's hearing. "It is unconscionable that documents are subpoenaed and they have been ignored."
"The abuse and the lack of transparency of government funds can no longer continue," added Sarauw. "I think it's absurd what the VI Carnival Committee has done for the past 15, 20, 30 years and what they continue to do."
Lawmakers admitted that they will need to scour Hart's Monday submissions in detail, and it remains unclear if the documents satisfied their queries. Vialet, however, hinted that the Committee's budget for fiscal year 2019 might be placed in jeopardy if the Senate does not see detailed accounting of funds from VICC activities and private sponsors.
"Unless we are able to receive documentation as to how those $292,000 are spent, I can't see us including a budgetary line for the budgetary committee until we have that information," said Vialet.
The Crucian Carnival Festival Organization, which is requesting $520,000 in the next fiscal year, shared its fiscal woes. According to Charlemage, while they usually start the year in the red, this year's budget deficit blew up because of a mandate from Government House to extend the Crucian Christmas Carnival by eight days, supposedly to provide stress relief to hurricane-stricken Crucians. One result is an additional $50,000 owed to a contractor providing the village stage, lights and sound system, which originally cost $30,000 for the original 10 days of festivities.
Smith, who received praise for her organization's detailed budget report to the Senate, said the St. John festival committee is merely asking the Senate to approve its $320,000 recommended appropriation for fiscal year 2019, as well as to consider increasing the appropriation so the committee can properly mark the St. John Festival's upcoming 65th anniversary.