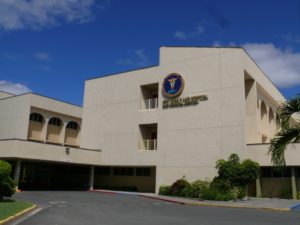 Laura Forbes and Jacintha Stephen recently received national certifications, and from nationally recognized healthcare improvement organizations and the training those certifications represent has already been put to work at the Gov. Juan F. Luis Hospital on St Croix.
The Certification Board for Professionals in Patient Safety recognized Forbes of Christiansted as a Certified Professional in Patient Safety.
Forbes earned her credential in part by passing a rigorous, evidence-based examination that tests candidates on their competency in patient safety science and application.
Forbes, the pharmacy director at the JFL, said she took the course on patient safety because she was aware of the challenges and changes facing the hospital to improve healthcare while recovering from last year's hurricane. The certification allows her to work with nurses and physicians and improve the workflow and assessment processes.
She said she learned to develop and motivate a interdisciplinary team that helps staff to learn what part they play in the health care system.
"It (the course) was not required, but I recognized the benefit for myself and the benefit for the organization," Forbes told the Source.
Forbes used her new proficiency last week during a nurses' skill fair to share new information and reinforce what they already know.
"I've been able to include and to share," she said.
Stephen, passed the examination to become a Certified Joint Commission Professional. The CJCP exam is three-hours long and is based on the Joint Commission's standards and survey process.
The exam alowed Stephen to prove her expertise on the Joint Commission's accreditation process and standards, including areas such as medical staff, environment of care, leadership skills, performance improvement and patient safety.
Stephen completed the course through self-study with a mentor from the Joint Commission. Passing the test allows Stephens to be a surveyor for the Joint Commission or for JFL – to monitor the quality and consistency of care throughout the hospital.
In her capacity as performance improvement specialist she said she uses her new training to follow Joint Commission as well as Centers for Medicare and Medicaid Services standards.
"I'm using my knowledge locally to see quality through the eyes of the regulatory body. And, to do training to be better at what we do. Quality is always involved. Quality drives everything," Stephen said.