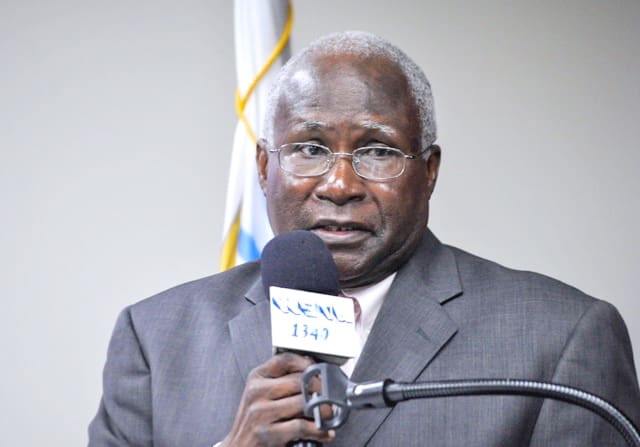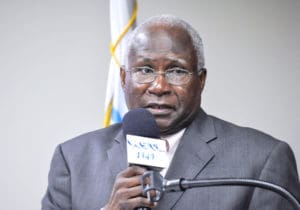 Austin Nibbs, administrator of the Government Employees Retirement System, told senators Wednesday he has strong doubts about Gov. Kenneth Mapp's plans to prolong the life of GERS.
When Mapp announced a deal to reopen St. Croix's refinery, he tied the reopening to new revenue for GERS he said will extend the life of the failing pension system by five years. Mapp has called for a special session of the Legislature on July 25 to consider ratification of the agreement, which in addition to dedicating a new revenue stream to GERS would include the sale of the GERS-owned Havensight Mall to the Public Finance Authority.
Mapp is also proposing changing the makeup of the GERS board, and restricting what actions it can take.
When Sen. Dwayne DeGraff said Wednesday he is against all the conditions of that proposal, Nibbs said he does not take the proposal seriously although he and Mapp have discussed it a couple of times.
Nibbs told senators GERS' investment in Havensight Mall is the best one it has ever made. He said GERS has made the money it invested in Havensight "three or four times over."
GERS has a consultant working on a report analyzing what assets should be sold, he added, and "no decision will be made until we get that report."
Nibbs brought essentially the same message to the Senate Finance Committee on Wednesday that he brought to the Senate in 2008, but this time he said the message was more urgent. In 2008 actuary predictions were that the system would not be able to pay promised benefits to retirees in 14 years; now, the prediction is five years.
Nibbs said employee and employer contributions are the main driver of the pension system. When the government does not pay its contributions, or the contributions it takes out of employees' paychecks, it becomes a serious problem.
"To divert statutory contributions and loan deductions from employee's pay checks to fund 'other priorities' using the term 'good fiscal management' is fraud," Nibbs said, referring to statements made by Mapp that payments were delayed to GERS because that is what financial management called for.
Sen. Jean A. Forde said "fraud" is a strong term but he agreed with Nibbs. He said he plans to introduce legislation to fine government officials responsible for non-payment of contributions.
The government recently made up all the contributions that were delayed over the last two years.
Many senators expressed concern over retirees not receiving annuity payments for months, sometimes years, after retirement. Nibbs pointed the finger at the central government in his testimony.
"The untimely payments of employee and employer contributions have caused delays in retirees receiving their initial annuities for up to nine months after their retirement date, which created financial hardships for many, especially after experiencing two natural disasters," Nibbs said. "The untimely receipt of loan deductions has caused members' accounts to become delinquent."
He said it is the law that no annuities are to be paid until all pertinent contributions have been made to the retiree's account. He added when a retiree's accounts are in order they receive their first annuity within three months.
Answering questions about the employees of GERS, who Sen. Nereida Rivera-O'Reilly said are "generously compensated," Nibbs said the system once had over 100 employees but now has 81.
The number of retirees receiving annuities as of June 20 was 8,493. The number of active employees contributing to the system is 8,669. The current ratio of active members to retirees is 1.02 to 1. The total annuity payments from Oct. 1, 2017 to June 30, 2018 were $183,433,501.29.
Francia M. Brin, chairperson of the board of directors of the St. Thomas East End Medical Center Corporation (STEEMCC) also spoke Wednesday in support of an appropriation of $1,815,615 for uncompensated costs associated with delivering health care to individuals who lack health insurance and are ineligible for Medicaid.
She told senators approximately 30 percent of adults in the U.S. Virgin Islands do not have health insurance and that population will continue to increase over the next few years.
Moleto Smith, executive director of STEEMCC, stated persons in the V.I. are two and a half times more likely to be uninsured than adults living in the States.
Smith also said STEEMCC does not turn anyone away. Patients receive service regardless of their ability to pay. He added that 22 percent of the V.I. population is below the poverty level.
The medical center's budget total is $7.2 million. It comes from a variety of sources including: Medicaid revenue of $2.5 million; Medicare revenue of $218,000; self-pay revenue of $274,000; and commercial insurance of $971,000.
The center employs 81 full-time staff members at a cost of $5.9 million including fringe benefits.
Sen DeGraff said, "You provide an invaluable service and should get all the funds you ask for."
Senators present at Wednesday's budget hearing were Kurt Vialet, Brian Smith, Neville James, DeGraff, Tregenza Roach, Forde, Marvin Blyden, Janelle Sarauw, and O'Reilly