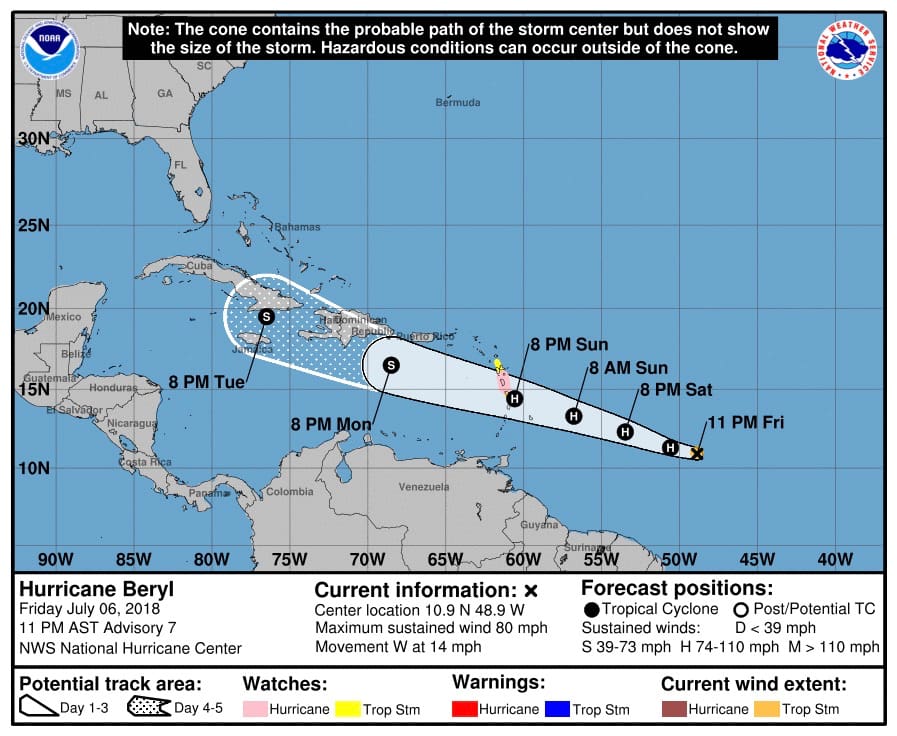 Hurricane Beryl continued churning across the Atlantic Friday night with little change in its course or strength, according to the National Hurricane Center.
But the center did warn that it may still be at hurricane strength when it reaches the Lesser Antilles and moves into the Caribbean late Sunday or early Monday.
In its 11 p.m. Friday update, the NHS said Beryl had shown little change since it reached hurricane status Friday morning. It is still a Category 1 storm, moving westerly at 14 mph. As of 11 p.m. Beryl was 890 miles east southeast of the Lesser Antilles, with maximum sustained winds of 80 mph. It's current projected track shows it moving south of the territory, but likely to bring rain and gusts of wind late Monday or Tuesday.
Meanwhile, in the U.S. Virgin Islands, people are beginning to pay attention to the storm.
At least one activity planned for the weekend is still on, organizers said.
Amy Parker DeSorbo, director of St. George Village Botanical Gardens, encouraged St. Croix residents to attend Mango Melee, which is slated for Sunday, at least a couple of days before the storm is expected to approach the territory.
"Do not let fear of storm take away our community healing," she wrote in an email to the Source. "Even if you only stay for a few hours, please come out."
Mango Melee will run from noon until 6 p.m. Sunday.
WAPA Monitoring the Storm Track
WAPA Executive Director Lawrence J. Kupfer convened a meeting Friday of the utility's division directors to review the authority's level of preparedness in the event of any impact from Beryl.
"We have monitored this developing weather system over the last several days and have had regular discussions about any effect of the storm on WAPA," Kupfer said in a Friday news release. Our discussions focused on any response that may be required primarily on St. Croix. Contractor crews performing permanent repairs to the system are prepared to demobilize their operations by the weekend should the storm system maintain its current track."
Work sites within the power plant compounds are being secured as well.
WAPA's news release said the agency "maintains a state of readiness at all times for not only wind storms, such as Hurricane Beryl, but for any man-made or other natural disaster that may befall the territory."
Coast Guard Sets Port Condition Whiskey
Effective at 8 p.m. Friday, the Coast Guard Captain of the Port San Juan set Port Condition WHISKEY for Puerto Rico and the U.S. Virgins Islands due to the possibility of sustained gale force winds greater than 39 mph from Hurricane Beryl.
The Captain of the Port San Juan strongly cautions the maritime community to remain vigilant and take necessary precautions as Beryl approaches the Windward Islands and potentially makes its way into the Caribbean as hurricane or tropical storm.
During Port Condition WHISKEY, port facilities are open to all commercial traffic and all transfer operations may continue while WHISKEY remains in effect.
Pleasure craft are advised to seek safe harbor. Maritime and port facilities are reminded to review and update their heavy weather response plans and make any additional preparations needed to adequately prepare in case of a potential impact to the area.
Mariners are advised there are no safe havens in these facilities, and ports are safest when the inventory of vessels is at a minimum.
All ocean-going commercial vessels greater than 500 gross tons should make plans for departing the port no later than the setting of Port Condition YANKEE, the Coast Guard noted. Vessels wishing to remain in port are required to submit an application for approval to the Captain of the Port.
NHC Still Thinks Wind Shear Will Disrupt Beryl
Hurricane Beryl appears a little less organized than earlier, but the agency warned a turn toward the west-northwest and an increase in forward speed should occur in the next 12 to 24 hours.
The new NHC track, issued with the 11 p.m. Friday forecast, has the center near the Lesser Antilles in about 48 hours, over the north central Caribbean Sea in about 72 hours, and near eastern Cuba in about 96 hours – if the system actually survives that long.
Beryl is expected to remain in a light vertical wind shear environment for 36 hour or so, then encounter steadily increasing westerly shear as it moves into the Caribbean Sea. Steady to rapid weakening should occur over the eastern Caribbean due to stronger shear, and the current forecast has Beryl weakening to a tropical wave after 96 hours. An alternative scenario, supported by the NHC's large-scale models, is that Beryl weakens to a tropical wave near the 72-hour point.