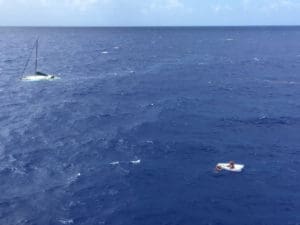 The U.S. Coast Guard rescued a St. Thomas sailor Friday after his sailboat sank six miles southwest of Big Sand Cay in the Turks and Caicos Islands.
The Coast Guard identified the rescued mariner as Robert Petersen, 66, from St. Thomas.
At approximately 9:30 a.m. Friday watchstanders at Coast Guard 7th District Command Center received a 406 megahertz emergency position indicating radio beacon alert from the 36-foot sailing vessel "Wings," with one mariner aboard.
According to the Coast Guard, watchstanders directed the launch of an MH-60 Jayhawk helicopter crew deployed in the Bahamas. The Jayhawk crew located the sailing vessel, hoisted Petersen and transported him to Providenciales in the Turks and Caicos at 11:53 a.m. with no reported injuries.
The Coast Guard did not describe the cause of the emergency.