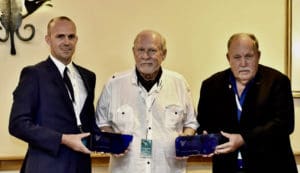 On June 11, Bill Bohlke, Sr. and his son William Richard Bohlke, known to most as Billy, took off in their MU-2 propeller plane and made it from St. Croix to Nassau, Bahamas in three hours. It beat going through Miami.
They flew home a week later with a pair of prestigious awards, one for service to the industry, one for service to the community.
The Bohlke men and Bohlke Sr.'s wife Ruth Ann (aka Tuddy), along with Bohlke International Airways marketing director Ashley Bouzianis were headed for the 2018 Caribbean Aviation Meetup, held on Paradise Island.
At the meetup, the Bohlke team convened with others in the business aviation industry. Corporate pilots, international journalists, folks in hospitality and tourism, investors, government agencies and politicians attended and brought ideas with them. They exchanged experiences and strategies, often round-table fashion.
The Bohlkes spoke highly of the conference. The Caribbean Aviation Meetup aims to create a travel alliance and stimulate air-traffic to Caribbean destinations, they said.
"These conferences are for any aspect of corporate aviation," said Billy Bohlke.
He explained that the conferences could conceivably attract larger corporations such as Honeywell, Coca Cola or Fed Ex.
"All have a corporate department, most have a jet to help facilitate the business" he said.
"No plane, no gain," Bohlke, Sr. chimed-in with an old industry slogan.
Billy Bohlke appreciated meeting the "different players in aviation from around the Caribbean … especially the Bahamians."
Bohlke, Sr. found great worth in the networking.
Each Bohlke gave a talk at the conference, and, in an evening ceremony on June 12, each accepted a Sapphire Pegasus award.
The Sapphire Pegasus recognizes individuals, businesses, and/or teams for outstanding performance in the business aviation sector. Historically presented in Europe, it has been awarded in the Western Hemisphere only once before. Cdr. Bud Slabbaert of St. Martin, who founded the Caribbean Aviation Meetup, announced eight winners at the 2018 event.
Bohlke, Sr. won a Sapphire Pegasus for lifetime achievement. He delivered a seven-minute teary-eyed acceptance.
When he was 10, he said, his father put blocks on the cockpit pedals and taught him to fly. It was Thanksgiving Day 1956. At 16, he soloed. At 17 he got his private license. He earned his commercial license at 18.
By the time he was 21, he had signed-on with American Airlines. He flew with AA for 38 years, retiring with a No. 2 seniority ranking.
Also an FAA examiner for 47 years, Bohlke conducted more than 1,000 flight tests.
On days off from American, he flew with Bohlke International Airways out of St. Croix. Tuddy took over as "the big cheese" at BIA when he was away.
"Aviation is my life," he told the audience. "If it hadn't been for my wife, I don't know where I would be."
He encouraged parents with sons or daughters aged 10 or 12 to "get them out to the airport. Many St. Croix kids learn to fly and go on to work with major airlines," he said.
He named the possibilities: pilot, flight attendant, maintenance crew, flight dispatcher.
"The careers are unlimited," he said.
Bohlke International Airways won the Sapphire Pegasus for its charity relief efforts post Hurricanes Irma and Maria. As president and chief pilot for the company, Billy Bohlke accepted the honor. These days, he runs the show at Bohlke.
Now retired, Bohlke Sr. works in an advisory role with the family business, as does Tuddy. He still goes into airport every day; he still flies his MU-2 for frequent personal trips.
During the conference, Bohlke, Sr. gave a talk about Caribbean aviation, from 1960 to the present, from Trinidad to Puerto Rico.
He spoke about how the airports have changed, how communications have evolved, and of the airlines that have come and gone. He cast back to the days of the telex, before fax machines and when pilots had no radar in the islands.
Bohlke, Sr. began his presentation with a story about his own father, who built an airport from scratch in Springvale, New York, and gave flying lessons. Actors Burgess Meredith and Wally Cox were among his students.
His father bought an airplane in 1959. He had just remarried and yearned to live in a place without snow but under the American flag. V.I. Gov. Ralph Paiewonsky lured Bohlke's father to the territory by offering that any piece of land he could find on St. Croix, he could lease for $600 a month.
Thus, the elder Bohlke set up shop on an acre of land near the airport. In 1964, he started the first commuter airline in the Caribbean – Virgin Islands Air, later purchased by Prinair.
Next, he established Caribbean Air Service, a freight company with daily runs to Puerto Rico and St. Thomas. The business expanded down island, flying cargo DC-3s, a Shorts Sky Van, and C-46s of WWII vintage.
Three generations of Bohlkes have helmed the family's evolving operations, all in aviation.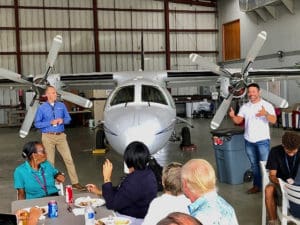 Along with Dr. Brendan Anzalone, president and chief medical officer with USVI-based AeroMD, Billy Bohlke told the conference about relief efforts after Hurricanes Irma and Maria. Partners in medical evacuation, BIA and AeroMD worked to get satellite communications, power and generators up and running ASAP.
After Irma, the team transported people to Puerto Rico where they boarded military aircraft to the States. The team also delivered supplies to St. Thomas, St. John, and the BVI.
"We shipped all supplies from St. Croix to the Irma-hit people – baby formula, batteries, everything. Whatever we could do to help, we did," he said. "So did the rest of our community."
Maria had destroyed the Bohlke International Airways hangars and private terminal, but the staff at BIA never broke stride.
"Our staff worked 24/7 and kept the relief efforts going," he said. "Hats off to our staff for providing logistics."
Bohlke International Airways has operated as an on-demand charter company since 1984 and holds a Part 135 FAA certification. "Part 135 means that you are a taxi on call," said Bohlke, Sr.
Charters have included transport to Barcelona, California and British Columbia. Clients have booked BIA for travel from Antigua to London and from the Grenadines to New York. A flight to Marathon, Florida was booked for 13 parrots. The company delivered a Great Dane to Dallas and an array of pets to Bar Harbor, Maine. It also works with the St. Croix Animal Welfare Center whenever it can.
The younger Bohlke likes looking for business opportunities. Three years ago, he encouraged AeroMD to come over from St. Thomas.
"We had a maintenance staff, planes, and 50 teem members to help with the mission," he said. BIA now dedicates certain aircraft to provide airlift for AeroMD, planes that live on St. Croix.
One of the few maintenance facilities in the Caribbean, BIA obtained FAA Part 145 repair station certification in November 2016 for Tradewins Flight Center, LLC.
These certifications come with ongoing FAA scrutiny.
"This scrutiny makes it safer for the public. We are required to carry insurance, and our clients want to see proof of that. We carry lots of liability insurance," he said.
Not only is BIA an award-winning FBO (fixed base operator), it also supports the U.S. Air Force Hurricane Hunters. Having previously used Antigua as its Caribbean base, Hurricane Hunters moved its hub to St. Croix in 1995, thanks to a persuasive visit by Bohlke, Sr. to Keesler Air Force Base in Biloxi, Mississippi.