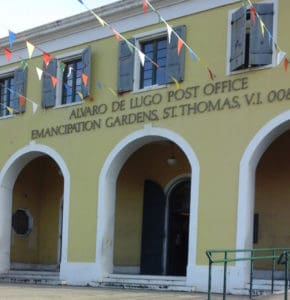 Allen Springette, 45, of St. Thomas, pleaded guilty Thursday, June 14, to burglary of the Alvaro de Lugo Post Office, U.S. Gretchen C.F. Shappert announced.
Appearing before District Court Judge Curtis V. Gomez, Springette admitted that, had the case proceeded to trial, the government would have been able to prove that in the early morning hours of April 16, Springette gained entry into the Alvaro de Lugo Post Office by smashing one of its windows with a brick. After crawling through the window, Springette rifled through several postal packages and thereafter, as was captured on surveillance video, left with at least one package.
Officers from the V.I. Police Department easily identified Springette as the individual captured on surveillance videos and, upon encountering him later that same evening, noticed that Springette appeared to be wearing the same clothing as seen on the videos.
When questioned, Springette admitted to breaking into the Alvaro de Lugo Post Office with the intent of finding items to steal and that he did, in fact, steal at least one postal package.
Sentencing is set for October 18. Springette faces a maximum sentence of five years and a fine of $250,000.
The case was investigated by the U.S. Postal Inspection Service and the V.I. Police Department and is being prosecuted by Assistant U.S. Attorney Meredith J. Edwards.