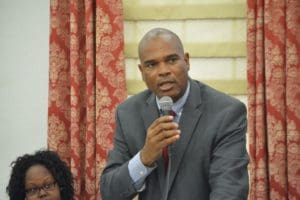 A string of rezoning requests turned Thursday's senate session into a heated exchange over zoning reform as lawmakers discussed residents' requests to rezone residential plots to commercial.
Among the items on the senators' plate was a request by Timothy and Marie Granderson, owners of Distance Freight, who want to rezone Parcel 168 in Clifton Hill from R-1, or low-density residential, to B-2, or business-secondary. This would allow them to move their freight business from its current location, nearby 1C Clifton Hill, and convert that location to rental spaces for businesses and a guest house. The rezoning request – already approved by DPNR –– for that parcel was granted.
On June 7, during a zoning hearing, Leia LaPlace Matthew, a planner at the Department of Planning and Natural resources, advised senators to deny the rezoning request based on the potential for building a gas station and neighbors' concerns, including flooding, increased problems with traffic and deterioration of the roads. The Grandersons' freight business would sit squarely in the middle of the same residential area if their request is granted.
Lawmakers, led by Sen. Nereida Rivera-O'Reilly, eventually voted to remove this request off the agenda, but not before passionate repartee between senators on different sides of the issue.
"It's a smart move," said Sen. Positive T.A. Nelson. "Is it something undermining to us? No. I don't think it's so bad for somebody to have a vision for a place that nobody has seen yet. Why shouldn't they be allowed the chance to try that? I don't think something here sticks out that would cause major controversy to the territory."
Rivera-O'Reilly made her opposition clear.
"I would not as a representative of a people support that inconvenience to another resident," she said.
Sen. Janelle Sarauw questioned why zoning requests are brought before the senate at all instead of a separate zoning board.
"I cringe every time we talk about zoning in this body," Sarauw said. "I am not an expert. Checks and balances is good in a democracy but it has become a redundant process, a very politicized process. It's tainted, convoluted, lacks any kinds of vision, and I believe it's very detrimental to our future."
Sen. Sammuel Sannes agreed, but went on to lament what he called "the Disneyland of gas stations," referring to rezoning requests that allow the potential building of gas stations on the rezoned properties.
"When you look at a stretch in St. Croix starting from Pueblo in Lorraine or around that stretch, within 6.3 miles, you see a total of 14 gas stations," he said. "You can actually walk from one gas station to the other."
Sanes added that while economic development is a good thing, so is preserving the island's ecology.
Senator-At-Large Brian Smith disagreed, saying that lawmakers lamenting the proliferation of gas stations is tantamount to obstruction of the American dream.
A recent DPNR permitting error allowed for the start of construction of a gas station on property on St. John owned by Smith. The construction of that gas station was ordered to be halted after residents of the neighborhood complained.
"Just give me a break," Smith countered. "This is a free enterprise situation. May the best gas station win the business. If they want to have 10 or 15 gas stations, so be it…Let the business thrive, because that's the American dream: competition, competition, competition."
Sen. Janette Millin-Young encouraged her colleagues to get behind the proposition for zoning reform.
"It came to legal counsel in 2014," she said. "It's now 2018, and it's time to reform the way we do rezonings."
Senators did approve a bill that would grant a use variance for another St. Croix businessman, Hans Lawaetz, who wants to use his guesthouse on Plot No. 2AF, Estate Upper Love, as a bed and breakfast. The plot, already zoned as A-I, or agricultural, will not be rezoned, only given permission for additional use if the request is granted.
In spite of a negative review by DPNR, senators approved a request by Luis and Ludymar Ortiz to rezone Plot No. 56 of Parcel No. 67 of Estate Mount Welcome from R-1 to R-3, residential medium density, to build a three-story, two-family house.
Lawmakers also approved the following:
-A use variance request by Jestina Barbour for Plot No. 17 of Parcel No. 2 Estate Concordia to be able to install two containers that will house a bakery and a retail clothing store.
– A request by Wendy Phoenix to rezone Plot No. 1O-D Estate Constitution Hill from R-1 to R-2 so it can be consolidated with an adjacent R-2 property and then re-subdivided.
-Ratification of Gov. Kenneth Mapp's approval of the Minor Coastal Zone Permit that will allow William Shea to continue use of a straight pier and ramp.
All senators voted yes to the rezoning requests that remained on the agenda, except for Sen. Alicia "Chucky" Hansen, who was absent.