After almost two years of trying to get paid more than $5 million in unpaid invoices, Veolia, operator of the U.S. Virgin Island's two public wastewater treatment plants, announced Thursday it will turn the plants over to the V.I. Waste Management Authority unless there is immediate action to at least implement a payment plan.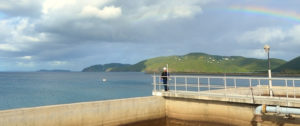 Veolia was hired to build the two plants with federal funds back in 2005, to help the territory meet a federal court ordered consent decree to improve sewage treatment and reduce releases of sewage-contaminated water. The decree requires a third party operate the plant and the WMA hired Veolia for the job.
This crisis has been brewing for several years. (See Related Links below.) In July 2016, then-acting WMA Executive Director Steve Aubin told senators the authority already owed contractors a combined $10 million for wastewater treatment and for baling trash at St. Croix's Anguilla Landfill.
On March 12, Stephen Kruger, Veolia's senior vice president of operations for its southern division, sent a letter to Attorney General Claude Walker, Public Works officials and the Waste Management Authority notifying the USVI of default and threatening to cut off service.
In March, Kruger said "Veolia has repeatedly tried to engage" the V.I. government "to sit down and work out a payment plan" but the V.I. government has not engaged and recently "adopted a strategy of completely avoiding Veolia's phone calls, emails and letters."
Then in April, WMA reported it had made a partial payment to Veolia. WMA reported it paid $461,598.36 on April 6 and was in discussion with Veolia on a payment plan.
But Veolia indicates no payment plan has been implemented.
In a statement Thursday, Veolia officials said the USVI government and WMA "have not been making payments to cover Veolia's cost of operations for more than 18 months." Company officials said they have "been patient" because they "understand the devastating effects of last fall's hurricanes … ."
But they say the government "has not been able to demonstrate any meaningful response or show signs that it is working to develop a plan or program to make payment" to Veolia.
They say the company "has offered a payment plan that would extend the repayment of the debt over several years rather than require immediate payment, but there has not been any indication that its offer will be accepted."
The company sent a letter June 6 to WMA and other agencies and officials offering a plan calling for WMA to pay only its normal monthly payments through December, then start paying an additional $72,052 per month for the next eight and a half years.
Officials said the departure "would put USVI in violation of the EPA consent decree that requires a third party to operate the plants."
While planning to leave, officials said the company still hopes a deal can be worked out to arrange payment and continue to operate the plants.
"Wastewater treatment is an absolutely vital service that cannot be interrupted. We remain hopeful that the USVI will be able to work with (Veolia) to reach a resolution in order to allow (Veolia) to continue operate the facilities," company officials said in a statement.
Asked for comment, both Government House and WMA said statements would be coming soon. As of 7 p.m. Thursday, neither had yet supplied an official comment or response.