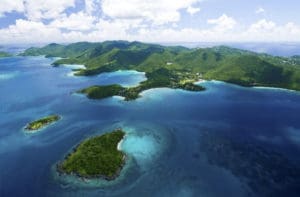 Dear Source:
So here we are, Soul Survivors, in flight or fright mode almost eight months since we experienced two mind and soul shattering events. Most of us have been in mind bending situations one or two times before. However, nothing and I repeat, nothing could have prepared my being for the shaking, pressure changing sounds and winds of multiple locomotives on steroids thundering through every room of our house simultaneously.
We survivors are all going through various stages of post traumatic stress. Please do not be too hard on yourself. Forgive yourself. It is not your fault. It is very difficult to explain to others your feelings. The best way is photos and still, "You had to be here," in order to get the whole scope of the terror we people felt.
That being said, we, as indigenous, original, native people of these Ay Ay Islands, now known as the Virgin Islands of the United States have much work to do. This is an ideal time to include our young people in the wholistic rebuilding of our community. There are opportunities in all sectors of our society that our youth can participate and benefit from. Our community can benefit from the energy of our youth as well their knowledge working with various aspects of technology. From Agriculture to Zoology, we have the knowledge base to create infinite possibilities.
What vision do we have as Virgin Islanders for our beautiful and majestic islands and our ascendants? There can be no tourism-based economy without our magnificent environment, our emeralds of the sea. This is a great time to re-examine the Comprehensive Land & Water Use Plan.
Because "we" planned ahead, there is no reason to reinvent the wheel. Some parts of the Comprehensive Land & Water Use Plan may need to be updated or even discarded. There is no need to wait on the Legislature or the Department of Planning & Natural Resources to start the initiative. In our community we have more than enough environmentally conscious individuals and groups to insure a balance between the environment and our economic needs. Did you know an initiative proposed by the voters and overwhelming voted on becomes law?
A few months before our visitation by IrmaMaria, we heard there would be less cruise ships due to our old and outdated product. As a result of the Virgin Islands no longer being in demand the cruise ship industry would be seeking greener pastures. However, not even one month after our disasters, the same cruise ship industry needed a port for their passengers. Who did they overwhelming pick? The Virgin Islands of the United States.
We must be the ones to determine our value, our worth and the potential wealth we can generate for the benefit of our youth, elders and the working man and woman. These critical virtues should not be based on the whim of our exploiters, but on our long term use of our product. The same exploiters conveniently forgot their part in helping to destroy our now/then outdated product and environment with nary a care.
Almost immediately after Irma a deuce and a half (2½ ton military vehicle) with one man in the back, drove through our neighborhood. The driver's window was up. People were calling out for help as quite a few people in the neighborhood needed rescuing. There was no house to house check. No emergency supply distribution. What then is the duty of our National Guard after a natural disaster? VITEMA must develop its own disaster survival plans A, B, C and D may be necessary so we are not solely dependent on outside assistance.
As an alumnus of the Civil Air Patrol under the leadership of then Captain/Colonel Hansby in the 1980's, this rescue mission was not acceptable. Back in the day we were trained & certified in First Aid, Search & Rescue, rappelling, survival camping, etc. If Capt. Hansby were still around our response time to people's emergencies would be quicker.
We have many youth groups that can be trained in the skill sets mentioned above along with other survival techniques including communications. The youth can be activated in emergencies to assist as well as teach communities and neighborhoods many of these methods.
The art of discernment is the ability to grasp, comprehend, and evaluate clearly. It means we can see the true nature of things; it allows us to distinguish between what is real and what is imitation.
During Hurricanes Hugo and Marilyn our phone service did not depend on electricity. People were able to talk with each other or call the radio stations during the storms. No such thing this go round.
After Irma, there was little to no telephone communication. Folks were frantic unable to find out about their loved ones in other areas of the island. Some could not communicate with their loved ones for weeks.
How did this happen? With the help of certain personalities, the people of the Virgin Islands were convinced that the old system was antiquated and this new telephone system was great. Many fell for this ploy accepting a phone system with an eight hour backup in a place where the power goes out for extended periods of time beyond the eight hour period. Talk about buying a cat in a bag. This same unreliable system is being reinstalled.
Now, can you imagine being in a state of total chaos and confusion? Standing in various lines for hours at a time with hundreds of others while being scolded by a media personality to be patient and stop complaining. All while he was being fed and provided for in a safe and air-conditioned environment. The irony.
If we are truly set on rebuilding the Virgin Islands of the United States, then we must re-examine those systems that have not been in our best collective interests. We must begin from a position of honesty, integrity, Sacred Intent and balance.
Aye Yah Yaye, We are Soul Survivors and a resilient people going through apocalyptic events. It is accountability time and time for inner work as well as collective growth. We made it through two storms that increased from a Category One to a Five in less than twenty-four hours. We are Spiritual Beings having a human experience. There is nothing to fear but fear itself. Let's go, we have much to accomplish!
When Virgin Islanders are happy and content in our own home, then all others will be happy and content too. Let us restore V.I. Pride as only we can do! In Peace,
Caroline A. Browne, Authochonous Always, St. Thomas