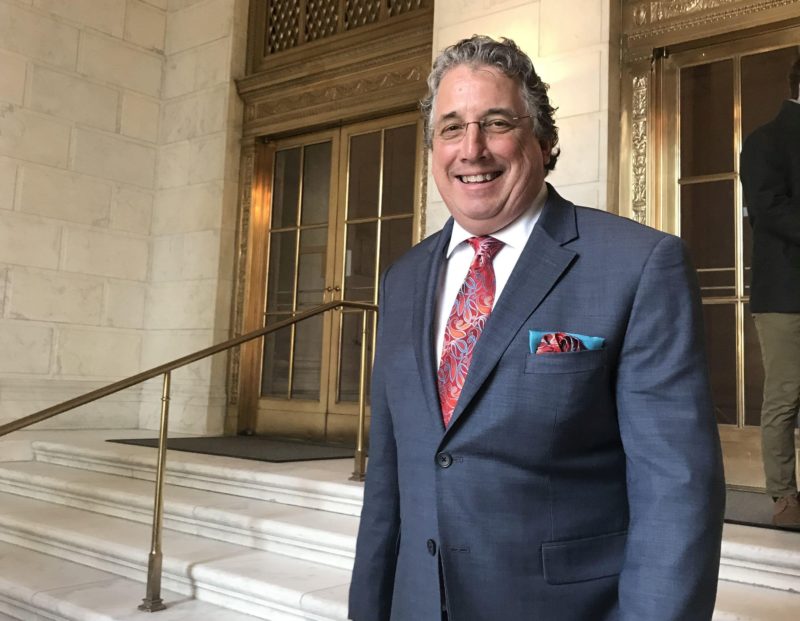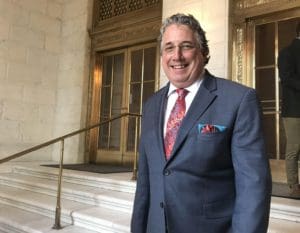 Long-time V.I. attorney Andrew Simpson has done something very few attorneys have ever done: argued a case solo before the U.S. Supreme Court. Oh and the Supreme Court ruled unanimously in his favor March 27.
The case, Hall v. Hall, revolves around a procedural issue important to attorneys but not juicy and exciting like guns, free speech or religious expression. It delves into the question of at what point appeals must be allowed to move forward when two or more cases have been consolidated and final decisions have been made only for part of the case. More on that later.
Simpson is well known within the territory. He has practiced law in the V.I. for 27 of his 30 years as an attorney. He lives on St. Croix, but his firm deals with cases throughout the territory. As legal counsel for the V.I. Conservation Society, he played a prominent role fighting Golden Gaming's coastal zone permit in court – a case that is still pending. He is also legal counsel for the V.I. Casino Control Commission.
But arguing cases before the U.S. Supreme Court- that is rarefied air indeed. The court only decides 100 to 150 cases per year of the more than 7,000 cases it is asked to review annually. And even asking the court to consider a case is a rarity for most practices.
"It is absolutely a dream. It truly is the Superbowl for a lawyer. For most lawyers it is not even a once in a lifetime event," Simpson said Thursday.
"The guy I was arguing against was Obama's solicitor general. So he had argued 36 (Supreme Court) cases before. But for your average lawyer, it is absolutely just unheard of."
Neal Katyal, President Barack Obama's acting solicitor general in 2010 and 2011, led a team of high-powered attorneys that argued unsuccessfully against Simpson.
Simpson is not just blowing his own horn. The fact that a V.I. attorney fought the case and won it has itself become legal news. The day after the decision, Above the Law, a legal news website site, featured the case with the headline: "Solo Practitioner Wins Unanimous Supreme Court Decision Against All Odds."
"To be given an opportunity to argue before the U.S. Supreme Court is an honor few lawyers get. Winning is a greater honor. But winning with a unanimous decision is the ultimate honor. And this honor goes to Andrew Simpson, a solo practitioner in the U.S. Virgin Islands," Shannon Achimalbe wrote. (See Related Links below)
How did this St. Thomas case get to the U.S. Supreme Court? Different federal circuit courts had different rules for this situation, which is the sort of thing that piques the Supreme Court's interest.
It started as a dispute between a son, Samuel Hall, his mother Ethlyn Hall and his sister Elsa Hall, over rent money spent by the son to develop a St. John property. The details of the dispute are not important to the Supreme Court's ruling. What matters is mother sued son as an individual and on behalf of a family trust; son countersued mother and sister individually and also the family trust, and V.I. District Court consolidated the cases and held one trial.
In one case the jury found against Elsa, and she filed an appeal, but in the other, it found for Samuel and the court granted a new trial. Samuel asked the court to dismiss Elsa's appeal, arguing it was too soon to appeal because the other claims were still unresolved and awaiting the new trial. The Court of Appeals for the Third Circuit agreed and dismissed the appeal.
"The question was: does my client have a right of appeal or do they have to wait for another case to be final. The Third Circuit said they did not (have that right) and would have to wait for the other case to be final. … But it has been three years already and the other case still is not final," Simpson said Thursday.
If the law were settled on this, there would be no reason for the Supreme Court to get involved. But, Simpson said, there are four different rules in four different circuit courts for how to handle this situation.
"So it was a procedural issue. But it was a very important decision for litigants because … it depended on the luck of geography if you could appeal or had to wait. You had to guess how the court would rule," he said.
Very few cases can be automatically appealed to the Supreme Court. Generally you have to file what is called a writ of certiorari, asking the Supreme Court to consider the case. If four justices agree, they put it on the docket.
"When there is a split in the (circuit courts) that is a classic case the Supreme Court would look at," he said. "They don't always do that. Sometimes they wait until other courts have ruled," he said.
Sometimes all the courts go one way and only one court goes the other way. Then that court may see the trend and reverse itself, so the Supreme Court never has to step in, Simpson explained.
"The art of certiorari is to persuade them it is indeed a split and it has percolated long enough that it's time for them to take it up. In my case, a four way split is extraordinarily rare," he said. This is the second time in his career that he filed a writ of certiorari but the first one that has been granted.
Simpson filed for certiorari a year ago, in March 2017. He said a group of retired judges filed a reply, opposing his motion. Then the court went on recess for the summer.
"Then when the court first convened after summer … I don't remember exactly but after (Hurricane) Maria, they granted Cert," he said.
"Some retired judges filed an amicus brief opposing our position as well. They like this very loose kind of 'we will tell you when you get to appeal on a case by case basis,'" he said.
An amicus or "friend of the court" brief is a legal filing by interested groups who are not actual parties to the case but have an interest in the legal question at hand.
In this case, the retired judges argued each court should make the decision individually. Their brief concludes "the district court is in the best position to be a vigilant steward of the resources of the courts and the parties, to ensure the efficient administration of justice, and to effectively manage the case. The determination of when a judgment becomes final and appealable for one part of a case consolidated for all purposes should reflect that reality."
The court scheduled oral arguments for January 16.
"I went about a week early to watch other cases there so I would be comfortable arguing," Simpson said.
A few days before the oral arguments, he practiced with a "moot court" – a sort of mock court where you argue cases but it is not a real trial – with the Georgetown University School of Law's Supreme Court clinic.
"They have a mockup of the court room that is just like it, right down to the carpet. Maybe a little smaller," he said.
Both sides made their cases.
Which justices asked the most questions?
"It was pretty evenly divided," Simpson said. "(Sonia) Sotomayor, (Neil) Gorsuch, (Ruth Bader) Ginsburg, (Stephen) Breyer were all very active. But all the justices, except (Clarence) Thomas, who rarely asks questions, got their licks in," he continued.
Chief Justice John Roberts delivered the unanimous opinion on March 27.
"When one of several cases consolidated under Rule 42(a) is finally decided, that decision confers upon the losing party the immediate right to appeal, regardless of whether any of the other consolidated cases remain pending," Roberts wrote for the court.
That was what Simpson argued for and now it is the law of the land.