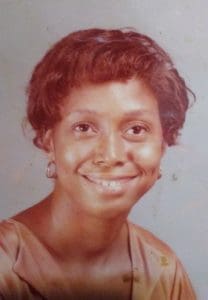 Beryl Olive Brown died on March 1 at the age of 66.
She is survived by her children: Verna Malone, Trina, Leayle Jr. and Leando McFarlane, and Kaisa Edwards; life partner, Leayle McFarlane Sr.; sons-in-law: Jerry "Poto" Malone Sr. and Dexter Edwards; siblings: Deverelle "Debbie" Brown-Donastorg, Roystein Brown, Editha "Edith" Borges, Allan "Soup" Brown and Jacqueline "Jackie" Wong Shing; and aunts: Glantel Smitten, Glova Abindego, Edris Prentice, Elaine Brathwaite, Evelyn Brathwaite, Magret Hutton, Caroline "Bessie" Parsons and Dr. Arthurlyn "Arthy" Thomas,
She is also survived by uncles: Enos, Ishmael, Edric, Edward and Wesley Brathwaite, and Retired Policeman Lt. Alvin W. Brown; 20 grandchildren; three great-great-grandchildren; eight nephews; six nieces; one niece-in-law; family and special friends: Ivy Monsanto, Sharon Robles, Denise Potter, Shelby Potter, Joseph Gomez staff, Altona Hill family, Brown family, Brewley family, Abindego family, Brathwaite family and other families too numerous to mention; goddaughters: Ermaine Lewis and Jahmia Baptiste; adopted daughter, Vashti Gerald Berry; as well as many other family members too numerous to mention.
Relatives and friends are respectively invited to attend the first viewing from 5-7 p.m., Friday, March 23, at the Celestial Chapel – Hurley Funeral Home. The second viewing will be held at 9 a.m. followed by a funeral service at 10 a.m., Saturday, March 24, at St. Thomas Assembly of God. Interment will be at Western Cemetery No. 1.
Arrangements are under the care of Hurley Funeral Home and Cremation Center of St. Thomas, St. John and St. Croix
For directions and online condolences, please visit us at www.hurleydavisfuneralhome.com