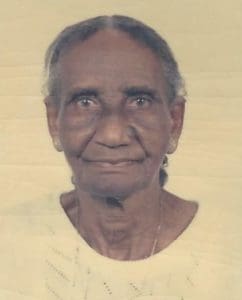 Stellma Edwards, also known as "Thelma Edwards," died on Tuesday Feb. 27, at her residence. She was 99 years old.
Stellma Edwards is survived by her sons: Hesketh James, Don James and Walter Challenger; daughter, Avril Davis; brothers: Rolston Edwards, Desmond Edwards and Carlton Edwards; sister, Marjorie Abbott; grandchildren: Corina James, Mark James, Marie James, Jacqueline MacDonald, Gary Smith, Avalon Smith, Vernesica Challenger, Harriet Davis, Mark Davis and Craig Davis; special cousins: Stanford Joseph, Corthwright Joseph, Ernestine Joseph and Gloria Carter; special friend, Lena Henry; 27 great-grandchildren; 15 great-great-grandchildren; and many other relatives and friends too numerous to mention.
Relatives and friends are respectfully invited to attend a viewing at 9 a.m. and a funeral service at 10 a.m. on Wednesday, March 14, at St. Andrew's Episcopal Church. Interment will be at Eastern Cemetery, Smith Bay.
Arrangements are under the care of Hurley Funeral Home and Cremation Center of St. Thomas, St. John and St. Croix
For online directions and condolences, please visit us at www.hurleydavisfuneralhome.com