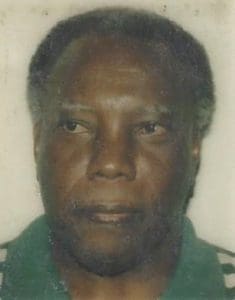 Liston Barry Sr. died on Wednesday, Feb. 28, at the age of 81.
Liston Barry Sr. is survived by his children: Liston Denzil Barry Jr., Lorilie Diana Barry, Roxanne Barry Gleeson, April Michelle Barry, Maxime Edwards Barry and Kim Terese Barry; grandchildren: Anthony G. Samuel II, Jamal E. Samuel, Jermaine T. Samuel, Steven E. Murrah, China S. Jamerson, Chantel M. Gleeson, Ciara P. Gleeson, Jan-Alexis Barry, Brandi F. Barry, Brandon A. Barry, Alana R. Barry, Alyna V. Barry and Kendall L. Barry; and brothers: Ruben Barry and Melvin "Malcolm" Barry.
He is also survived by sisters: Essetta Barry, Rita Magras-Parker and Mavis Smith; brothers and sister-in-law: Pearlina Barry, Earl Parker and Edward Smith; special yellow daughters: Shona Barry and Arleen Chandler; special friends: Brown, Grumbler, Selden, Blood, Barrington, Mimee, Lisa, Hutton, Kenny and Adrian; as well as numerous nephews, nieces, great nephews, great nieces and many other relatives and friends too numerous to mention.
Relatives and friends are respectfully invited to a first viewing that will be held from 5-7 p.m., Wednesday, March 14,
A second viewing will be held at 9 a.m. followed by a funeral service at 10 a.m., Thursday, March 15, at Celestial Chapel of Hurley Funeral Home. Interment will be at Eastern Cemetery.
Arrangements are under the care of Hurley Funeral Home and Cremation Center of St. Thomas, St. John and St. Croix
For online directions and condolences, please visit us at www.hurleydavisfuneralhome.com