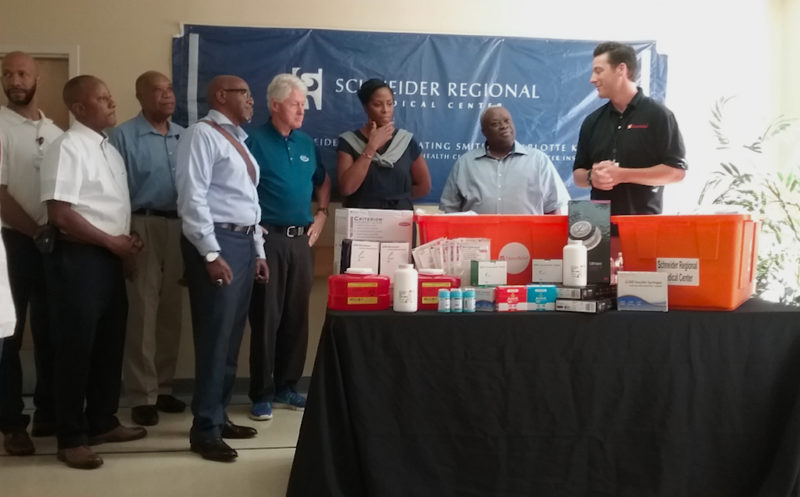 Former U.S. President Bill Clinton told the people of the Virgin Islands it will take a concerted effort over a protracted time frame to bring the territory back from the devastation dealt by the 2017 hurricane season.
Flanked by Gov. Kenneth Mapp, Senate resident Myron Jackson and V.I. Delegate to Congress Stacey Plaskett, the 42nd president announced Monday the formation of a Caribbean Action Network to attract and engage those willing to make long term commitments towards a full recovery.
In doing so, the former president is joining forces with Virgin Islands leaders grateful for the support that has come from Washington but disappointed at the level of financial support currently making its way through Congress.
"I'm here because I don't want the rest of America – the donor world in general – to forget this is going to be a very long term recovery. And I don't want them to imagine all the money that the Virgin Islands should get from the government will come, for a variety of reasons," Clinton said.
Clinton was expected to make a similar pitch when he visited storm stricken Dominica on Tuesday. Visits to St. Thomas-St. John and Dominica were described as fact-finding tours in advance of creating the regional support network.
"Following this week's planning meeting, President Clinton will officially launch the Action Network on April 3 at the University of Miami, bringing together leaders from government, business and civil society," according to a statement issued by the Clinton Foundation Monday.
Affected island nations and territories included in the relief initiative include Puerto Rico, the U.S. Virgin Islands, Antigua and Barbuda and Dominica. Barbuda suffered an estimated 95 percent structural damage in the wake of Hurricane Irma.
Area targeted for long term recovery through the action network include health care, energy, education and economic development.
Getting there will not be easy, Clinton said. He based that comment on the eight years already spent in Haiti, trying to help the nation recovery from a catastrophic earthquake in 2010.
"And everyone who cares about this, needs to be prepared to work for a few years on this," he said. "In April, I'm going to have a conference in Miami, bringing in other people who know this is so, and we're going to try and make a long term commitment across health care, education, economics, you name it. We'll try to be there for you when all the headlines are about something else."
Plaskett welcomed those words, noting the number of responders and agencies that have already come and gone from the territory since September.
The Clinton Foundation is part of the Clinton Global Initiative, established in 2005 to address a series of global challenges. Another CGI affiliate, Direct Relief International, appeared on St. Thomas Monday.
Representatives brought four cases of hospital supplies to the Schneider Regional Medical Center as a charitable donation. Donated items included infectious-waste bags, disposable gloves, hygiene products, syringes for use by diabetics, topical and oral antibiotics.
It's the fourth time since the passage of Hurricanes Irma and Maria DRI dropped by with gifts of supplies, said Shanique Boschulte, assistant to Schneider Regional Medical Center Chief Executive Officer Bernard Wheatley.
"Right now we're at capacity with our storage but let's just say they're lending us a helping hand," Boschulte said.
Mapp expressed his gratitude following the tour of the damaged hospital medical ward for both the donated supplies and the efforts of SRMC staff and management since the catastrophic storms struck.
"I have to tell you, Mr. President, that the folks who work in this hospital and on St. Croix at the Juan Luis Hospital have gone beyond the call of duty. While the walls were breeching they were taking patients out by mattress, down the steps and making sure they got to safe havens," Mapp said. "This help from Direct Relief and the help that you're providing is really going a long way to help us in the community and we really, sincerely appreciate it."
The governor also appealed for help in reaching out to non governmental organizations and philanthropists for badly needed assistance.
"I hope you can get the word out to the wider American community about the plight of the territory and the difficulties of being in an insular area and depending on small communities like the health care system here," he said.