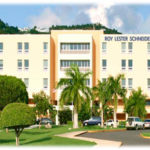 Dear Source:
I was very pleased to read the article: "Donated Hospital Equipment, Supplies, Headed to SRMC" (Jan 28 issue). I am very happy that helpful medical supplies are being directed to Schneider Regional Medical Center from the Knights of Malta, a Roman Catholic lay order which specializes in charitable work.
I, myself, am a member of the Brotherhood of Blessed Gerard, which is the relief-arm for the Order of Malta.
Another thing that caught my eye in the body of the article was the mention of friends asking friends and eventually a link was made to the Franciscan Mission Warehouse in Kansas, which is the state where I was born. They gather equipment from around the world and distribute it for natural disasters or based on need. I applaud that.
I am also glad that donations from Order of Malta members helped cover the shipping and other expenses. It just goes to show that a great deal of "good" can be done when people band together for worthy causes. Sincerely,
James A. Marples, Texas