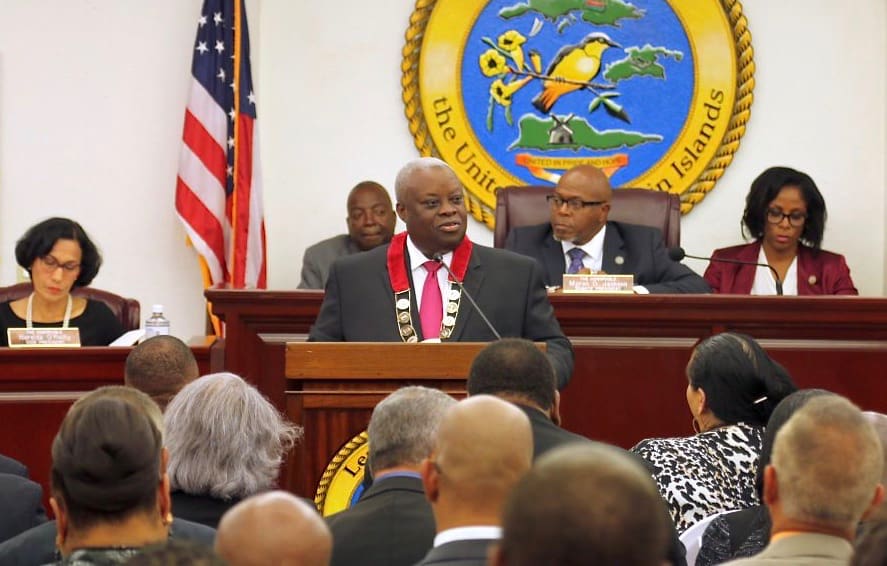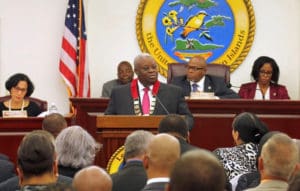 The text of Gov. Kenneth Mapp's fourth State of the Territory address, which he delivered Monday, Jan. 22, 2018.
Senate President Myron Jackson and Honorable Members of the 32nd Legislature, Lt. Governor Osbert Potter, The Honorable Stacey Plaskett, Delegate to the US Congress, Honorable Justices of the Supreme Court of the Virgin Islands, Honorable Judges of the Superior Court of the Virgin Islands, Honorable Judges of the District Court of the Virgin Islands, The Honorable Gretchen Shappert, US Attorney for the District of the Virgin Islands, Members of the Cabinet, Members of my Senior Staff, the Reverend Clergy, invited guests and my fellow resilient Virgin Islanders; Good Evening.
This evening, I am here to give my fourth report on the State of the Territory as required by the Revised Organic Act of 1954, as amended.
As I begin my fourth year in of ce, I must confess, I stand before you with very mixed emotions. My emotions are running the gamut from sadness over the loss of life and devastation of property from the storms, to joy and optimism as we recover with a watershed of opportunities for a future lled with great promise.
When I won the election for Governor in 2014, I decided then that I would conduct myself and express myself to the people of this Territory in a forthright, clear, honest and concise manner. When I stood before you in my rst State of the Territory message, I described what I inherited regarding the nancial condition of our Government as being on the verge of nancial collapse. I spoke about the many challenges facing our Territory and the need for us to work hard and make serious decisions to right the ship of State.
At times, the challenges facing us seemed insurmountable. We inherited unfunded labor agreements and low morale of public sector workers, we inherited over three years of unpaid income tax refunds, we inherited depleted special funds that every previous Governor had access to so they could meet payroll and other vital obligations of the Government on a short-term basis. We inherited a shrinking labor force of essential personnel to provide protection, education, healthcare and public services to our community. We inherited a high violent crime rate, with seemingly no end in sight, and a police department without the resources, the training and ability to recruit or a plan to modernize its crime ghting capabilities.
We inherited a public pension program marching year to year on a downward slide to insolvency. Where the only action by my predecessor to address this issue was to lend or give away GERS monies in unsecured transactions, losing the very contributions of the members and the sponsor of the System.
If what I described thus far, was not enough of a challenge, in 2015 Lt. Governor Potter and I were handed a government reeling from a shrinking economic base, reduced tax revenues, private businesses closing, rising unemployment levels in the private sector all trying to survive in a Territory boasting the highest cost for power anywhere under the American ag.
During our second year in office, the US Department of Commerce issued a report noting that in 2015, growth of the Virgin Islands economy had nally entered positive growth territory and that for the rst time in ten years, government expenditures were down. Notwithstanding this sliver of good news, this would not be enough to close the scal gap. We all worked hard, both the Legislature and the Executive Branches with the nancial markets and no matter what we did, our Government was foreclosed from borrowing money at a cost that made sense.
At times, we struggled against the self-interest of a few to achieve what was best for the greatest number of people in our community. We persevered and prevailed without late payrolls, missed payrolls or sending workers home. During our most dif cult challenges, we found friends and allies in this Body to come together to make progress for our community. We found friends in the private sector who invested in our economy. We entered into public/private sector partnerships that solved old disputes and provided us with funding, new private sector jobs, new investments, including growing opportunities for our people. We worked as a team and increased the minimum wage for private sector employees. We paid the unfunded public-sector labor agreements we were handed in 2015. We expanded the Medicaid Program and provided coverage for an additional 19,000 Virgin Islanders. We reopened our Senior Citizens Centers and expanded programs under the Department of Human Services such as the Title IV Grant Program for children. We hired over 1,800 new government employees since January 2015. We sent our youngest Police Of cers to the New York City Police Academy, where they graduated after six months of intensive training with 36 matriculated college credits, and a larger salary as a reward. We sent 33 school principals and assistant principals for leadership and school base management training to Harvard's Graduate School of Education. We established personal relationships with the CEOs and leadership teams of our airline and cruise line partners. We accomplished these things and more because two branches of government found common ground to work together to move the best interest of our Territory forward.
One of the rst orders of business for the Mapp-Potter Administration was to settle old business with the Hess Corporation and HOVENSA. Our settlement resulted in a storage terminal facility, now employing more than 650 Virgin Islanders; the Government's treasury received over $250 million in direct payments, took ownership of 120 homes, a technical school, and more than 330 acres of land. Today, those homes produce over $2 million a year in revenues and are fully insured.
Our partner, Limetree Bay Terminals, has invested over $200 million and has now led permit applications to expand the storage terminal facility by another 15 million barrels and to invest over $125 million in the Krause Lagoon channel to accommodate the larger two-million-barrel fuel tankers. We are working with Limetree Bay Partners, the US Army Corps, and EPA to facilitate these permits. Both projects have received the approval of the President's Council of Environmental Quality, making them high priority projects for the federal government, given the number of new jobs the projects will create.
We have been aggressive in our efforts over the past three years to address short-term liquidity issues and long-term nancial concerns by increasing collections, cutting spending, spurring economic growth and creating new revenue streams.
The Director of the Bureau of Internal Revenue launched an aggressive effort and collected $126.3 million in delinquent taxes in the last three years. I would like to recognize Director Pickering and his employees for their hard work. Thank you.
Lt. Governor Potter led a similar effort to collect delinquent unpaid property taxes and brought in an additional $23 million in 2017. His scheduled property tax auctions were canceled because property owners stepped up to the plate and resolved the delinquent taxes owed.
One persistent challenge remains; staying current with the distribution of income tax refunds. This challenge is directly tied to the state of our nancial liquidity or in layman's terms, cash ow.
As a bit of background, many of you may not be aware that each year the Treasury of the Government of the Virgin Islands is obligated to pay out over $21 million in income tax refunds from monies never received by the Virgin Islands Government. This mandate is thrust upon the Treasury by the Earned Income Tax Credit. In December of 2016, a bipartisan congressional committee headed by US Senator Marco Rubio issued a number of recommendations to Congress on issues affecting the Territories. One of the committee's recommendation was that the US Government refund to each Territory the total cost of tax refunds due pursuant to the Earned Income Tax Credit. In tax year 2016, the Earned Income Tax Credit for each child in the Virgin Islands began at $3,373 per child.
The Mapp – Potter Administration, without borrowing a penny or laying off a worker or cutting a salary, has paid over $142 million in income tax refunds since taking of ce in 2015.
Tonight, I am pleased to announce that I have authorized the Director of the Bureau of Internal Revenue and the Commissioner of the Department of Finance, to begin distributing tax refunds twice monthly going forward. This mandate began Friday, January 19th and will continue as long as we can stay the course or become current in the distribution of the refunds.
I want to thank the Commissioner of Finance Val Collens and his hard-working team for their efforts to meet payroll and pay overtime wages to public employees during the height of the disaster and under a broken ERP system. That system is back on track and the Department anticipates rolling out a Vendor Self-Service module which will allow government vendors the ability to track their invoices and payments.
I have a message for our bondholders and the nancial markets. In 37 years, the Virgin Islands has neither paid late nor ever missed a single payment on its bonded indebtedness on over $2 billion dollars' worth of debt. Given the new opportunities provided by Hurricanes Irma and Maria, I can say to you tonight with absolute con dence: We won't be breaking this record anytime soon.
Bondholders can be assured that their investments in Virgin Islands' securities are safe, secure, and valuable. Both of our rum producers are operating and shipping rum products to the US mainland. Our Gross Receipts Revenue Bonds are more secure and valuable given the devastation caused by two Category 5 hurricanes. Consumer buying power, consumption, construction, and employment will remain robust for the foreseeable future as we rebuild our lives and businesses as well as repair and construct numerous public facilities throughout the Territory.
However, the 32nd Legislature, the Executive branch and our community, we must focus on our pension securities to our retirees. Our efforts must attain blocks of time, or more years of solvency for the Government Employees Retirement System. Along with recovering from the hurricanes, the continued viability of the GERS must be one of our highest priorities. Let me be clear; no single action or set of actions will rescue our public pension program. Moving the System to a more solvent and secure footing will require a number of hard decisions and initiatives. I am looking for good, quali ed persons to join the GERS Board of Directors. I am looking for nancial acumen to help lead us in taking corrective action, and moving us away from bad investments, away from bad decisions where the System will not even lend money to its members. I am looking forward to the analysis from Capital Markets Advisors LLC whom we have commissioned to look at similarly situated public pension programs that have been able to achieve greater solvency. We want to understand and implement some of those successful strategies to secure our obligations to our retirees. Collapse of the GERS is not, and cannot be, an option. We will need this Body to help us with placing quali ed and competent members on the board to help us implement the tough and necessary decisions and recommendations to protect the investments and save the pensions bene ts of our retirees.
Last year, we adopted a strategic Five Year Plan which called for new revenues, reduced public spending, and making good with our public employees where the prior administration unlawfully cut their salaries over a two-year period. The single object of our Five Year Plan is to produce a sound nancial footing of the public sector. I commend and thank the Members of this Body who exercised the courage and fortitude to move our Territory in the right direction by enacting provisions of our Plan.
I have asked our Financial Team to update the Five Year Plan, given our current challenges and new opportunities. Our original Plan, if fully implemented, would have eliminated the structural de cit by 2021. I want to stay the course to scal stability, but modi cations are necessary given our changing priorities and increased opportunities.
My fellow Virgin Islanders, tonight, I stand here with con dence as I assure you that the Territory of the Virgin Islands of the United States is on the precipice of being stronger and better than ever before. The opportunities which lay before us, if we are prepared to do the hard work, can transform us into a powerful beacon of light in the Caribbean. Our future, from my perspective, is lled with stronger homes and businesses; stronger, smarter and more resilient schools, hospitals, energy infrastructure, roads, and ports; stronger with more of our people being employed, being in business; stronger, because each resident has had an opportunity to see their elected leaders perform under trying circumstances.
That view gives each of you a greater opportunity to know who is pretending to work, pretending to know the work juxtaposed against those who know and are getting your work done.
We are stronger, because we are closer to our faith, and stronger because our national government and our nation can see we are a resilient people – competent, responsible, and making our case that American citizens living in the Virgin Islands must be treated as American citizens living anywhere.
The State of our Territory is good, it is hopeful; but the demands and burdens on our shoulders are heavy. If we do our work and make the right decisions, the prognosis for our future is bright.
Tonight, I am upbeat, full of energy, because you, the people of the Virgin Islands, have chosen a path to a brighter future. Hurricanes Irma and Maria have done all the harm that they can do.
Today, January 22nd, a total of 138 days following the rst of two Category 5 hurricanes, I can report to you that we began the reopening of schools on October 10th, 34 days after the rst storm. Are schools operating in the most ideal conditions? No, but our children are back in their classrooms and they are learning. We have restored and energized over 96 percent of VI Water and Power Authority's eligible customers (50,025). We have installed and energized over 1,680 new street lights and repaired and re-energized almost 7,000 current street light xtures across the Territory. Every day we will light more of our streets and neighborhoods. We reached this milestone with the heroic efforts of nearly 850 off-island linemen, over 60 local private contractors, and 51 hardworking line and transmission workers of the VIWAPA. Each Friday I convened a meeting with VIWAPA, Members of its Board, the Commissioners of the Department of Public Works, the Department of Planning and Natural Resources, and the Director of the VI Waste Management Authority, along with our consultants Witt O'Brien's to focus on restoring and rebuilding our energy infrastructure.
We have collected over 750,000 cubic yards of vegetative debris, and I have formally asked FEMA to change its mission assignment with the US Army Corps of Engineers and export all the vegetative debris out of the Territory.
We have restored 13,000 of the 26,000 weekly airline seats that were coming into the Territory pre-hurricanes. Today, Virgin Islanders and visitors can y from Boston, New York, Atlanta, North Carolina, Fort Lauderdale, Miami, and Puerto Rico directly to the US Virgin Islands. We have also hosted over 305,000 cruise ship passengers and we are working daily with the airlines, cruise lines and the VI Port Authority to restore additional ights and additional berths into our islands.
One hundred thirty-eight (138) days following the rst hurricane, my Lt. Governor reports that over 30 percent of the property and casualty insurance claims have been settled and insurers have disbursed some $420 million dollars to 4,208 Virgin Islanders.
The Lt. Governor has asked me to inform all licensed insurers in the Territory that he is not pleased with the level of adjusters retained to review claims or the pace at which the claims are being settled. The insurance companies must do better for their customers. Be assured that regulatory action by the Commissioner of Insurance is on the way.
One hundred and thirty-four (134) days following the rst storm, as of January 18th, FEMA reports that the US Government has expended some $516 million in response associated with the disasters affecting the Territory. This sum does not include proceeds from the Community Disaster Loans. The loans approved to date are: Central Government $250 million, the Water and Power Authority $75 million, Schneider Regional Medical Center $24 million, and the Governor Juan F. Luis Hospital and Medical Center $22 million. To date, we have drawn down $65 million for the general fund; $10 million to the Schneider Regional Medical Center; $10 million to the Juan F. Luis Hospital; and $31 million to the VIWAPA.
Tonight, I am also pleased to announce that the Federal Emergency Management Agency has approved an initial budget of $600 million to fund the Sheltering & Temporary Essential Power Program (STEP) to provide roofs for approximately 12,000 homes throughout the Territory. This single program is expected to generate, at a minimum, another 2,500 jobs throughout our islands and place permanent roofs on the homes of our people. Later this week, the VI Housing Finance Authority will announce registration centers for this program. Homes that did not qualify for FEMA's Blue Roof program may be the rst eligible for assistance under this program.
To help us manage these changing priorities, we have retained two of the country's leading disaster relief consulting rms: Witt O'Brien's and Ernst & Young. These two rms are assisting the Government of the Virgin Islands with identifying, expediting, maximizing, tracking, and documenting federal disaster relief and funding. In addition, both rms are working with the Department of Property and Procurement to maximize reimbursement for our losses under the government's property and casualty insurance policy.
In October, I established the Hurricane Recovery and Resiliency Advisory Group and we held the rst of cial meeting that month. This advisory group is comprised of professionals from here and abroad to assist us in building a stronger and better Virgin Islands. Resiliency is their focus as well as working to ensure that we get all the federal assistance we need and for which we are eligible.
In the coming months, we will hold town hall meetings in varying communities to hear from you, to discuss some of our plans going forward regarding our infrastructure, and to ask for your feedback and suggestions.
Let me take this opportunity to thank Governor Andrew Cuomo of New York and former Governor Chris Christie of New Jersey for their support and assignment of State Troopers to the Territory. I must also thank former Mayor Michael Bloomberg and his business partner, Tom Secunda, who is a resident of St. John. Governors Cuomo and Christie and Mayor Bloomberg know rsthand the devastation a hurricane can bring. The help from the Bloomberg Foundation is extraordinary and extremely valuable, particularly as we traverse through the Stafford Act, as well as work with Members of Congress for support. Thank you, Mr. Mayor, I sincerely appreciate and thank you for all of your help, support and guidance.
I want to also take this time to thank the members of my Government who have worked hard alongside me. Property and Procurement Commissioner Lloyd Bough, Attorney General Claude Walker, Adjutant General Deborah Howell, Health Commissioner Dr. Michelle Davis, my Chief Counsel Emile Henderson, VITEMA Director Mona Barnes, Tourism Commissioner Beverly Nicholson-Doty, Police Commissioner Delroy Richards, VIWAPA Chairperson Elizabeth Armstrong, Bureau of Corrections Director Rick Mullgrav who had to consolidate prison operations in one location in a matter of hours, the President and CEO of VINGN Dr. Mark McGibbon, and the Government Authorized
Representative, Commissioner Val Collens all who helped to better understand and work through the issues under the Stafford Act and other federal laws.
In November, I took our concerns and requests directly to the US Congress. I met with the Congressional leadership with the help, assistance, and guidance of our Delegate to Congress, the Honorable Stacey Plaskett; we are working together on your behalf and we will remain aggressive in our pursuit of the federal resources so vital to our recovery. I want to acknowledge the contingent of Senators of the 32nd Legislature who travelled to our nation's capital to tell the Territory's story and to advance the needs of our people. When we work as a team, our achievements for our territory are in nite. When imbibe in petty politics, we limit our success for our people.
Soon after our initial work in the nation's capital, the US Congress passed, and President Trump signed into law, appropriations providing the Territory with liquidity support of a minimum of $900 million over three scal years. This support is provided to ensure that our Government continues to provide critical public services to its citizens.
As I noted in my message to the Legislature, and I want to repeat here, this is not new money to be appropriated or to fund new initiatives. These are funds provided to support and bridge the budget gap between revenues and expenditures for revenues lost due to the hurricanes. These funds cannot be contained in our budgets as revenues, less we impair the Community Disaster Loans and lose access to them. I thank the Legislature for ratifying the authorizing legislation allowing us to close on the Community Disaster loan notes.
To rebuild our Territory, our public and energy sectors and our communities, I have asked our national government for a total of $7.5 billion to fund home repairs, schools, hospitals, government facilities, the energy grid, roads, docks, ports, and our telecommunications infrastructure.
We are now working with FEMA for the approval of $1.2 billion to complete repairs to the infrastructure of WAPA. This sum includes reconstruction of the current system, burying more primary and secondary lines, replacing wooden poles with composite poles, installing a major back-up generator on St. John, and diversifying our energy portfolio using renewable and sustainable technologies.
This sum also includes the cost of the current rebuild and the mitigation and resiliency we need to adopt to withstand future hurricanes. It is important to note, that this is the fth time the US Government is funding the rebuild of VIWAPA's infrastructure following a disaster. The cost of the current rebuild is $400 million. As we prepare for the 2018 hurricane season, we must ask, "How many more $400 million is the US Government prepared to spend under the Stafford Act to rebuild this infrastructure, before we invest in strengthening and protecting the System?"
We have completed our in-depth analysis of the losses of our 11 school plants. We are working with FEMA on approving $860 million to rebuild our damaged schools as well as provide for temporary repairs and modular classrooms in the short term. Our children are now without musical instruments, athletic equipment, and home libraries. The schools have lost millions of dollars of equipment, teaching materials and technology infrastructure.
We want to resume normal operations for the 2018-2019 school year so modular classrooms are being ordered to include Sprung Shelters for the larger areas for of ce space, gymnasiums and warehouse facilities. For St. Croix, we are purchasing 284 modular classrooms and 15 Sprung Shelters; and for the St. Thomas/St. John District, we are purchasing 158 modular classrooms and 9 Sprung Shelters. Of the 11 schools lost and condemned, we plan on building 6 new schools; one on St. John not requiring the use of National Park property; 2 on St. Thomas and 3 on St. Croix. I want to thank and acknowledge Dr. Sharon McCollum, my Commissioner of the Department of Education and her team, for getting our children back into the classrooms under almost impossible circumstances. Thank you, teachers, paraprofessionals and support staff, for your hard work.
Hurricanes Irma and Maria were merciless on our hospitals and healthcare facilities.
Under the Stafford Act, we are working with FEMA for approval of $800 million to replace both the Governor Juan F. Luis Hospital, the Schneider Regional Medical Center, the Myrah Keating Smith Community Health Center, and the Department of Health facilities at the Charles Harwood Hospital. These hospitals and clinic facilities were destroyed. We have demonstrated to the US Congress and to FEMA that we want smaller, smarter and stronger healthcare facilities going forward. Both the Luis and Schneider hospitals have had extensive hurricane repairs in the past, already costing the US Government more than they initially provided to build these facilities.
We are working on our request for $630 million on damages to our transportation infrastructure which includes ports, airports, harbors, roads, repairs and replacement of government buildings, and issues affecting our land lls where the deluge of household waste created by the storms was so huge it overwhelmed the system. Also included in the request are repairs and improvements to the telecommunications network and our wastewater treatment facilities. Of the amount requested here, $100 million is slated for repairs of non-federal roads in the Territory.
Our agriculture industry suffered severely under the storms. Most Virgin Islands farmers are experiencing hardship and severe losses of their livestock, fruit trees, crops and infrastructure. All facets of the agriculture and aquaponics labs in public schools were destroyed. The progress we were making in purchasing Farm to Table produce for our school lunch program has been interrupted. The rebuilding of our agriculture industry on all three islands will include replacing the equipment, buildings, and services of an entire department. While the US Department of Agriculture has of cially declared the US Virgin Islands a disaster area for farms, they have been unable to provide any direct assistance to our farmers other than to tell them they may qualify for low interest loans. This is unacceptable.
I thank the Commissioner of Agriculture, Carlos Robles, for his continued advocacy on behalf of our farmers and I pledge to you and our farmers the full support of my administration as we rebuild the Department of Agriculture and the agriculture industry.
I also want to thank the Commissioner of Tourism and her team at the Department of Tourism for taking aggressive action to reopen the Virgin Islands to visitors within 60 days of the rst storm. First, let me acknowledge the tremendous job you and your team did in managing the mercy missions. We know it wasn't an easy task. Thank you.
Prior to the hurricanes, we had been making tremendous strides in tourism. Occupancy at Virgin Islands' hotels had been at their highest in over 10 years – airlift had increased to approximately 26,000 seats per week from the US mainland.
Tourism initially launched a fresh marketing campaign, "Real Nice", featuring each of our islands' authentic features. St. Croix took center stage as a culinary destination, with signi cant new businesses opening over the last three years. We have enhanced the welcome/departure experience with the Greeters Program that has evolved and incorporates many of the Territory's young people. The Department of Tourism has also worked hard to improve the taxi industry for our guests. A good driver is a great ambassador and often sets the tone for the overall visitor experience.
Tourism has launched a new 150-day marketing campaign, "Still Nice", in order to help the world know that the US Virgin Islands is up and open for business. The storms have afforded us a great opportunity to rebuild, rebrand and refresh our tourism product – so we can once again establish ourselves as a leading visitor destination in the Caribbean.
The US Virgin Islands took center stage in 2017 with the celebration of our 100th year anniversary as a United States Territory. We hosted many dignitaries from the United States and Denmark to include Prime Minister Lars Løkke Rasmussen and our own Secretary of Interior, Ryan Zinke. The Centennial brought visitors from around the world, and some of the coverage of the events and promotions generated much interest and brought multitudes of new visitors to our Territory. I'm informed that the Department of Tourism's Centennial promotions generated close to $12 million in direct economic bene ts to our economy. I commend the Centennial Commission and its members for their hard work. I was honored to be a part of the process.
I thank our friends in Denmark for their assistance after the storms and Prime Minister Løkke Rasmussen and the Danish Emergency Management Agency for coming to our aid by sending personnel to assist us after the storms. Many Danish citizens were very helpful and donated time and money to assist us. Mange tak!
Our commitment to modernize our airport terminals and turn them into great travel experiences and revenue centers is underscored by our decision not to return the Department of Planning & Natural Resources to the second oor of the Cyril E. King Airport Terminal. We are working with the VI Port Authority on modern designs for both the St. Thomas and St. Croix airport terminals, to include new departure lounges, jetways, new arrival facilities and the appurtenant shops and eateries so essential for the modern air traveler. Since the storms, I personally reached out to our friend, Ms. Kim Day, CEO of Denver Airport and our chosen mentor, who has agreed to aid us through this modernization process. I would like to thank Virgin Islands Port Authority Executive Director David Mapp, Assistant Executive Director Damian Cartwright, and the VIPA team for their efforts in ensuring that our ports reopened quickly. Again, a huge task, with roo ng material blown off airport terminals and debris strewn and owing into our harbors.
Over the past three years, the Department of Education aggressively moved to bring change to all aspects of the Department's operations – facilities, student achievement and improved training for both school leaders and teachers. Capital projects were brought on line in both school districts. Phase 3 of the Ivanna Eudora Kean Track is underway and the track at St. Croix Educational Complex is near completion despite interruption from the storms.
The Mapp-Potter Team ran on the platform of promoting improved reading achievement for all students, particularly having students reading at grade level by the third grade. Our focus has not changed and we will continue to give our children the gift of books by Caribbean authors and illustrators.
Both the Virgin Islands Housing Authority and the VI Housing Finance Authority have been building better and more ef cient housing. The need for modern housing options, as stated in our 2015 VIHFA's Housing Demand Study, includes affordable rental housing, affordable homeownership opportunities, senior rental housing and emergency housing. Given the storms, the need to advance and grow this plan is acute. Tomorrow, I was scheduled to meet with the Assistant Secretary of HUD Pam Patenuade to discuss this and other disaster related issues. However, the federal government shutdown has caused us to postpone the meeting.
In the aftermath of Hurricane Irma, the Virgin Islands Housing Authority, VITEMA, and the VI Housing Finance Authority initially focused on assisting families in the Tutu High- Rise Apartments which suffered tremendous damage and loss of life. We asked for, and HUD awarded, $2.4 million for an additional 283 Housing Choice Vouchers in order to relocate families from the Tutu High Rise Apartments.
Tonight, I am reaching out to all homeowners with rental units in our Territory and encouraging you to take advantage of an economic opportunity to become landlords under the Housing Choice Voucher Program. We currently have 2,000 applicants on the waiting list.
As we move forward, we will demolish old public housing units and improve housing with less density and more resiliency. On St. Croix, we will rebuild Ludvig Harrigan, Nicascio Nico, and the JFK communities.
On St. Thomas, we will build a new Tutu High-Rise community including provisions for senior housing. We will demolish and rebuild a new Lucinda Millin facility. Of course, we will accommodate the residents of Lucinda Millin during the new construction. We are not putting anyone on the street.
The Department of Public Works has begun submitting project worksheets for road repairs to FEMA. With asphalt plants back on line, we are looking forward to beginning in earnest, much needed road repair and construction.
I want to acknowledge my Commissioner Nominee of the Department of Public Works and his team for the great job in clearing roads and removing debris, in assessing and beginning the process of installing traf c signals across the Territory, in assisting the Department of Tourism in getting the Virgin Islands open for business, and for refocusing on restarting major road projects. I must acknowledge over 41 local contractors who made road clearing and debris removal possible and ef cient and who put hundreds of young Virgin Islanders to work across our four islands. Senators, I am asking you to con rm the nomination of Nelson Petty as the Commissioner of the Department of Public Works; he has earned it.
We are also working with Delegate Plaskett and the US Congress to remove the $20 million cap on emergency disaster road repairs on federal intermodal roads for all territories and on replenishing this fund. So many of our federal intermodal roads have been damaged and FEMA is not authorized to fund their repairs.
Equally important, 18 traf c signals at vital intersections, 10 on St. Croix and 8 on St. Thomas, were awarded quick-release Federal Highway funds. The work was bid and the contracts have been awarded. The plan calls for the modernization of our intersections, traf c signs, street signs, and signals. Completion of this work should occur by mid- summer.
We remain rmly committed to developing and advancing sports tourism in the Virgin Islands. I want to thank the Legislature for passing the anti-doping provisions and adopting the single horse racing commission, which will advance the quality and professionalism of horse racing in the Territory. We are now fully prepared to move forward to attain more than a $30 million private sector investment into our horse racing facilities. I will forward nominees for the racing commission to the Legislature soon so the commission can begin its work to establish the necessary rules and regulations to advance this sport in the Territory.
Our contractors have resumed work on the Frederiksted Economic Revitalization Project at the Paul E. Joseph Stadium. As you are aware, this Project is designed to revitalize and grow the economy of Frederiksted. I was saddened to learn that the 32nd Legislature decided to permanently move out of Frederiksted. As the Members of this Body are aware, the Chief Justice of our Supreme Court expressed his willingness to joint venture with the Legislature to construct new facilities to house the VI Supreme Court and the St. Croix Legislature of ces.
My friends, don't fret, I'm not getting in your lane. Your decision to permanently leave the town of Frederiksted is absolutely within your discretion. Your rejection of the offers made by me and the Chief Justice to work together on new facilities to remain in Frederiksted is absolutely yours. However, you know that the centerpiece of the economic revitalization of Frederiksted requires some level of government activity to drive private investment in the west end town, and we were counting on you to do your part. You are letting us down!
Chief Justice Hodge, I remain available to work with you and others in our government to move forward to ensure proper and modern facilities for the Supreme Court and the economic survival of the west end of St. Croix. The people of Frederiksted deserve no less.
In May, I announced that we had obtained NCAA approval for the Territory to host the college sports association's Division I teams. This single act opened the door to nearly two dozen different sports for play and training in our Territory. The Government has partnered with Basketball Travelers, Inc. which manages the annual Paradise Jam Basketball tournament in November, to bring more tournaments to the Territory. Our plans were interrupted due to the storms, but we will get back on track for 2018. Hosting college level basketball, baseball, volleyball, and swimming events and training on both islands at the NCAA level will advance our objective to grow sports tourism in the Territory and provide great opportunities for our youth. Basketball Travelers Inc. is looking forward to the completion of the Paul E. Joseph Stadium project and the attendant soccer elds to recruit teams to use these facilities. St. Croix is excited to host the students and their families.
I wish to thank and commend Commissioner Dawn Henry of the Department of Planning and Natural Resources, who has had to perform under the most extreme circumstances. The Department has its work cut out for it. It lost its St. Thomas of ces and was forced to relocate. The Department must process thousands of permit applications critical to our recovery. Not only must DPNR respond in a timely way, but the Department must nd new of ces for its many divisions on both islands. We are working with our federal partners to hasten the Department's recovery so it can provide the critical and vital services needed for the Territory's recovery. I am pleased to report that the Department received $4.8 million from FEMA to support its Division of Building Permits with code compliance responsibilities. DPNR will utilize this funding to hire inspectors, plan reviewers, and administrative staff, as well as deploying mobile building permit of ces to keep our recovery on track.
In conjunction with the US Coast Guard and the EPA, DPNR began the enormous task of removing 467 vessels along with their hazardous substances from US Virgin Islands waters on all four islands. 350 of these 467 vessels will be crushed, ground, and exported out of the Territory. Hold on Commissioner, help is on the way. Thank you and your team for the demanding work you continue to do for our community.
As of this date, we have collected over 750,000 cubic yards of vegetative debris and the US Virgin Islands lacks the capability to manage, protect and safeguard the life, health and safety of the residents of this Territory from the enormity of another disaster that could be fueled by such a large stockpile of vegetation. Hence, I have asked that the debris be removed from the territory.
We can all concede that the aftermath of the hurricanes made safe drinking water an even greater priority. DPNR instituted a surveillance monitoring program along with EPA. They are monitoring over 365 facilities and have collected over 1,800 water quality samples. Residents are being provided with technical assistance on proper disinfection methods, and will also have access to test kits and other technical assistance to monitor cistern chlorine levels to ensure that their water is safe for human consumption.
Fort Christian was shuttered for over ten years. We were proud to formally reopen the facility on March 23, 2017, as part of the Virgin Islands Centennial celebration. The Fort did sustain some hurricane damage. DPNR is working with FEMA for funding to repair the damage to the facility. We have developed a scope of work and we know what is required for the repairs and restoration.
As our lead public health agency, the VI Department of Health manned operations centers 24 hours a day at VITEMA, in each district during both storms, and for several months following the aftermath. Six hundred and eighty-two (682) individuals have been medically evacuated since Hurricane Irma. Some 248 of our residents remain on the mainland accessing appropriate medical services, including many of our people who require dialysis services. This was a coordinated effort by VITEMA with the VI Department of Health, Schneider Regional Medical Center, Governor Juan F. Luis Hospital, US Public Health, FEMA, and St. Croix Rescue.
I want to thank our Commissioner of Health, Dr. Michelle Davis, for her leadership and work and for traveling to visit with each of the patients and their families who are medically evacuated. Thank you for calming and giving con dence to the public, by informing them and guiding them on these critical health-related issues.
We have taken decisive action to curtail violent crimes by developing and strengthening our police force with the graduation of 100 police of cers since taking of ce. We have instituted a new entry level salary of $33,000 for candidates while in academy and $40,900 upon graduation. Recruits are being sought for the Police Academy Training for the combined districts of St. Croix and St. Thomas/St. John. Training for the class will occur at a single site, the Training Facility on St. Croix at the National Guard Armory.
We will continue our relationship and provide training and mentorship to our of cers from the NYPD Academy and to continue training our senior of cers and detectives in forensics sciences, technology and homicide, and violent crime investigations.
We continue to be challenged by homicides, many of them gang-related, all of them which harm our community. We have far too many guns on the street, and it will take a collective effort from all of us, enforcement of cers and members of the community, to come forward with information you may have or know about. A community concerted effort can stem the tide of these senseless murders. I want to thank Police Commissioner Delroy Richards for his leadership in overseeing the law enforcement community and for protecting our citizens. Each day you, your team, and your of cers are doing a better job for our community. Thank you.
Tonight, is an evening where as Governor and a resident of the Virgin Islands, I must use this forum to express deep gratitude and thanks to so many people and organizations for stepping up immediately to help all of us during our time of great need following the impact of the storms. I was personally touched when I went into the community hours after Hurricane Maria struck to nd a family with children as young a ve years old, directing traf c and removing debris from the roads.
I want to sincerely thank our Director of the Of ce of Management and Budget, Nellon Bowry, for his years of dedicated public service to the people of the Virgin Islands. It has not been easy to serve in this role, but you did, and did it well. On behalf of a grateful Territory, thank you.
Our Virgin Islands Fire Service played an integral role in our response to these unprecedented storms. I thank Director Clifford Joseph for his leadership and thank his team, his re ghters, and employees for their long hours of work, helping our seniors, helping at the distribution centers, helping wherever they were needed. Thank you.
The Bureau of Motor Vehicles which provides vital public services were decimated by the storms. I thank Director Olive and his team, for getting the system up and running without proper and dry places to work. Tonight, I am pleased to announce that I have authorized $6 million for the construction of two BMV facilities, one on each island to begin immediately. I pledge to Director Olive and the BMV staff, that out of the plywood and water and mold lled facilities, you will come.
The Department of Labor played an integral role in ensuring that unemployment bene ts were not interrupted and was able to process applications for members of the private sector who lost their jobs. I thank Commissioner Catherine Hendry and her staff for the efforts in relocating computer servers from the St. Thomas/St. John Districts to the St. Croix District, guaranteeing that unemployment checks continued to ow to the unemployed who were relying on these funds.
Our Department of Human Services must be commended for its diligence and its commitment to this Territory and to our residents among those who are most in need. I thank Commissioner Felicia Blyden and the hard-working employees of the Department of Human Services for their tireless efforts of caring for our seniors and in ensuring we had adequate staffed and stocked shelters. DHS under trying circumstances successfully rolled out the D-SNAP Program, providing some $26 million to our residents.
I must commend the Department of Sports, Parks, and Recreation and its Commissioner Pedro Cruz for their hard work during very dif cult times. The Commissioner and his team who oversaw the reopening of our parks and recreational sites, developed programs for our young people while schools were closed due to the storms. Thank you.
Because of the capable leadership of Commissioner Devin Carrington of the Department of Licensing and Consumer Affairs, we could ensure that licenses for critical contracts were processed quickly and without delay. Because of the work of DLCA, many local contractors were able to take part in the recovery. His staff also attacked the critical issue of complaints of price gouging in the aftermath of the storms.
I want to thank our Island Administrators, Stephanie Acoy-Williams, Merwin Potter, and Camille Parris for exhibiting strength and courage during a tumultuous time and for coming to the aid of so many of their fellow Virgin Islanders and visitors to our shores. I thank Colette Monroe, who took on the unof cial role of Mayor of Water Island. Also, I say thank you to my Senior Staff for their many late hours of work, some who slept in their of ces at government house as I worked through the storms. Thank you.
My deepest thanks go to our native son whose tremendous support and impassioned plea, to his fans, colleagues and to the world, resulted in nearly $3 million in donated supplies being brought to our shores. Basketball legend and Virgin Islands hero Tim Duncan donated not only his time and his money, but also manned distribution centers on St. Thomas and St. Croix, giving aid, comfort, love and smiles to his fellow Virgin Islanders. Tim Duncan, you did what you always do. Being a great human being, with a big heart. You set a ne and wonderful example for others to follow. We are proud of you and say, thank you, thank you, and thank you again. God bless you.
On behalf of the good people of this Territory, I say thank you to Norwegian Cruise Lines, Royal Caribbean Cruise Lines, Delta, United, American and Jet Blue Airlines for providing mercy travel for guests and residents to travel to their families and safe havens on the US mainland. Over 5,500 islanders and visitors whose lives were impacted by the storms were evacuated on these mercy missions.
I thank Mr. Richard Fain, Chairman and CEO of Royal Caribbean Ltd for going above and beyond to assist us with rebuilding, cleaning and reopening Magens Bay and Honeymoon Beach on Water Island. Iconic Magens Bay was devastated by both Hurricanes Irma and Maria. Spearheaded by our Commissioner of Tourism, Royal Caribbean infused personnel and money working with local contractors, residents, the Departments of Agriculture and Public Works, UVI, and the Magens Bay Authority to restore, replant, and rebuild these beaches. Thank you, Mr. Fain and Royal Caribbean.
I wish to recognize all our heroes, the entire Virgin Islands National Guard, all of our local rst responders, and those that came from law enforcement agencies abroad. The Territory bene tted from National Guards Units from 46 different states. I want to thank the Adjutant General of the Virgin Islands National Guard, Brigadier General Deborah Howell, for her leadership, her commitment, and dedication to our troops and to the people of this great Territory. Pass on a message for me. Tell the remaining 12 national guard troops that have not been paid, to get their I-9 information in so we can pay them.
We acknowledge the State Troopers from New York and New Jersey, off island linemen, medical providers, federal personnel, military police, and activated military personnel. Furthermore, we had individuals from the ASPCA and other organizations here to assist us with the challenges of caring for our displaced pet and animal population. Because of your hard work and commitment, we were able to effectively rescue lives and property in the face of this unimaginable disaster. I thank each and every one of you for your service and sacri ce. I know it wasn't easy – particularly local rst responders who left their damaged homes and distressed families behind to perform their duties. I also thank all the Water & Power Authority personnel and all public employees and private sector workers who effectively served as rst responders. Heroes are ordinary people who persevere despite overwhelming obstacles, and you are all heroes. Thank you for the restaurants and nonpro t entities that cooked and provided hot meals to anyone who wanted one. Thank you, Community Foundation of the Virgin Islands, for working with us to raise funds for disaster relief.
We owe a debt of gratitude to the people and organizations around the world who have mobilized to help us, not least of which is our federal partners, led by President Donald J. Trump. No response will ever be perfect, however, no country in this world responds better and more effectively to its citizens at times of disasters than our country, the United States of America.
FEMA is supporting the US Virgin Islands on multiple fronts. Without question, FEMA has been tremendously helpful. They have worked to accommodate every request and answer every question. They are spending long days and long nights working alongside us, with a dedication and concern for the people of the Virgin Islands equal to our own. I must recognize and say a special thanks to all the FEMA staff and speci cally, my Federal Coordinating Of cer, Mr. William "Bill" Vogel, known to us affectionately as "Big Bill". Thank you, Mr. Vogel.
I thank our Delegate to Congress Stacy Plaskett for her many efforts and work on informing, educating, and bringing members of Congress to our islands to witness the devastation we suffered. I thank Vice-President Michael Pence and his wife Karen for their visit to our islands, as well as all the members of President Trump's Cabinet who visited us and are working towards our recovery. Special thanks to the Secretaries and the Heads of Agriculture, Education, Health and Human Services, Homeland Security, Interior, Transportation as well as to the Chief of the Army Corps of Engineers and the Surgeon General.
I am truly inspired by the resiliency and grace of this community. I applaud each of you for your preparation, your bravery, your generosity, your patience, and your strength. With few exceptions, the people of the US Virgin Islands have risen to meet every challenge. We are moving forward on the road to recovery, but the road ahead is long and arduous. Yes, today is better than yesterday and tomorrow, will be better than today.
So, let us persevere!!
Some necessary last-minute house cleaning notes: For those of you who could not, for some reason, register for FEMA or disaster assistance, do it now. If you can demonstrate hardship or if you must amend your application for some reason, I repeat, do it now. Don't be afraid to ask for assistance or ask again if your application was disapproved.
I remind all residents that the nal pass for debris pickup began today. Contractors have worked for months removing debris from neighborhoods and roadways. We are making one nal sweep across all islands to remove all remaining debris. This phase of the recovery process is coming to an end. If you still have hurricane-related debris to dispose of, please separate them into ve (5) piles on the side of the road outside your property: 1st pile, vegetative debris; 2nd pile, construction and demolition debris; 3rd pile, white waste including all refrigerators, stoves and other household appliances; 4th pile, electronic waste such as TVs, computers, electronics; and of course, our infamous 5th pile, those who can, but refuse to go to work. I am proud that the 5th pile remains a very small pile as folks are taking job opportunities seriously.
Remember, place your piles along the side of the roadway. This is the last sweep, after which, you will be responsible for disposing of your waste and debris.
On this 138th day following the landing of the rst storm, the Territory is in a state of recovery. We are working on rebuilding the Virgin Islands stronger and better than ever before. We have fundamentally improved management of our resources and we will improve the quality of our lives and the US Virgin Islands.
I am personally motivated by your strength during these dif cult days and they have, indeed, been dif cult. I have never been more proud to be a Virgin Islander and never more honored to serve as your Governor.
I held more than 50 press brie ngs over the past four months – sometimes twice in one day! The news wasn't always good, but it was and remains an honest assessment of where we are. Our radio stations and print media were a lifeline for many Virgin Islanders and, tonight, I thank the stations that operated during and in the immediate aftermath of the storms. I would like to especially acknowledge Virgin Islands radio icon, Athniel "Addie" Ottley of WSTA, for serving us so well during the recent storms and for his many long hours keeping us informed and entertained. I also thank the folks at Reef Broadcasting, Hugh Pemberton and his team; and the good folks at JKC, Jonathon Cohen and his gang, headed by former Senator Holland Red eld. I thank the good folks at WSTX, 970AM and Jose' "Papi Love" Martinez, Sr., who kept disseminating vital information, answering questions, carrying the Government's announcements, all the while going into your personal pockets to pay the cost to remain on the air. Thank you to our print and online media outlets. You played a vital role in getting the word out.
We cannot compare the 2017 hurricane season with any other. This was unlike Hugo and Marilyn, which we considered the worst of the storms – two Category 5 hurricanes with winds sustained at 189 mph and 176 mph in the space of 12 days. Wow! Simply unprecedented.
We have made it this far by grace and by the hard work of so many people. We will make it through, but I must repeat, this is not a sprint, but a long and arduous journey to full recovery.
In a few weeks, we must begin preparing for the 2018 hurricane season by issuing bids for road clearing and debris removal, and bids for linemen and supplies and equipment.
We will have to be cleaning guts and trimming debris. It hurts me to remind everyone, but the 2018 hurricane season will soon be upon us and we must be prepared.
The real work has begun and there is much more to do. Tonight, Lt. Governor Potter and I want you to know that we are committed to seeing this journey, this recovery, through to a better Virgin Islands. We ask all praying people to continue to pray for us, for our strength, continued health and guidance to make the right decisions on your behalf. We are the masters of our fate. We must not fear the future. Let us embrace the road ahead with calmness, assurance, con dence, and truth.
And so, this year, 2018, Lt. Governor Potter and I will make our case before you, asking again for your support, so we may continue to work on your behalf to build a better, brighter, and stronger Virgin Islands beyond 2018. Let's remain steadfast, until we get the job done.
God bless the United States of America and God bless the Virgin Islands of the United States.