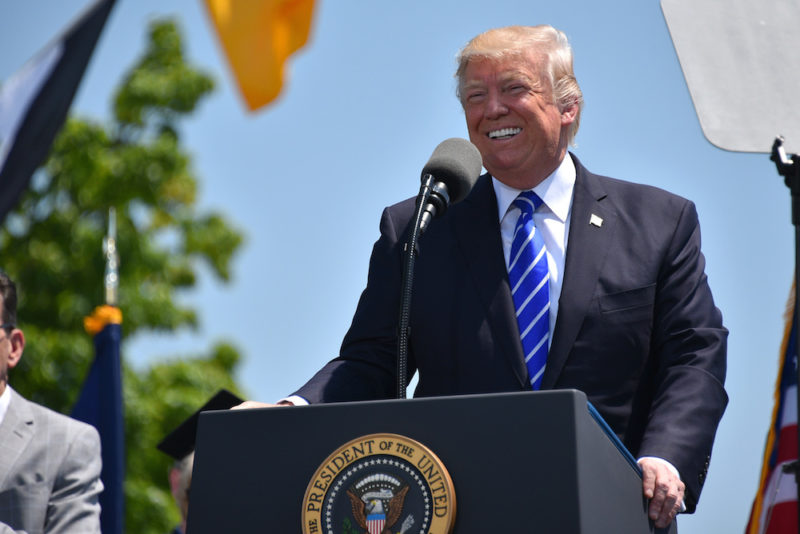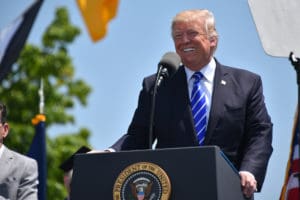 Virgin Islands officials are working to organize a presidential visit by Donald Trump in the next week or so.
Gov. Kenneth Mapp announced the impending visit Wednesday, but said no details are yet available. Trump is also expected to visit Puerto Rico, where some 3.5 million citizens are facing impending catastrophe.
Mapp had announced on Sept. 12, after Hurricane Irma, that Trump would soon visit the territory, but Hurricane Maria made any short-term travel plans impractical.
Mapp indicated that while full details of the visit are unavailable at the moment, the White House, the advance team along with the Federal Emergency Management Agency and the V.I. government were working out the logistics surrounding the president's arrival.
According to Mapp, at a meeting with senior officials on Hurricane Maria on Wednesday, Trump stressed that his top priorities are life-saving and life-sustaining efforts in the affected areas. He emphasized the need to remain steadfast in supporting the ongoing response and recovery efforts in Puerto Rico and the U.S. Virgin Islands and made it clear that there is no such thing as over-responding, and that he expects all elements of the Federal Government to plan for long-term support to the governors of Puerto Rico and the U.S. Virgin Islands.
Trump has come under criticism this week for focusing on a week-long Twitter tirade about NFL players kneeling in protest during the pre-game performance of the National Anthem. When he finally did mention Puerto Rico, he seemed to be blaming the island for having bad infrastructure and owing billions to stateside banks.
Also, Trump was chided for comments he made when asked if there would be a "Jones Act waiver" – the Jones Act requires ships carrying cargo from one American port to another be American registered and owned, with an American crew or captain. When Texas was flooded by Hurricane Harvey the Jones Act was waived to hasten relief supplies.
But when asked Wednesday if Puerto Rico would get a Jones Act waiver, he replied that "we're thinking about it," but "We have a lot of shippers, and a lot of people — a lot of people that work in the shipping industry that don't want the Jones Act lifted," implying business interests superseded disaster relief.
He granted the waiver Thursday.
Mapp praised the leadership provided by the Department of Homeland Security, FEMA, and Governors Ricardo Rosselló of Puerto Rico and Governor Mapp before, during, and after the impact of the recent storms; and extended his thoughts and prayers to those affected, thanking all the first responders who are dedicating their time and efforts to their fellow Americans.
"We will continue to work to make sure the president has a good, warm Virgin Islands welcome and that he is able to see all of the issues that are affecting the people of the territory with respect to Hurricanes Irma and Maria," Mapp said Wednesday.
In related news, Trump recently amended the U.S. Virgin Islands Disaster Declaration to authorize an increase in federal funding for debris removal and emergency protective measures in the territory. He increased cost sharing to 100 percent Federal cost share for debris removal and emergency protective measures, including direct Federal assistance, for 180 days from the start of the incident period.