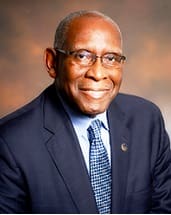 The University of the Virgin Islands, now in recovery mode after two category 5 hurricanes, has adjusted its time frames for resuming classes on its campuses.
"Hurricane Maria interrupted ongoing classes and operations on the Albert A. Sheen Campus on St. Croix, and slowed the recovery on the St. Thomas Campus," said UVI President David Hall. "However, the university is still committed to saving this semester and holding all students harmless from these dual tragedies."
Though some classroom buildings have been damaged, all the facilities are expected to be cleaned, restored and ready for operations in two weeks – approximately Oct. 9. Some classes may resume even sooner, depending on the restoration of permanent power and Internet communications.
"No University has faced what UVI has encountered in the last two weeks," said President Hall. "We could not have imagined that our two beautiful campuses would be severely harmed by two catastrophic events that attempted to take away the dreams of our students."
He continued, "Yet it is in the face of unimaginable destructions and challenges that we must imagine a future that embraces and exceeds our dreams. UVI will not only rise again, but it will be more creative, profound, resilient and prosperous than it was before or than we ever imagined."
The university will communicate the new class schedule and the complete academic plan to all students, faculty and staff prior to the recommencement of classes. Though the territory's normal communication infrastructure has been compromised, UVI will make sure to use all available forms of existing communication to reach students and employees. Please check the university's Web site (www.uvi.edu) and listen to the various local radio stations for announcements.
Students with academic questions are encouraged to e-mail at academics@uvi.edu. If students choose to withdraw, they will be permitted to do so. Students who are considering withdrawing or have questions, must first contact Wendy Fedler, Center for Student Success, via e-mail at academics@uvi.edu.