Maria is now a hurricane, and forecasters at the National Hurricane Center said Sunday it could be near major hurricane intensity when it affects portions of the Virgin Islands and Leeward Islands over the next few days, bringing dangerous wind, storm surge and rainfall hazards.
"Maria is likely to affect the British and U.S. Virgin Islands and Puerto Rico by mid week as a dangerous major hurricane," the NHC said in its 5 p.m. Sunday update. "Hurricane watches have been issued for the U.S. and British Virgin Islands and could be extended to Puerto Rico tonight or early Monday.
At 5 p.m. Sunday the storm was about 590 miles east-southeast of Saint Thomas, or about 550 miles east-southeast of Saint Croix. The storm intensity as 75 mph.
A hurricane watch means means that hurricane conditions are expected in the south easternmost portion of these areas within 48 hours, according to the V.I. Territorial Emergency Management Agency Sunday evening.
"Winds of 64 knots (74 miles per hour) or more with higher gusts may be expected as early as this time Tuesday afternoon," VITEMA warned. "Maria is expected to cross near Saint Croix and across Puerto Rico during the next 48 to 72 hours.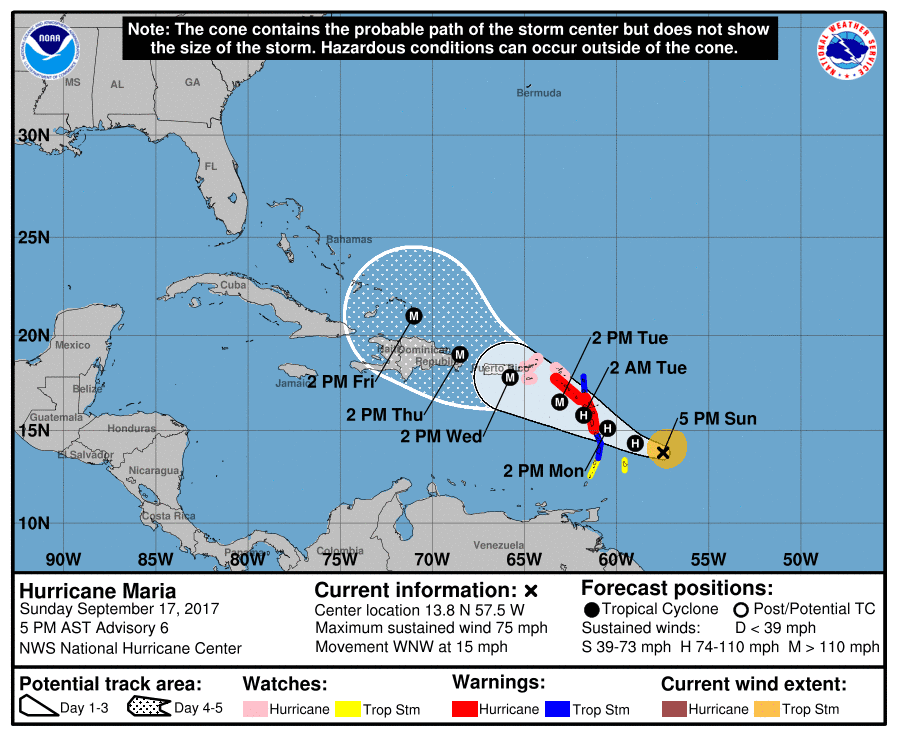 A burst of deep convection developed over Maria's center Sunday afternoon has caused the storm to continue to expand, the NHC said. An Air Force
Hurricane Hunter aircraft investigating the cyclone found maximum
flight-level winds of 63 knots. The crew also noted the formation of an open eye wall.
The aircraft data indicate that Maria has a compact circulation, which could make it a prime candidate for significant intensification in an environment of low shear and warm SSTs (surface temperatures.) … Maria is forecast to continue strengthening and potentially reach major hurricane by 48 hours.
Port Condition X-Ray
Effective at 8 p.m. Sunday, the U.S. Coast Guard Captain of the Port San Juan, Capt. Eric P. King, scheduled to set port condition X-ray for Puerto Rico and the U.S. Virgins Islands due to the possibility of sustained gale force winds greater than 39 mph from Tropical Storm Maria that may arrive within 48 hours.
During port condition X-ray port facilities are currently open to all commercial traffic and all transfer operations may continue while X-ray remains in effect.
Mariners are reminded there are no safe havens in these facilities, and ports are safest when the inventory of vessels is at a minimum. All ocean-going commercial vessels greater than 500 gross tons should make plans for departing the port. The Coast Guard strongly cautioned the maritime community to remain vigilant and take the necessary precautions as Maria has been forecasted to have the potential to develop into a category 3 hurricane.
Vessels desiring to remain in port must immediately contact the COTP to receive permission and are required to submit a safe mooring plan in writing. Vessels bound for the U.S. Virgin Islands or Puerto Rico unable to depart 24 hours prior to threatening winds making landfall are advised to seek an alternate destination.
Coast Guard Captain of the Port San Juan anticipates setting port condition Yankee at 8 p.m. Monday for the U.S. Virgin Islands and Puerto Rico. These dates and times are subject to change based on future forecast.
Hurricane Advisories
The National Hurricane Center listed the following hurricane watches and warnings
– A hurricane warning is in effect for: Guadeloupe, Dominica, St. Kitts, Nevis and Montserrat
– Tropical storm warnings are in effect for: Martinique, Antigua and Barbuda, Saba and St. Eustatius, St. Lucia.
– Hurricane Watches are in effect for: the U.S. Virgin Islands, British Virgin Islands, Saba and St. Eustatius, St. Maarten, St. Martin and St. Barthelemy, Anguilla.
– A tropical storm watch is in effect for: Barbados, St. Vincent and the Grenadines.