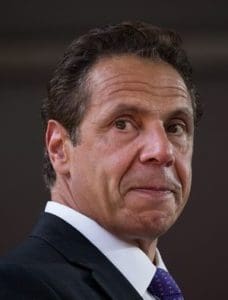 Gov. Andrew M. Cuomo today announced the deployment of members of the New York National Guard and personnel from the New York State Police to the U.S. Virgin Islands after touring areas impacted by Hurricane Irma. One hundred members of the New York Army National Guard's 105th Military Police Company, along with 30 members of the New York State Police, will deploy to the U.S.V.I. this weekend to provide local authorities with security support on St. Thomas.
Photos of the Gov. Cuomo's Assessment Tour are available.
The team is being deployed at the request of Gov. Kenneth E. Mapp, who also requested that Gov. Cuomo travel to the region to survey the damage. Cuomo traveled to the region today, touring damage at the Estate Tutu Apartments on St. Thomas, visiting a supply distribution center and meeting with Mapp and senior officials at Government House.
Hurricane Irma hit the U.S. Virgin Islands on Sept. 6, leaving St. Thomas and St. John heavily damaged after powerful winds at speeds greater than 150 miles per hour. Much of St. Thomas and St. John has been devastated and remains without power, as residents struggle to recover from the storm.
Cuomo said, "New Yorkers know first-hand the damage Mother Nature's fury can cause, and we are proud to be providing expertise, equipment and personnel to support the U.S. Virgin Islands on their path to recovery because helping neighbors in need is the New York way."
The team will bring 12 humvees and six all-terrain gator utility vehicles to augment security on the island. While deployed to St. Thomas, they will be housed on board the SS Wright, a federal Department of Transportation response vessel.
The 105th Military Police Company is based at the Masten Avenue Armory in Buffalo, and the soldiers are trained in law enforcement and security missions. The team will deploy from Niagara Falls Air Reserve Station on board three C-17 Globemaster III cargo aircraft.
New York and the V.I. share a special connection. More U.S. Virgin Islands residents list their place of birth as New York than any other state in the nation. Mapp was born in Brooklyn, New York, and attended both New York City Community College and the City University of New York.
Personnel and equipment were also deployed to Texas and Louisiana in the aftermath of Hurricane Harvey.
Personnel and equipment deployed for Hurricane Irma
The New York governor deployed 130 Airmen from the New York Air National Guard's 106th Rescue Wing, three HH-60 Pave Hawk rescue helicopters, and two HC-130 search and rescue aircraft and three Zodiac inflatable rescue boats to assist with initial search and rescue efforts in the U.S.V.I. This initial mission, which assisted in the evacuation of over 1,500 people, concluded earlier this week.
Additionally, the Governor deployed Task Force 2 (NYTF-2), a specialized team of 35 first responders and equipment skilled in structural collapse rescue, excavation emergencies, technical rope rescues, confined space rescue, and other specialized rescues to Florida. NYTF-2 deployed with six boats for water rescue operations, two tractor trailers with equipment needed for urban search and rescue missions including structural collapse rescue operations, and two disaster-search K-9 teams.
On Sept. 9, a C-130 cargo plane from the Scotia-based 109th Airlift Wing delivered medical supplies to St. Croix in the U.S. Virgin Islands.
10 UH-60 Blackhawk Helicopters and 55 soldiers from the New York Army National Guard's 42nd Combat Aviation Brigade deployed to Florida on Sept. 11 to assist in the response to Hurricane Irma. Additionally, airmen from the 105th Airlift Wing deployed a satellite communication team with seven personnel to Mississippi using a C-17 aircraft on Sunday, Sept. 10, as part of the Hurricane Irma response and support for the Florida National Guard.