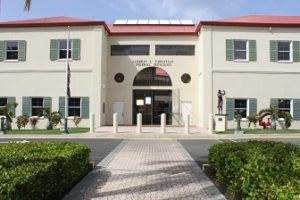 Makimba Barry, 41, of Atlanta, Georgia, pleaded guilty Thursday before District Court Judge Curtis V. Gomez to conspiring to possess with intent to distribute not less than 50 and not more than 150 kilograms of cocaine.
Acting U.S. Attorney Joycelyn Hewlett said sentencing is scheduled for Jan. 4.
According to the plea agreement filed with the court, Barry was a member of a drug trafficking organization from 2011 through 2016. During the course of the conspiracy, he was responsible for 32 shipments of more than 236 kilograms of cocaine from St. Thomas to Florida.
On each smuggling operation, records show, Barry traveled from Miami to St. Thomas, where he would pick up 10 or more kilograms of cocaine. The following day, Barry would deliver the cocaine and partial payment to Neal Chesterfield, then immediately return to Florida.
Chesterfield, a law enforcement officer, would then smuggle the cocaine through the Cyril E. King Airport in St. Thomas using his work credentials to bypass United States Customs and TSA.
Chesterfield, who was paid $2,750 per kilogram of cocaine, was arrested on Sept. 3, 2016, minutes before boarding a Spirit Airlines flight to Ft. Lauderdale. In his possession was approximately 22 kilograms of cocaine and more than $26,000 in cash that he had received as payment from Barry.
Barry faces a sentence of not less than 10 years in prison and not more than life, and a fine of up to $10 million. Barry remains detained pending sentencing.
The case was investigated by U.S. Immigration and Customs Enforcement, Homeland Security Investigations, the Federal Bureau of Investigations, and the U.S. Drug Enforcement Administration. It is being prosecuted by Assistant U.S. Attorney Delia Smith.