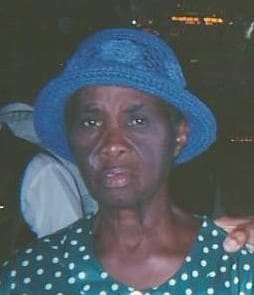 Irene Ophelia Thomas was born on Dec. 17, 1926, and departed this life on July 20, 2017, at a rightful young age of 90 years.
She was preceded in death by her loving husband, Arthur Thomas; father, Milton Smithen; mother, Edna Hanley; and beloved sisters: Roselyn Smithen and Bernadine Smithen.
She leaves to cherish her memory four daughters: Joycelyn Joshua, Elizabeth Samuel, Marilyn Thomas-Frater and Laveda K. Thomas-Connor; sister, Evelyn Freeman; 14 grandchildren: Deborah Joshua-Clarke, Diana Joshua, Jonathan Joshua, Sandra Thomas, Alissa Connor-Hansen, Alvin Connor Jr., Shawn Thomas, Shelia Samuel, Nicole Jackson, Ronald Thomas, Brandis and Lawrence Frater, Jordon and Elijah Kirkwood; eight great-grandchildren; and a host of nieces, nephews, cousins, other loving relatives and friends.
Special thank you to her health care providers; Denise Jamila Peterson, Lakisha Deshatlo and Mrs. McCarthy.
Mrs. Thomas, better known as the "bush lady," was a woman of God and shared her compassion and love for others. Throughout her life, she shared her homeopathy knowledge with others with enthusiasm and encouragement. Mrs. Thomas loved to walk and frequently visited the areas of Frenchtown, Public Works and the VI Lottery Office.
Family and friends are invited to join us for her homecoming celebration at Turnbull's Funeral Home. A viewing will be held from 9-10 a.m. and the funeral service at 10 a.m., Thursday, Aug. 17. Interment will follow at Western Cemetery No. 2. Tributes can be sent to lavidaamore@yahoo.com
Professional funeral services are entrusted to: Turnbull's Funeral Home. Telephone: 779-6565; E-mail: turnbullsfuneralhomevi@yahoo.com.