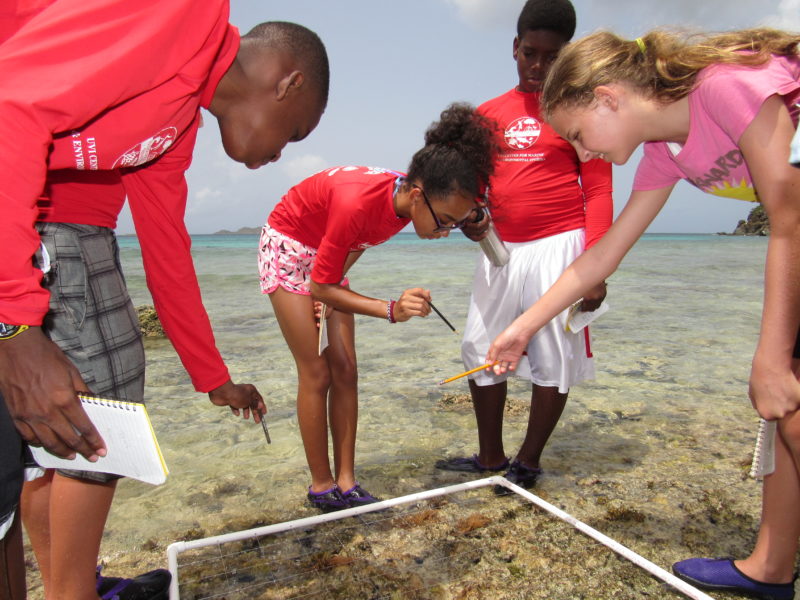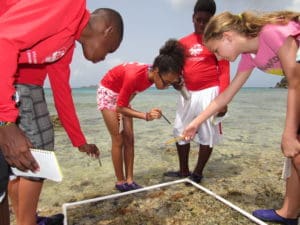 This summer, 20 middle school and high school students spent four weeks having fun learning about the marine ecosystem and marine careers in the Youth Ocean Explorers (YOE) Summer Program.
From July 10 to Aug. 4, students from local public and private schools spent their summer in or near the ocean at the Center for Marine and Environmental Studies (CMES). The students got hands-on knowledge of the marine environment – whether they were on land examining sea life or through swimming and snorkeling to see them in their environment.
"The Youth Ocean Explorers camp is a great experience for both the campers and the researchers working at UVI," said Dr. Paul Jobsis, CMES director. "The kids get to learn more about the ocean and to see what it is like to do marine science. The camp introduces the students to the many different aspects of marine science, and shows them the impact they can have to make positive changes for the environment."
The YOE program, supported through the University of the Virgin Islands with funds awarded from the National Science Foundation (NSF), this year included a new infusion of geoscience curriculum to teach students about careers in this field. The program recruited seven guest speakers through the Coastal Estuarine Research Federation (CERF), all of whom are scientists and underrepresented minorities.
"Our students quickly learned of the many career paths in marine science such as studying coral, fish populations, assessing water quality and marine plants, to name a few," said Howard Forbes Jr., VI Marine Advisory Service (VIMAS) coordinator on St. Thomas and YOE director. (VIMAS administers the YOE program).
"I see the ocean much more clearly now," said Kaylin Wallen, All Saints Cathedral School eighth grader. "After attending this program, I see myself now as an environmental lawyer or perhaps a researcher searching for new drug therapies derived from oceanic life."
"I think the ocean is even more wonderful after participating in this program," said Maura Richardson, ninth grader at the All Saints Cathedral School. This program has inspired her to want to become a lawyer after participating in a mock debate centered on coastal development. Environmental policy is now an interest, she said. "I would highly recommend this program to any teenager interested in science."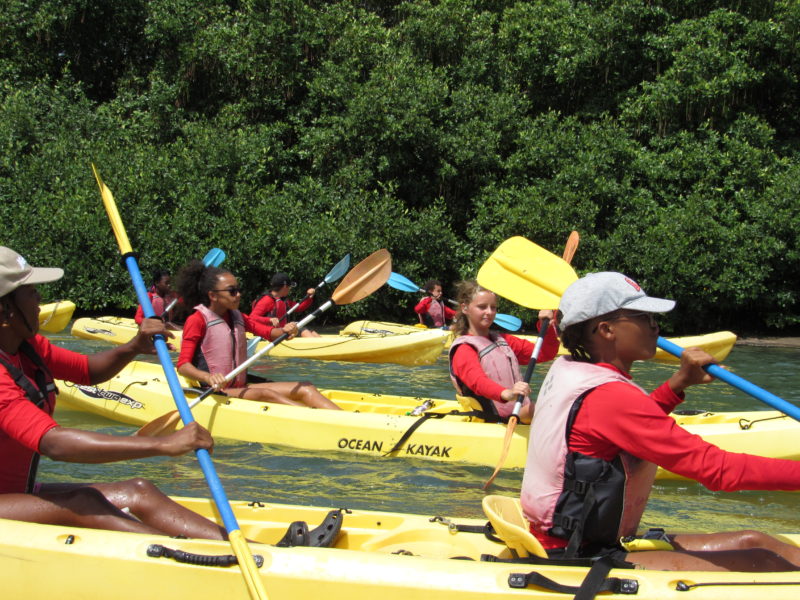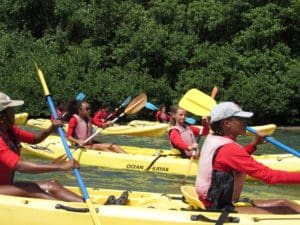 "Students also had the opportunity to interact with local and state federal agency employees who work in science-related fields such as the Environmental Protection Agency (EPA), NSF, the National Oceanic Atmospheric Administration (NOAA), and the Nature Conservancy (TNC) to better realize possible internship opportunities to help advance their careers," Forbes said.
"These speakers have highlighted career pathways as well as inspire our YOE students to become future scientists," said Jarvon Stout, research assistant for VIMAS.
"Dr. Stacy Beharry-Baez stood out as the most interactive," said Wallen. Beharry-Baez is a senior associate at the Global Shark Conservation, who is originally from Trinidad. "She spoke about sharks and made them seem less scary, and she talked about the current status of sharks."
Trevett Williams, a seventh-grade student attending Calvary Christian Academy, also enjoyed Baez's presentation. "She showed a video with a 400-year-old shark that was amazing," said Williams, who wants to be a marine scientist that studies either shark behavior, geosciences or earth sciences.
"I would highly recommend this program to other kids, because it is very engaging and you get to see first-hand what it takes to be a marine scientist."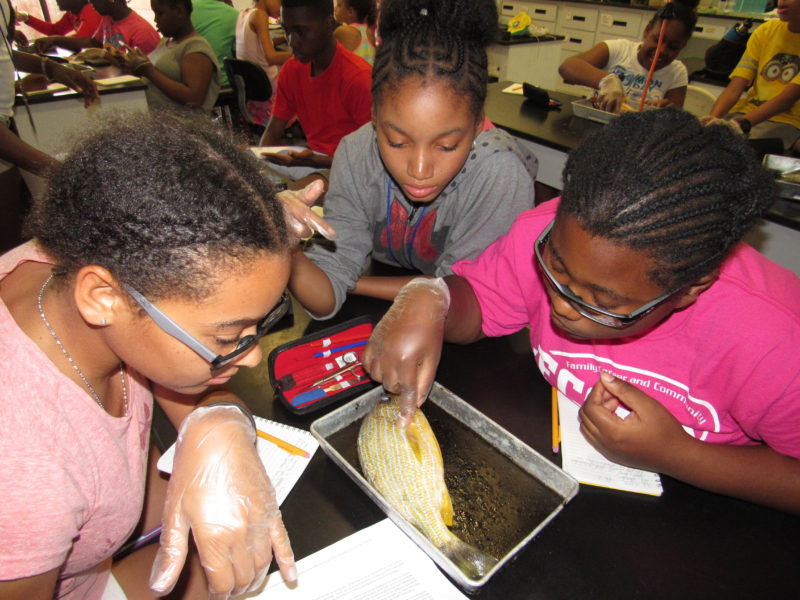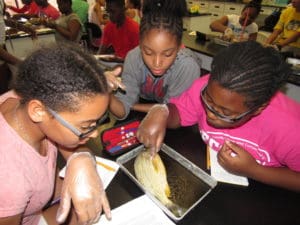 The Youth Ocean Explorers Summer Program concluded on Aug. 4 with a ceremony to be attended by YOE students and their parents. "We want to highlight the successes of each student during the program and more importantly, we want each student's parents to be there for support," said Forbes.
"Our program realizes that parental involvement at this level is crucial, particularly here, for retaining students' interest within the sciences," he said.
The YOE program is supported through UVI with funds awarded from the Supporting Emerging Aquatic Scientists (SEAS) Your Tomorrow program, which is funded by the National Science Foundation (NSF), as well as Inclusion across the Nation of Communities of Learners of Underrepresented Discoverers in Engineering and Science (INCLUDES).
For more information about the Youth Ocean Explorers Summer Program, contact Howard Forbes Jr. at 693-1672 or e-mail howard.forbes@live.uvi.edu.