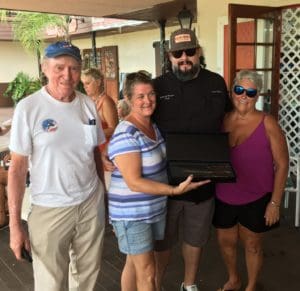 A1A was the top boat releasing one blue marlin on the second day of fishing in the 45th annual USVI Open/Atlantic Blue Marlin Tournament (ABMT). This fish, plus the blue marlin the Florida-based team aboard the 72' Jim Smith released on the tournament's first day, make at total of two and put A1A third overall going into Sunday's last day of fishing.
"We hooked up around 4 p.m. on a pitch bait and released the marlin about seven minutes later. It was a nice fish, around 250 to 300 pounds, and we were grateful to get it. We're looking forward to more fish tomorrow," said A1A's Capt. Mike Kalandros.
Business Stinks, a 72' Merritt with Brazilian-based owner/angler Lucas Abud aboard, didn't catch any marlin today. However, the team remains in the lead by being the first boat to release three marlin.
Similarly, Cheeseburger, whose team is from the Mississippi Gulf Coast, didn't ride back in from the North Drop fishing grounds with any flags flying off their outriggers — a sign of blue marlin releases. However, the 60' Scully remains in the number two spot on the scoreboard as the second team to release three blue marlin.
Two teams from Puerto Rico, Angela and Dona Lucy, each caught one blue marlin apiece yesterday. Both are eagerly looking forward to more bites for the last day as the fish attracting power of the month's full moon gets closer.
"We saw just one fish today, but it wouldn't bite," says Angel 'Tito' Muntaner, owner and angler aboard the Angela, a 50' Ronin.
The team aboard Dona Lucy, a 41' Ronin, saw a couple of fish today.
The 8-boat tournament fleet has released a total of 12 blue marlin in two days of fishing.
Boats competing in the ABMT are: Business Stinks, Cheeseburger, A1A, Angela, Dona Lucy, Gulf Rascal, Sodium and Reel Tight.
Lines go back in the water on Sunday, the last day the tournament, at 8:30 a.m. with lines out at 4:30 p.m.
The public is invited to greet the fleet as the boats come back to the dock around sunset. The number of flags flying on the outriggers indicates how many billfish the boat's anglers caught and released for the day. The ABMT is a conservation-conscious all-release tournament. No fish will be boated or brought to the dock for weigh-in.
On land, the 5th Annual MarlinFest got underway. On Saturday, there was an Arts & Crafts Fair and Chowder Challenge in the upper parking lot at IGY's American Yacht Harbor Marina in Red Hook. Fish Tails Bar & Grill won the challenge, with Molly Malones second and Pesce Italian third. On Sunday, a Shrimp Boil will start at 6 p.m. and a Caribbean Show, complete with mocko jumbies and music, will start at 8 p.m. in the parking lot of the Red Hook Shopping Mall.