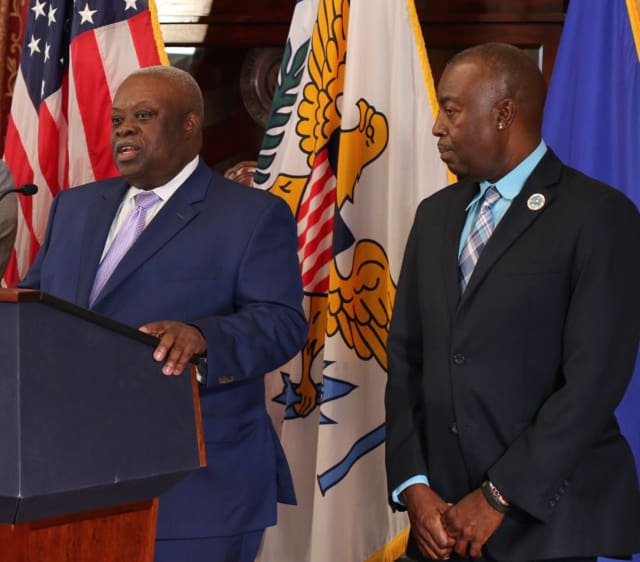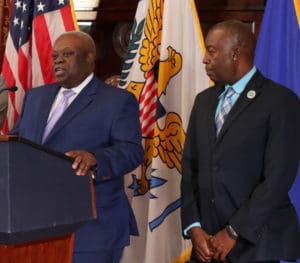 Gov. Kenneth Mapp on Monday announced structural changes within V.I. Police Department, and ongoing efforts with federal officials to solve issues ranging from hospital management to the elimination of the Education Department's third-party fiduciary, and cancellation of a contract for the Main Street Project.
During a news conference at Government House on St. Thomas, Mapp added that in order for these efforts – which include a $64 million reduction in executive branch expenses for fiscal year 2018 – to bear fruit, the Legislature and local residents also have to "act in the best interest" of the territory by tightening their belts. Mapp, whose administration is gearing up for annual budget hearings at the Senate, said the Legislature is also getting ready to act on bills that give more money and benefits to retirees that he said would put the government deeper into a hole.
"If the central government collapses financially, there will be no bailout or solvency of the Government Employees Retirement System," Mapp said. "If the central government collapses financially, the V.I. Water and Power Authority and probably the V.I. Port Authority will fall right behind it. If the central government collapses financially, health insurance benefits for government workers, retirees and their dependents will disappear. Those are just realities, and there will be untold pain and suffering throughout this territory."
Reorganization and New Appointments
With the V.I. Police Department currently operating under a federal consent decree, Mapp announced Monday a reorganization that he said put more attention on issues of professional standards, while also developing a monitoring system that could put VIPD back under full local control.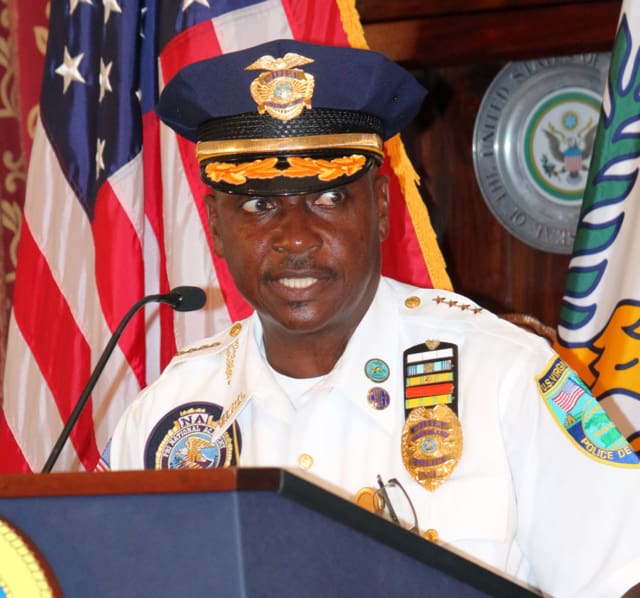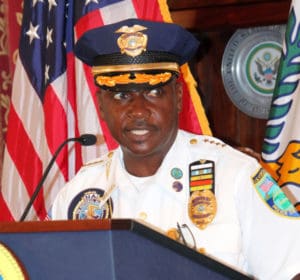 To get this done, Mapp said the that he had tapped St. Croix Police Chief Winsbut McFarland for a new territorial position that puts him in charge of all the district police chief offices, while former St. Thomas-St. John District Chief Jason Marsh was moved into the position of deputy commissioner of VIPD's Professional Standards Bureau. The bureau was established two years ago as part of the department's outreach efforts, which Mapp said also work hand in hand with a relationship set up with the New York City Police Department.
The department-to-department partnership allows VIPD to graduate new recruits from the NYCPD academy, to train homicide investigators and to roll out a new license plate and facial recognition software that Mapp said could help reduce crime in the territory.
Mapp said Monday that McFarland has also trained with NYCPD to understand how better to work with zone commanders and hold them accountable and will be tasked immediately with setting up a team that streamlines operations in both districts.
Later in the press conference, Mapp also announced the termination of the government's contract with Tip Top Construction for the ongoing Main Street Revitalization Project on St. Thomas and the immediate appointment of Nelson M. Petty to the position of deputy commissioner of Public Works, who Mapp said would oversee all of PWD's public projects and "get them moving."
Approximately $10 million was set aside for Main Street and Tip Top was awarded a contract of a little more than $8 million, but Mapp said Monday that only $400,000 has been spent to date, while only 8 percent of the work has been complete. Tip Top was given until June to finish the work, but Mapp said that at this pace, the project "would never get done." To save money and get the project going again, Petty was tapped and will also work with the Federal Highway Administration to make sure other projects move forward, and Mapp said that in the meantime, the government has been given seven to 10 days to rebid Main Street and award a new contract.
Federal Meetings
Returning from meetings in July with Interior Department Secretary Ryan Zinke and Education Secretary Besty DeVos, Mapp said efforts are being made to address some longstanding health and hospitals issues, while also trying to eliminate the $3 million the V.I. Education Department pays annually to the federal third-party fiduciary currently managing its finances.
Mapp said that based on his meeting with Zinke, a follow-up in September with federal Health and Human Services officials has been scheduled to discuss changes in fee schedules for the Medicare and Medicaid programs that would allow for bigger reimbursements, along with the construction of smaller hospitals locally that would help cut down on healthcare costs.
Reimbursements from the federal government for Medicare and Medicaid are based on a 1982 fee schedule for Schneider Regional Medical Center and a 1996 fee schedule for St. Croix's Juan F. Luis Hospital. Asking the federal government to adjust the fee schedule to 2010 levels will allow the territory to be better reimbursed for the services it offers, bringing in an extra $12 million annually, Mapp said.
The governor added that he also spoke to Zinke about "prioritizing" the construction of several smaller hospitals within the territory.
"The 250-bed units are too large, given how medicine is practiced today, and that is having a direct impact on our ability to operate those facilities in a cost efficient manner," Mapp said. "In addition to the problem that they're falling apart and we're putting millions of dollars in them to try to keep them functional, sustainable and certified."
Mapp said DeVos and her team have already begun to follow-up on discussions about the territory's third-party fiduciary and explained that efforts made in the past to get the U.S. Department of Education to approve the training of local employees to take over the third-party's duties have so far been denied.
"In 12 years, no one has been authorized by the USDOE to allow for the training of that skill and capacity in the Virgin Islands," Mapp said. He added that USDOE will also be looking at the cycle of grants awarded to the territory, which Mapp said come in six months late and have to be spent four months later.
The territory's annual grant allocation is approximately $24 million and Mapp said it's hard to spend, not to mention that the government is prevented by law from entering into procurement contracts past a certain date, which keeps them from being able to allocate the funds.
Mapp said he also has been meeting with Federal Customs and Border Protection officials on the hiring of six new agents who can work on island to clear cruise ship passengers before they come into the territory, reducing lines at the docks, and speed up the clearance process at the airports. With new flights coming into the territory for the winter season, the extra manpower will improve the territory's tourism product and also appeal to cruise ships coming in from a foreign port, Mapp said.
Fiscal Year 2018 Budget
Addressing public and Senate concerns over the late submission of the Fiscal Year 2018 budget, Mapp said that he has been working with his team to create a balanced document that fits within his five-year vision of reducing expenses. This five-year plan is key in regaining market confidence in the territory's bonds and its ability to pay them back, Mapp said.
He added that the budget cuts out $64 million in expenses within the executive branch and another $4.4 million in combined spending from the Legislature and courts. Those efforts won't make a difference, however, if two bills being considered by the Senate are passed, Mapp said.
One proposal, according to the governor, will grant a property tax credit to employees who can show they are owed retroactive pay, costing the government an extra $40 million, while the other will remove the 75-day limit for retirees re-entering government service, allowing them to work and collect benefits for "as long as they want."
Mapp said the government's understanding with retirees is that they can re-enter, work for 75 days, leave, begin receiving their benefits and then the government can bring in younger people to fill those positions. Mapp said retirees should consider that plan is "not in the best interest of the people of the territory," since the government already has to focus on paying benefits to active members.
He said the government is also proposing to offer a 50-50 split on government insurance for government employees during their first year of retirement and after that, they will just receive a pension. Mapp said he knows of retirees still on the government insurance that have their own private businesses and offer private insurance to their employees, while also opting to cover their families through the government's plan.
"I'm appealing to the Legislature and people of the Virgin Islands that we really have to find a common collective of good will for all and hold off on our individual interests so that collectively as a territory we are going to get to a better place," he said.
Asked if he could lead by example by staying at cheaper hotels or cutting back on vehicles, Mapp added that he could "use a horse and cart and sleep in a tent in the parking lot," but did not see, with a $64 million cut to the executive branch budget, how that would help.