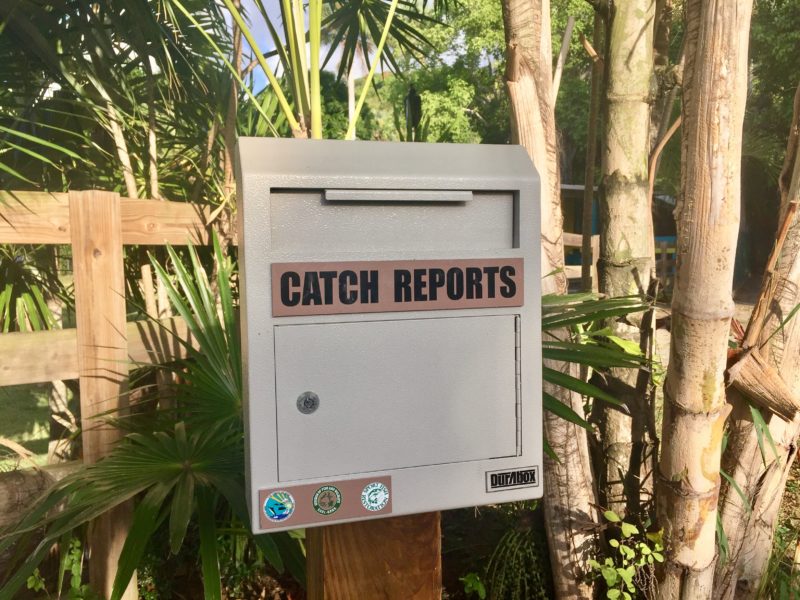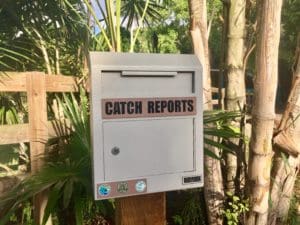 To make it more convenient for commercial and recreational fishers to submit their monthly catch reports, the V.I. Department of Planning and Natural Resources is installing new drop boxes in popular fishing launch areas.
In early June, DPNR placed one of the drop boxes in Hull Bay where a number of fishers keep their boats on the north side of St. Thomas. DPNR plans to install additional boxes around the islands in areas that are frequented by fishers, but its officials are still deciding which places are most suitable.
On St. Thomas there are also boxes at the Frenchtown Fish Market and at the Department of Agriculture office in Estate Dorothea. DPNR's Division of Environmental Enforcement in Estate Anna's Hope on St. Croix hosts a box as well. According to DPNR, the boxes have been in use for about two years.
Ruth Gomez, director of DPNR's Fish and Wildlife Division, said that V.I. Code requires fishers to submit reports on what and how much they catch as a condition of maintaining their fishing licenses.
"The boxes were installed for recreational and commercial fishers to submit their catch report forms to DFW," Gomez explained, adding, "This increases convenience for the fishers and helps to improve timeliness of reporting."
Going forward, Gomez said DFW plans to have catch reports available near each drop box location like the one near Hull Bay Hideaway.
In addition to supplying information on the pounds and quantity of each species caught, the reports ask about gear type, time spent fishing, area fished and other details about landings and effort.
That data is used for fisheries monitoring and management in partnership with the National Marine Fisheries Service. With many fisheries around the world being rapidly depleted as the human population grows, it's important to keep a watchful eye on vital marine food resources.
Fishers have been required to submit catch reports since the early 1970s as a part of the Magnuson-Stevens Fisheries Conservation Management Act and the V.I. Code in order to keep tabs on fish stocks and prevent overfishing.
Before the drop boxes were installed, fishers submitted their catch reports to the DFW office on St. Thomas and St. Croix and still can if they so choose. The new boxes are being strategically placed to make turning them in more convenient.
If fishers don't submit catch reports, they are ineligible to have their commercial fishing licenses renewed. Gomez said DFW sends letters to all commercial fishers on a quarterly basis to let them know which reports they're missing.
DFW staff review the catch reports for completeness to see if any information is missing and they do contact fishers if there are questions about what's being reported, Gomez said.
What gets reported is admittedly on the honor system, but DFW does make an effort to teach fishers why it's important to be as precise as possible.
Gomez said, "Fishers are continuously educated on why honest, accurate reporting is best for the fishery: both over-reporting and under-reporting landings are problematic and may cause undue concern that a fisheries resource is being overexploited."