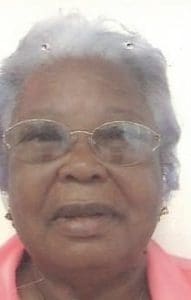 Lillian E. Francis died on March 30.
A viewing will be held from 5-7 p.m., Monday, April 17, at Turnbull's Funeral Home. A second viewing will be held at 9 a.m. followed by a funeral service at 10 a.m., Tuesday, April 18, at Holy Family Church.
She is survived by her husband, Anthony Francis; sons: Charles Thomas, Lenworth Thomas, Alexis Thomas and Clayton Francis; daughters: Olivia Williams and Amber Saddler; sons-in-law: Vendel Williams and Peter Saddler; daughters-in-law: Gwen Thomas and Terry Thomas; nieces: Dahlia and Angella Matthew; nephew, Al Matthew; stepdaughter: Gladydis Lettsome; stepson, Willian Francis; and goddaughter, Ocelda Gumbs.
She is also survived by grandchildren: Kendall Williams, Vendel Williams Jr., Alexis Thomas Jr., Wendell Thomas, Marlan Saddler, Lenworth Thomas Jr., Alastair Thomas, Charles Thomas Jr., Wendy Williams, Alexsa Thomas, Akiela Thomas, Kenya Charles, Ebony Thomas, Jasmine Thomas, Lanaya Thomas, Shinell Thomas, Tenique Francis and Kadiesha Henry; 23 great-grandchildren; and many other relatives and friends too numerous to mention.
Professional Funeral Services are entrusted to Turnbull's Funeral Home. Telephone: 779-6565; e-mail: [email protected]