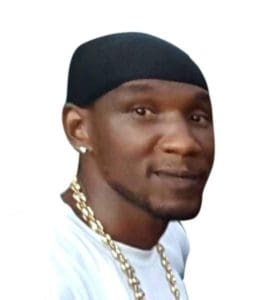 Paul "Lucky" Smith died on Feb. 16.
A viewing will be held from 5-7 p.m., Thursday, March 9, at Turnbull's Funeral Home.
A second viewing will be held at 9 a.m. and a funeral service at 10 a.m., Friday, March 10, at Emmanuel Baptist Church. Interment will follow at Brookman Cemetery
He is survived by his son, Kaihir Smith; grandmothers: Eleanor "Ellie" Blackman and Altagracia Stephens; grandfathers: Uele Smith Sr. and Hugh Blackman Sr.; brothers: Rashaun and Renald-Riel Stephens; sisters: Kimra Estrada, Lekeesha Estrada-Lattin, Renelle, Rena and Ranisha Stephens; brother-in-law, Ahbasi Lattin Sr.; nieces: Utica Melendez, Kellisha Joefield, Empress Lattin and Raynaea Stephens; nephews: Kelleil Joefield, Kemo Jr. and Kemani Riley, Willis III and Rekai Pinney, Ahbasi Lattin Jr. and Ahliel Hall; partner: Kabina Elmes; and godparents: Debra Brooks, Cheryl Hermon, Carol Rhymer and Lorna Christian.
He is also survived by aunts: Ureen Smith-Fahie, Phyllis "Kimmy" Blackman-Green, Celeste "Shelly" Blackman, Tethler "Alicia" Blackman-Mills, Nicole Blackman-Edwards, Annette Smith and Charmaine Smith; uncles: Uele "Butchie" Smith Jr., Uric Smith Sr., Verne Smith, Uland Smith, Cleve Smith, Chad Smith, Mark "Marcus" Clarke and Hugh "Mickey" Blackman Jr.; great aunts: Sylvia Stephens-Penn, Josepha Gerard, Ellery Gumbs, Lois Roper, Adelaide Gumbs, Vashti Gumbs-Liburd and Annette Brooks; great uncles: Ismael Todman, Alvaris Todman, Ernest Brooks, Ruele Brooks and Denzel Brooks; as well as other relatives and friends too numerous to mention.
Professional Funeral Services are entrusted to Turnbull's Funeral Home Telephone: 779-6565; e-mail: turnbullsfuneralhomevi@yahoo.com