Marjorie Albertha Abbott died on Feb. 17.
A viewing will be held from 5-7 p.m., Thursday, March 9, at Turnbull's Funeral Home.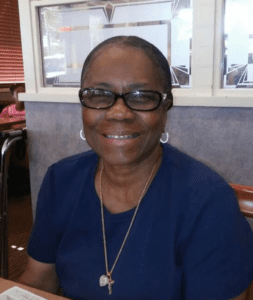 A second viewing will be held at 9 a.m. followed by a funeral service at 10 a.m., Friday, March 10, at Turnbull's Funeral Home. Interment will be at Eastern Cemetery.
She is survived by sons: Alberto L. Abbott II, Richard L Abbott and Tyrone E. Venzen Sr.; daughters: Angela A. Abbott and Angelique A. Abbott; grandsons: Anson L. Larcheveaux Jr., Alberto L. Abbott III, Kyle, Tylar and Jalen Abbott, Tyrone E. Venzen Jr., Robert Z. Pratt, Michael Simmonds, Kyron A. Correa, K'Dheim M. Turb, and Alwyn A. Baptiste; granddaughters: Anique A., Alyson A., Gabriel N. and Anjenique Abbott, Angenique L. Larcheveaux, Tanesha Flythe, Ty'Ajah E. Venzen, Kurene A. Brathwaite and Y'Naeah L.R. Correa.
She is also survived by great-grandchildren: Anaysia L., Ajani, and Alaina Larcheveaux, Daija A. and Alysha J. Lemons, Sophie Abbott, Harmoni Samuel, Safeerah and Saniya Romney, and Oriya Freeman; daughters-in-law: Felisha Abbott, Robin Abbott and Irene Correa-Venzen; sister, Theresa Berry; brothers: Morrell and James Thomas; nieces: Sylvanita Forbes-Hendricks (Morse), Gloria Forbes-Henley (Johnny), Sylvia, Alma and Lorna Forbes, Linda and Delia Nibbs.
Other survivors include nephews: Melvin and Calvin Forbes, Joel Martin Jr, Arthur, Arnold and Eric Nibbs, Howard and Ronald Hughes; sisters-in-law: Monica Thomas and Aloma Blake and family; brother-in-law: Allen Abbott Sr. and family; close cousin, Celestine Martin and family; and friends: Jocelyn Bergin-Lawal, Esmie Callwood and family, and Gladys Connor and family.
Funeral arrangements are by Turnbull's Funeral Home, St. Thomas.