May 7 will mark the end of a St. Croix institution when several hundred athletes will compete in the final Ironman 70.3 St. Croix.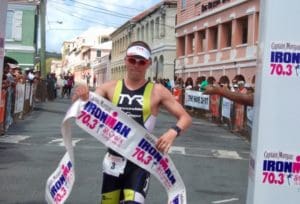 Originally named the St. Croix Triathlon when it began in 1992, the event begins around sunrise with a 1.24-mile swim, followed by a 56-mile bicycle race over the infamous "Beast," a 600-foot rise that spans 7.1 miles of mountain road and culminates with a 13.1 mile foot race ending in Christiansted.
Over the years, thousands of world-class athletes have traveled to St. Croix to train and participate in the event.
In 2012, disgraced Tour de France cyclist Lance Armstrong participated, winning the cycling event, but finishing third overall. According to the Associated Press, Armstrong began his career in triathlons as a teen before focusing on cycling. In 1988, he participated in the St. Croix event at the age of 16, AP said.
Until two years ago, the prestigious event allowed athletes in the St. Croix race to qualify for the Ironman Championship in Hawaii. In 2015, the Ironman organization ruled participants instead qualified for Half-Ironman events including the world championship in Austria.
In recent years, the Ironman has fallen victim to low sponsorship and increasing competition from other events, according to Project St. Croix's Tom Guthrie, who has been race director for more than 25 years.
For many years, the St. Croix Triathlon was the only race of its kind for athletes wanting to compete in Hawaii. Now there are 30 such events, including one in Puerto Rico and others throughout the Caribbean. Overall, there are over 140 Ironman competitions worldwide.
"One of the problems is the explosion of the sport around the world. We're not as special and unique as we used to be," Guthrie said. "They (Ironman) didn't do anything negative to us. They were just running their business. I applaud them."
The race costs more than $250,000 to run each year and more than $1 million has been paid to Ironman for licenses over the years. But the sponsorships are declining.
The V.I. government, notably the Department of Tourism and other sponsors, have decreased their donations and, with fewer participants, entry fees have also dwindled to half of those during peak years, Guthrie said.
At its high point, there were about 700 racers and only 350 are expected this year.
Guthrie said that over the years the V.I. Police Department has added immeasurable support controlling the roads, parking and crowds, the Department of Public Works has repaired the roads, and St. Croix Rescue has kept athletes safe. He also thanked the Department of Tourism and sponsor Captain Morgan Rum.
"We appreciate the support. Fifty years from now, being St. Croix, people will still be talking about what a cool event it was," Guthrie said.